When you purchase through links on Astonmet.com, we may earn an affiliate commission.
Here's detail
Get ready to blast off into a new creative world of work comfort with an electric standing desk?
It's time to say adios to boring, outdated sitting desks and hello to a whole new level of flexibility and well-being. No more cramped muscles, aching backs, or dull workdays. The electric standing desk revolution is here and it's time to feel the difference for yourself!
If you are ready, let's begin
What are the best standing desks for home office? After comparing different products, our testers came up with this list of top 7 best standing desks that should help you choose what kind of desk is suitable for you. This list includes adjustable or fixed height models as well as manual or electric adjustable desks . Some of them allow you to set different heights so if one isn't enough, you can gradually increase your working position throughout the day. If budget is an issue – take a look at our best-bang-for-the-buck picks after which there is also affordable option . All in all, let's better check out these desks!
Deskhaus Apex Pro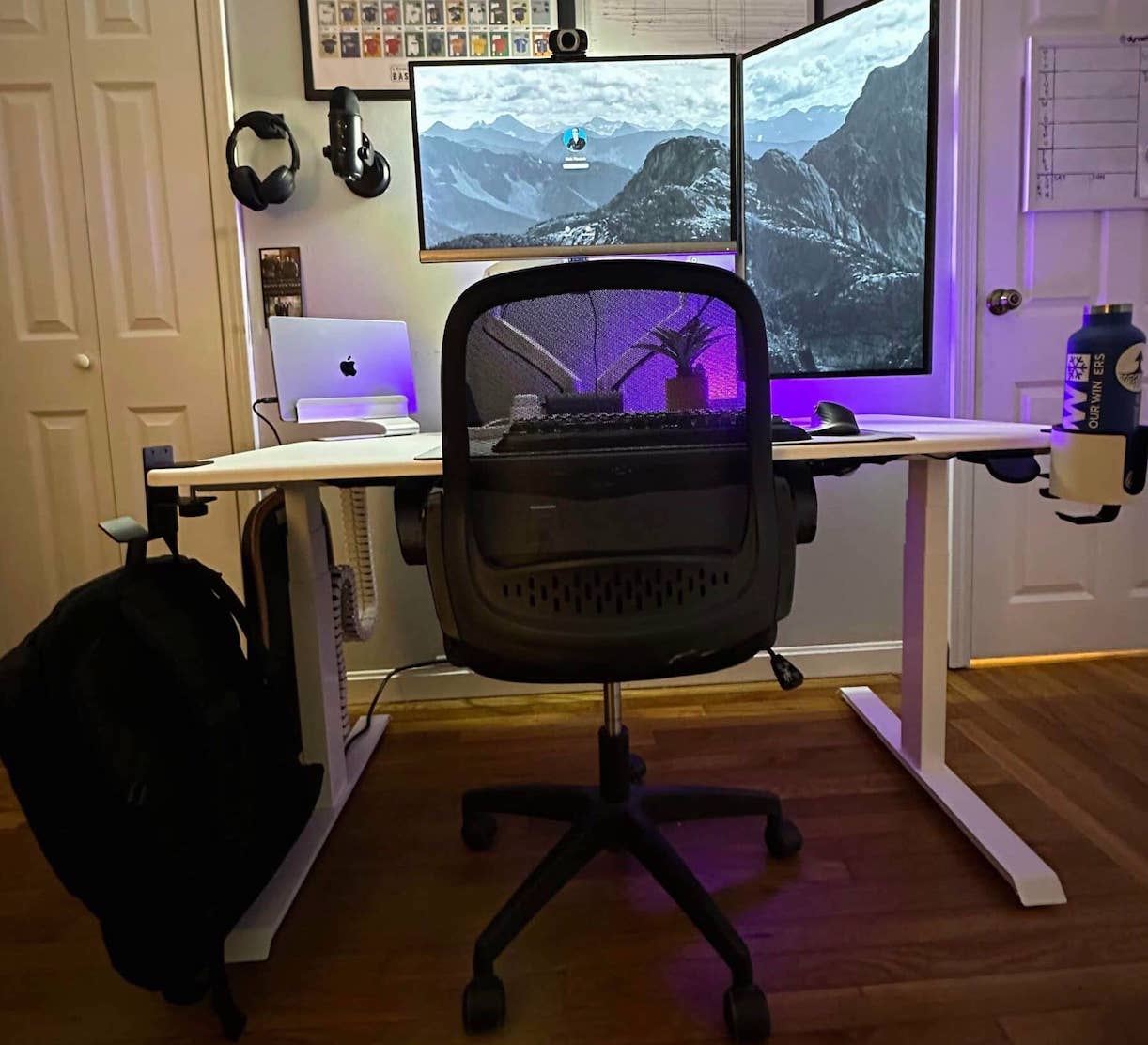 Get ready to say goodbye to boring and sluggish desks, because the Deskhaus Apex Pro standing desk is here to revolutionize your workspace! With an UNBELIEVABLE HEFTY lifting capacity of 600 lbs, this desk is the king of stability and reliability. And guess what? It comes with FOUR motors, making it the FASTEST and MOST EFFICIENT desk on the market! Plus, its anti-collision gyroscope system, travel speed of 1.5″ per second, and whisper-quiet noise level of <50 decibels will leave you in awe. And the BEST PART? The company offers customer service that's out of this world, super easy installation, and materials of the highest quality, including a FREE Blizzard desk! So what are you waiting for?
The only downside is the Smart Paddle and wire snake, and with a height range of 22.5″ – 48.5″ it may not be suitable for tall people above 6'5″. Consider other options like Flexispot E7 Pro Plus high T-leg or Uplift V2
Flexispot E7 Pro Plus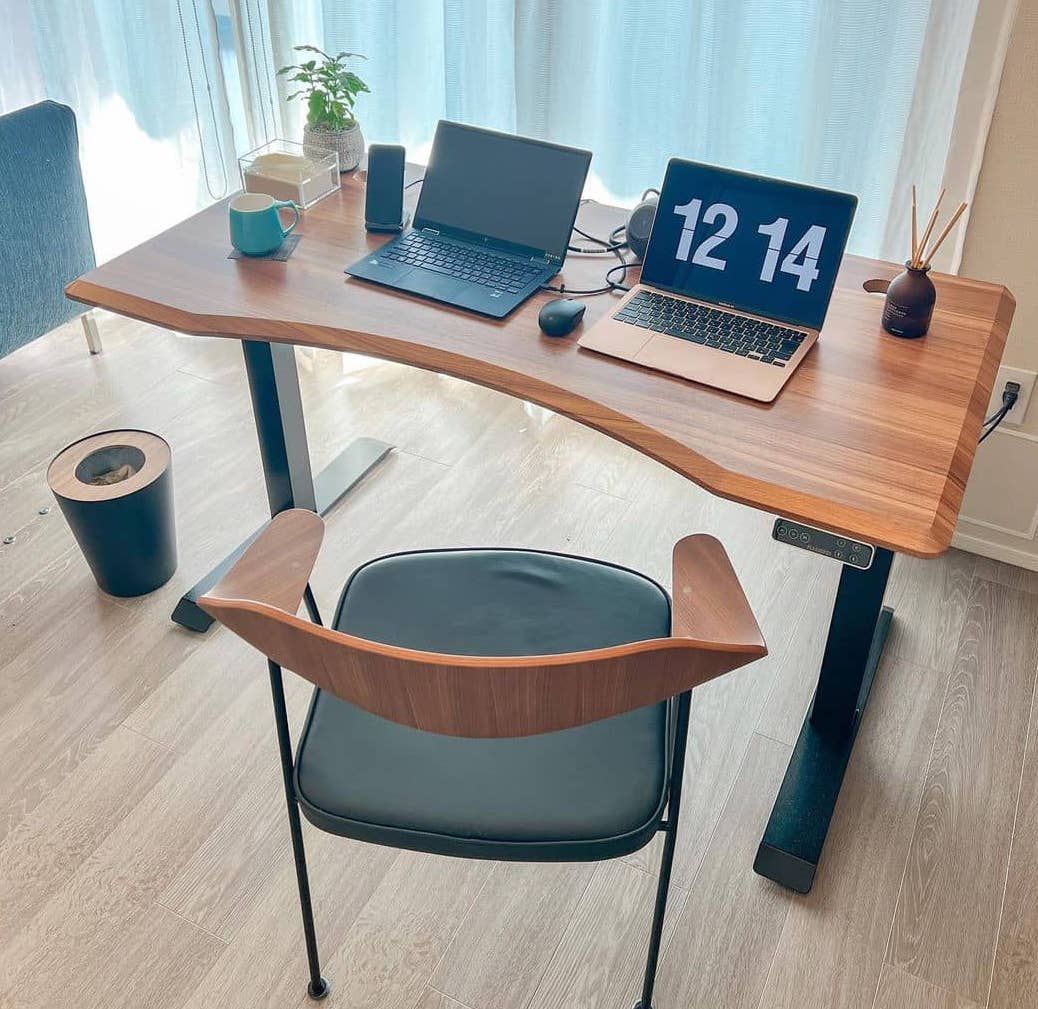 The E7 standing desk by Flexispot is a magnificent, incredible, and game-changing product in the market that will blow your mind! It's a real game-changer with its dazzling adjustable height range that accommodates people of all shapes and sizes, from the tiny to the towering. The T-Frame option provides a height adjustment range of 22.8 to 48.4 inches, making it perfect for those who are short. For those who are taller, the High-Frame option offers a height adjustment range of 25.6 to 52.4 inches. The C-Frame option provides a height adjustment range of 23.6 to 49.2 inches, making it suitable for people of average height. It's rare to find a brand that can cater to such a wide range of people, but the E7 is one of them

It's certified by BIFMA, which sets the bar for its unbelievable stability. The E7 is also built with spectacular, thicker leg columns and a scientifically designed column gap that provides the optimal setting for a smoothly awesome height adjustment experience. The E7's base structure is made of solid carbon steel that reaches automotive-grade, making it incredibly durable and sturdy.
Of course, while it has many impressive features and benefits, the brand does have a few drawbacks. One potential disadvantage is that its load capacity of 355 lbs may not be as strong as the top #1 model like the Desk.haus Apex Pro, but that's enough for the basic setup with 2 monitors, a laptop and a few accessories.
Uplift V2
Wow, where do we even begin with the Uplift V2 standing desk?! This desk is just phenomenal!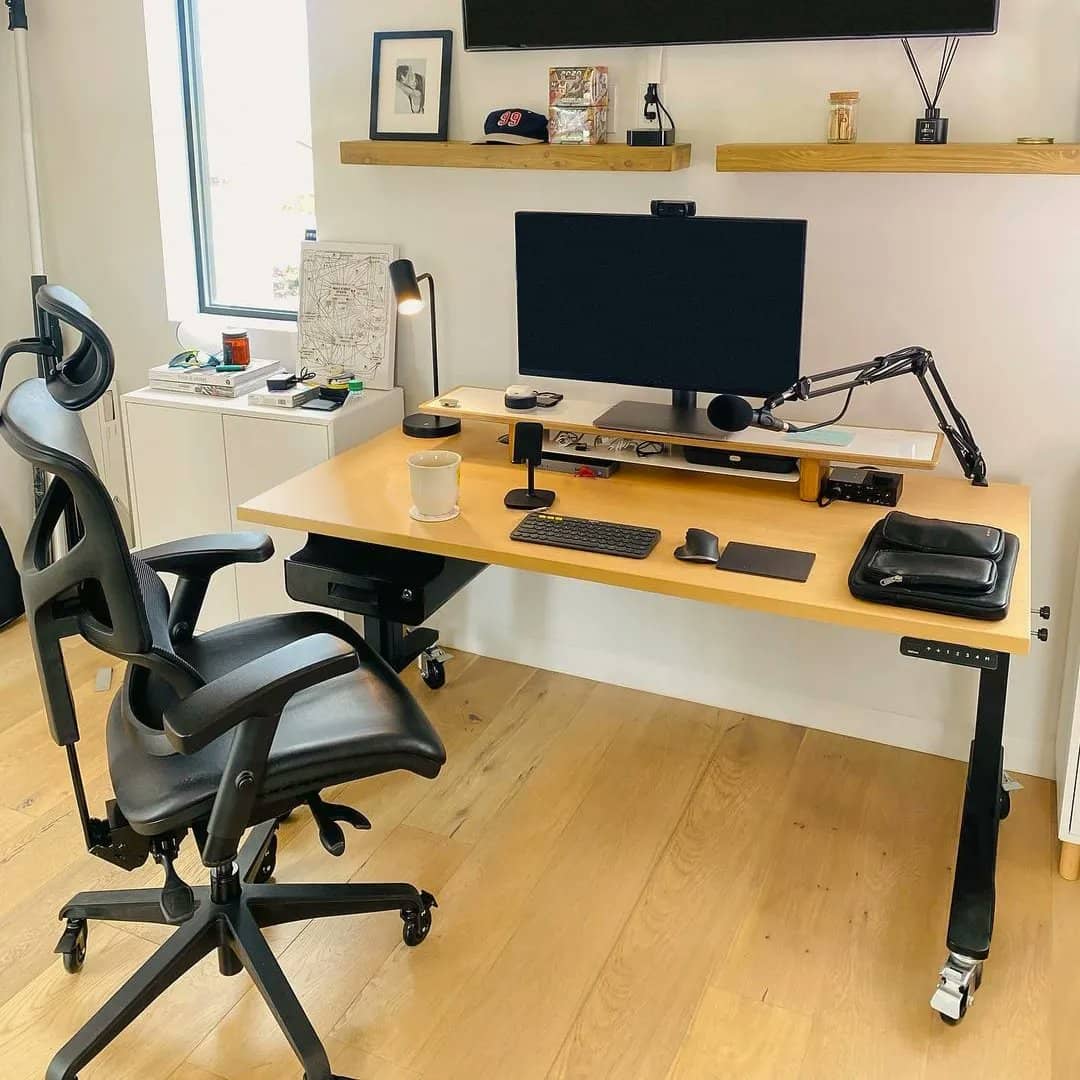 The variety of tabletop sizes is absolutely mind-blowing – from tiny spaces (42×30″) to big ones (80×30″) for gamers, you name it, they've got it! And let's talk about the height adjustment range, it's just remarkable – you can easily adjust it from 25.6-50.9″ on the V2 and 22.6-48.7″ on the V2-Commercial, this desk can accommodate a wide range of users, from shorter to taller individuals.
For example, someone who is around 5′ tall can comfortably use the V2 Commercial desk at its lowest setting, while someone who is 6′ or taller can easily adjust the V2 desk to their preferred height. Of course if you are taller than 6'8″, this desk is not the one!
With a weight capacity of 355 lbs, it's sturdy and the 4-leg version takes it to the next level with a whopping 535 lbs capacity!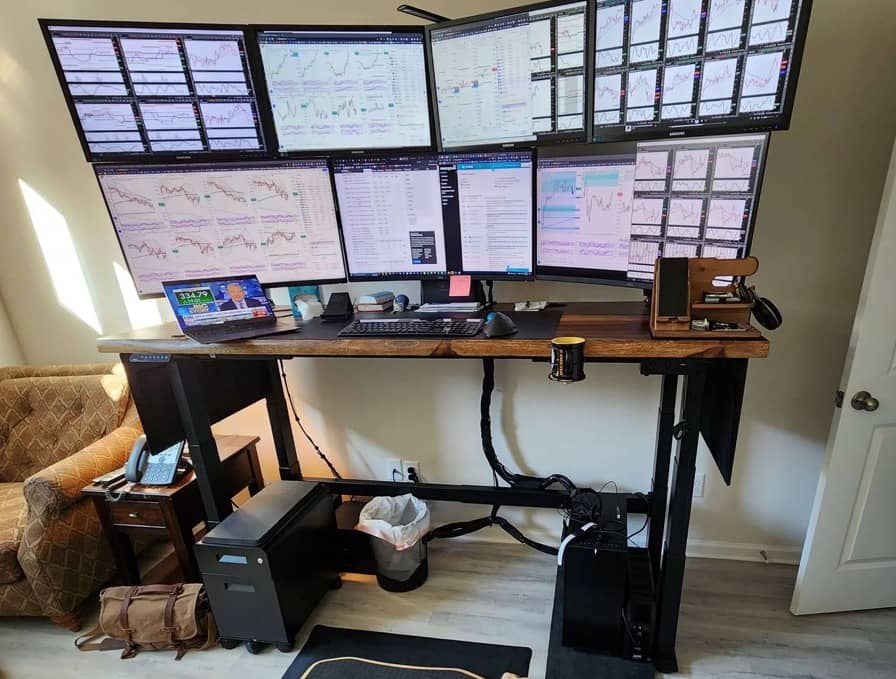 Assembly is a breeze, taking only 7 minutes
And the patented accessory mounting system is a game-changer. You can secure your accessories directly to the heavy steel frame, it's amazing! The desk is built to last, with heavy-duty steel construction and a 15-year warranty – you'll be set for life!
Plus, the advanced anti-collision system, with a six-axis electronic gyroscope sensor in the control box, provides unparalleled accuracy and reliability.
One potential con of the Uplift V2 standing desk is the abundance of accessories and add-ons that are available. While some of these items can be quite cool and add unique functionality to the desk, they may also be seen as gimmicky by some users.
Another possible downside is its pricing and marketing approach. Despite the desk potentially offering discounts and promotions at times, a number of customers might view these as not truly being sales since they appear to always be available and do not bring about substantial reductions in price.
Additionally, it might be seen as overpriced when compared to others such as Flexispot. And with the cost is unjustified, especially considering there are alternative standing desks offering comparable features and performance at a lower price.
Therefore, while the Uplift V2 is a high-quality and versatile option, we might be put off by its cost and marketing tactics. It's crucial to carefully evaluate your budget and needs before determining if this desk is the optimal choice.
Fully Jarvis
This one is another bamboo electric adjustable desk with an affordable price tag so if cost is not your number one priority – definitely take a look at it! This desk is designed with eco-friendly materials and has a very sturdy construction. It's fully assembled so if you don't want to spend hours putting it together – you can enjoy the stand up desk at once!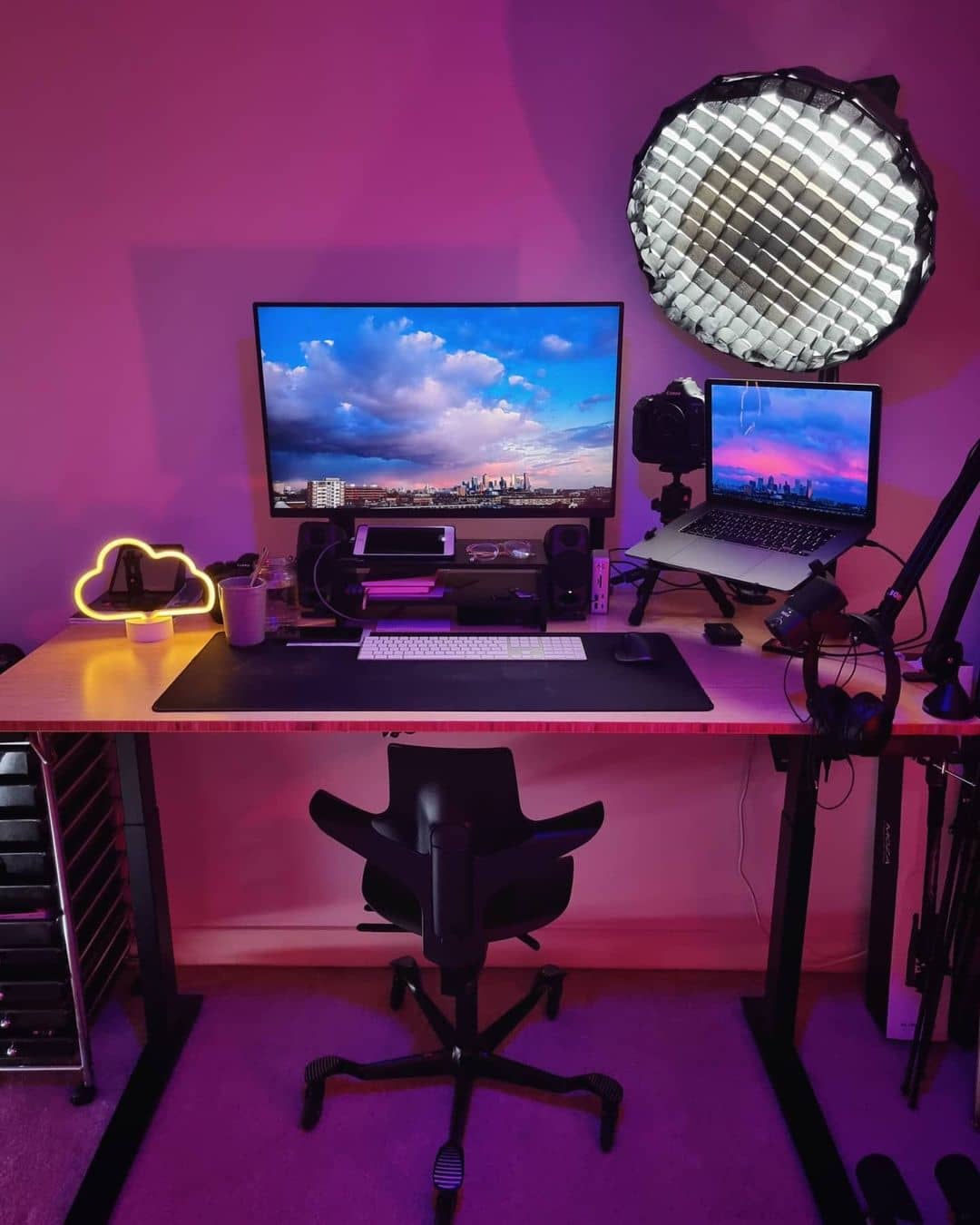 Here, there are four different height position settings so if one isn't enough for you, gradually increase your working position throughout the day. What we love about this desk: bamboo surface, small footprint due to corner design, easy to use push button adjustment system, silent work surface leveling system.
Apexdesk Elite
If you need a large space at 70 inches, the Apexdesk Elite series will indulge you at an additional one more inch. That may not be that big but that's still an additional inch of working space. So this is a very good option for those seeking the wider standing desk for this price range.
The Elite series desk has a very nice set of features for its price. And the desk is pretty stable and solid too. There are fewer wobbles compared with other high-end options. The build of the frame and the tabletop are impeccable quality too. But hold your horses, there is less room for customization like you can with a Fully Jarvis. So the Apexdesk Elite series is a "it is what it is" desk. You cannot alter the looks much.
But if you want a big, spacious and steady desk, this is it. Though if you're taller, the desk will not be able to go high enough for you. It can provide a more comfortable position for those who stand 6 feet and lower. 
And oh, the very stingy warranty might tick you off. It only offers a two years warranty on electronic parts. So that's a sad thing because we are really loving the desk. 
FlexiSpot E5 Pro
If you're looking for something cheaper, this is definitely the desk to go with. Even though it's not electric, it has small footprint and extremely easy to use adjustment system – slide your desk up or down by using just one hand! Besides that, it comes fully assembled which means you won't have to spend hours putting it together. What we love about this desk: compact & space saving design (smaller than some electric standing desks), extremely affordable price tag, ease of use & adjustability
If you want an affordable electric adjustable desk with a simple design and wireless keyboard tray, look no further! The best thing about this desk is that it actually feels like a high quality product. You can switch between sitting and standing position with just one button press. We also love the fact that even though this is quite compact desk it still offers generous space for all your needs – from laptop up to 24inch monitor . What we love about this desk: affordable price tag, sleek design, good weight capacity, durability & stability, easy to use adjustment system
Vari Essential
Another option for budget, even cheaper!
The Vari is very stylish. We particularly love the butcher block tabletop finish. This is perhaps our top pick when it comes to the overall appearance and style. 
This desk is large enough and has plenty of room for two large monitors. You may even have some more space for a laptop and some other gadgets. So space-wise, it's a big win. 
This desk is hefty, solid, and quite durable. So yes, it is a win again because you're sure that this desk will be able to stand the test of time. But never attempt to set it up yourself. Unless you want to do a heavy full-body workout. The desk is a big hefty one. It's a solid one-piece kit. 
And this can handle more weight. It is also one of the more heavy-duty standing desks on our list. Stability is also pretty good. There are fewer wobbles too.
So for the negatives, it also has a crossbar so this may not be everyone's cup of tea. It also has a stingy 3-year warranty. 
———————-