When you purchase through links on Astonmet.com, we may earn an affiliate commission.
Here's detail
Can Air Mattresses Be Comfortable?
Air mattresses are convenient. They can go to bed for an extra person sleeping over. It can also be used as a comfortable bed when you're camping, so you don't have to settle.
And if you are very tight in space, you can use your living room as your bedroom and just inflate the bed whenever the need arises. But this type of mattress is also notorious for lacking support. That's why you can end up the next day with a bad back and not feel recharged at all. Thus, we've made it a mission to search for the best air mattresses that can somehow debunk this claim.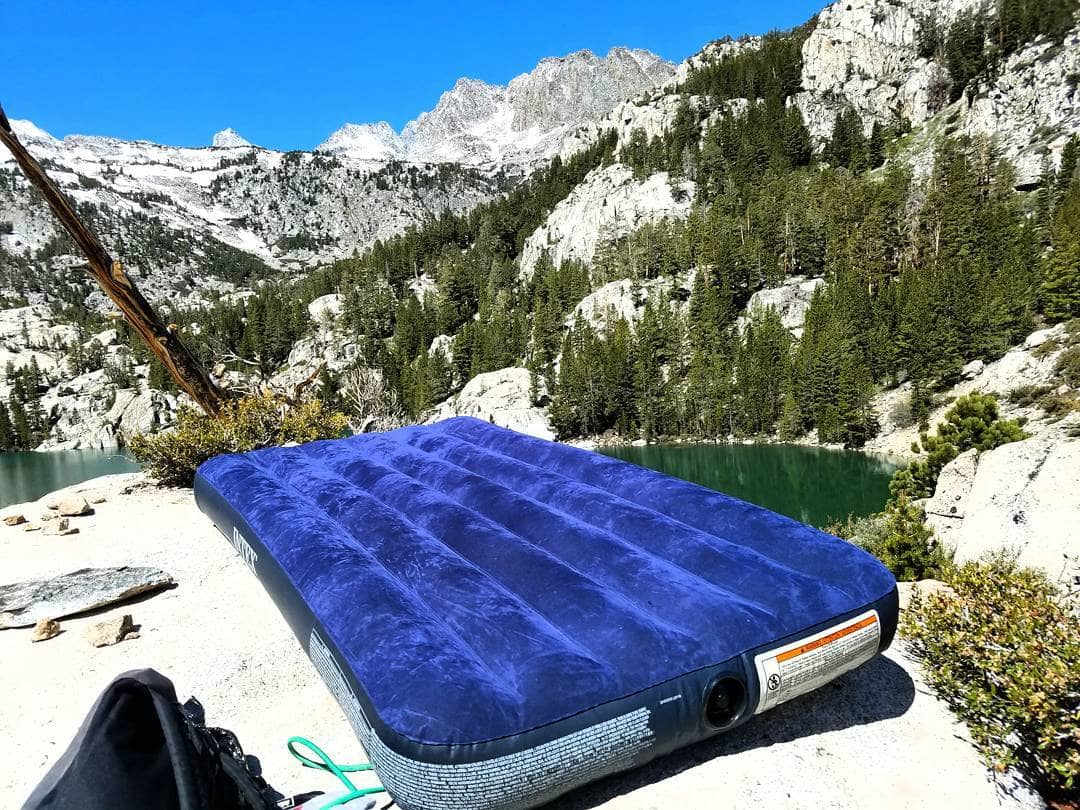 The 10 Best Air Mattresses for 2023
Sound Asleep Dream Series
Our top choice offers substantial support for the spine and the entire body. 
If you have back issues, you don't have to settle for a sleepless night. This air mattress is supportive enough and offers extra pads. This ensures that you somehow do not lie flat on a surface. 
It also has raised sides so it will not make you feel like you're floating all the time. And the raised edges also ensure that you will not slide off the mattress as you toss and turn at night. It keeps you on the bed. 
It also has a comfortable height, not too low nor too high from the floor. This is also one of the caveats of standard air mattresses. If it's too low, you'll find it hard to get out of bed. It also is not a relaxing thought to be sleeping too close to where shoe skids. And not a lot of people want a higher mattress. This can also make it hard for some to get out.
Also, it's not slippery, that is what most air mattresses feel like. This is skid resistant. So your bedding and blankets will stay on the bed. 
It is also pretty convenient since the inflator and the deflator are built into the mattress. You don't have to worry about misplacing these essential components. 
One disadvantage though, moisture tends to form between the two foams. And you must take time to dry it out before packing the mattress.
Intex Comfort Aerobed
When it comes to longevity, the Intex air mattress can be trusted. It can hold itself up for several years. It's also a more heavy-duty type of air mattress. The weight capacity is about 660 lbs. Thus, this can be shared by two hefty-sized individuals. 
This is perhaps what makes this brand stand out. If durability is the name of the game, then it's a yes.
Also, like Sound Asleep, this has a comfortable height, it's not too low or too high from the ground. So you can fall asleep blissfully without having to smell the carpet 
Another advantage too is that it can hold onto the air much longer. You can use it for a month and you don't have to put it in the air every day. The caveat, however, it takes time to deflate this baby. You also have to take care in releasing the air and not rush it. Doing so can result in damaging some of its components.
And oh, it helps, it comes with both an auto and manual pump. So you can choose your poison. 
Coleman Supportrest
The Coleman Supportrest, though not as heavy duty as the Intex also has a lot to offer. It has a weight capacity of 300 lbs, thus it can be used by larger and heavier folks. It also runs wider than most air mattresses, so it can also be enjoyed by cuddling couples.
What sets this air mattress apart is that it sits a bit high, giving you the feel of a nearly proper bed or mattress. So if you need one that can give you a more classic bed feel, this is it. 
Also, like Intex, it can maintain the air inside much longer than standard air mattresses. You don't need to pump it every day, just to keep it nice and bouncy. 
We also love how plush and supportive it is at the same time. The top feels like velvet. And despite the soft comfort, you can still tell that it has sufficient support. It has reinforced construction that adds up to its stability.
The downside is, it does not come with an air pump, so you have to purchase it separately. Better get a good air pump to maximize the almost no air leakage feature of this mattress. 
Lazery Sleep
Up at a higher weight limit, this air mattress is what you need for a more heavy-duty option. It can bear a load of up to 500 lbs. 
The unique feature of this brand is that it allows you to nitty gritty your firmness levels. It offers about 7 firmness options. So you're sure to find one that feels the most comfortable for you. Others will just have 3 to 4 firmness options, so this sets the bar a notch higher. It also comes with a remote control so you can easily adjust the comfort just by pressing a button. The pump also has a built-in automatic shut-off feature. So you're getting more upgrades for the cost. 
It definitely sits at the high-end tier, both in the features it offers and the entire feel. So if you need an air mattress with a bit more swag in all essence of the word, this is it. 
King Koil Luxury
Taller people may not find most air mattresses comfortable. It always seems like their legs are always dangling from the edge of the mattress. No way will you find this comfortable, even just for an overnight stay at a friend's house. 

King Koil fits the needs of taller folks. This mattress comes in an extra-long size, suitable for those with daddy long legs. But keep in mind that this can run a tab in your wallet too. Anything that runs with an extra feature merits additional cost. 
You can still get the value for what you pay for. This is a durable one. It is also rather comfy and plush, It doesn't feel like you're sleeping on plastic. It feels very dreamy too. But even at a high-end price, it still maintains some features of a standard air mattress. There is still that distinct bouncy feel, but it will just be more comfortable. 
Insta Bed Raised 
This air mattress combines strength and function in one. This has a higher weight capacity of 500 lbs and thus can be used by couples. Also, even if you are on the heavier side you can be assured that your body and spine will be getting enough support. It has 35 coils that can give couples a balanced and comfortable surface to retreat for the night. 
It's normal for most air mattresses to lose some air or leak. This has been a common nuisance. And this is addressed by a specific automatic feature you can find in this air mattress. It automatically pumps in the lost air at the right time. Thus, this ensures you still get that comfort and will never wake up flat on the floor no matter how long you've overslept. It maintains the chosen level of firmness you have set the mattress at. 
The design of the mattress is quite deep, so it is a bit similar to how a bed feels. This makes it easier to get out of bed in the morning,
Olar Hike
When it comes to durability and support, this air mattress is also a top-running contender. It has innovative air coil beams that can give anyone great head-to-toe support during their sleep.
Like most brands, it tends to lose some air during the night. But instead of pumping additional air to maintain the level of firmness you set it to, the innovative coils equalize the air pressure. Thus, preventing the mattress from sinking into the floor. And you will still enjoy the same level of comfort you set it to.  
The downside is, this can be a bit of a noisy mattress. So it might not be a good option for couples who are light sleepers. 
Enerplex Twin
This is another study option should you need additional sleeping space for guests or relatives coming over. And you don't have to worry if kids get raunchy on the bed and play. This mattress can hold itself pretty well. It is a pretty durable choice. 
It also offers an extra height and sits higher from the floor. So even old folks will find it easier to get out of bed in the morning. 
It's easy to inflate and easy to deflate. So if you need it to stow away, it can be done easier. This is perhaps a great option if you lack space and need to get the extra bed out of the way asap. 
Yening Double Raised
This brand offers mattresses in perky colors. The sides are also raised and it sits higher from the ground. This can be a budget alternative to a traditional bed. Say if you're living in dorms or space sharing with a friend, you can sleep on a mattress akin to a traditional bed setup without having to splurge much
The heightened edges also ensure that you stay on the bed and will not slip off the mattress. So even kids will find it comfy and safe to sleep on. 
But keep in mind that it does lose a bit of air during the night. Though not as much as the standard air mattress in the market, it does lose more compared to other mattresses in our list. But it is competitively priced, so nothing much to regret.
Sleep Luxe
This is another wallet-friendly air mattress. It's not the most supportive, but you can get more compared to other mattresses that are at the same cost. It can be sufficient for those needing basic support. 
This is also easy to stow away, you can inflate and deflate it with almost zero effort. So this is another nice choice for a living room sleeping situation for your friends and guests. You can easily put it out of sight in time for breakfast.
And oh, it has a built-in USB port for charging phones. Your guests will surely be amazed by this. Did we also say that the size runs a bit larger than its contemporaries? Yes, it is wider and more spacious.
The Air Mattress Buying Guide
Air mattresses are convenient options for an extra bed. You can also bring it along for camping to have a more blissful sleep under the stars. 
Whichever it is, keep these in mind. 
Air pump
You need an air pump to inflate the mattress. And there are several questions you have to ask yourself.
Am I willing to buy an air pump? Do I want an automatic pump or a manual one?
If it comes with a pump, is it manual or automatic? Automatic pumps can make it easy to set the bed up and deflate it the next morning. But there are still those who may want to go the traditional route. As for us, an air mattress that has both a manual and automatic pump can give you the best value. 
Weight Capacity
As with mattresses, air mattresses also have a weight capacity. This is more area of control compared to mattresses that are set up on the bed. Overloading can lead to more air escaping the mattress, so it may leave you sleeping on the floor the next morning. It can also ruin the integrity of the air mattress and shorten its shelf life.
Height
Air mattresses can either be of single height or double height. Double-height mattresses can give you a more in-the-bed experience as it sits farther away from the floor. Though the higher it is, sometimes it comes with more cost. We do have options for both. But the good news is, even our single-height mattresses do not sit too close to the floor. 
Can you sleep well on an air mattress?
This is perhaps the most daunting question. Air mattresses are notorious for the oftentimes uncomfortable bounce and almost slippery surface. That's why we have scoured the market for the lesser evil options, so to speak. 
Albeit having some of the standard features and feel of an air mattress, some may not be able to tell the difference. There can be that classic air mattress bounce, but it will not be that easy to tell. 
We have also listed the more supportive and durable air mattresses. So even if your guests are just sleeping in the living room for the night, they need not be in zombie mode.