When you purchase through links on Astonmet.com, we may earn an affiliate commission.
Here's detail
Standing desks have become increasingly ubiquitous in recent years, as more and more people seek to ameliorate their posture and overall well-being while working from home office.
Even people know the truth that "you get what you pay for," it doesn't mean that they must exhaust their savings to acquire a pricey product.
At the first time, you may not want to expend a substantial amount of funds on a novel product, especially if it's something you rarely use.
While certain high-end standing desks can cost a fortune, there are still many splendid alternatives from lesser-known brands
For someone who only want to spend not over $300, you expect to find some golden options in this post, and that's exactly what we are showing to you
We will delve into some of the best budget standing desks without depleting your finances.
So, let's be astute purchasers and discover your perfect sit-stand desk to put on a room in a fancy way like this!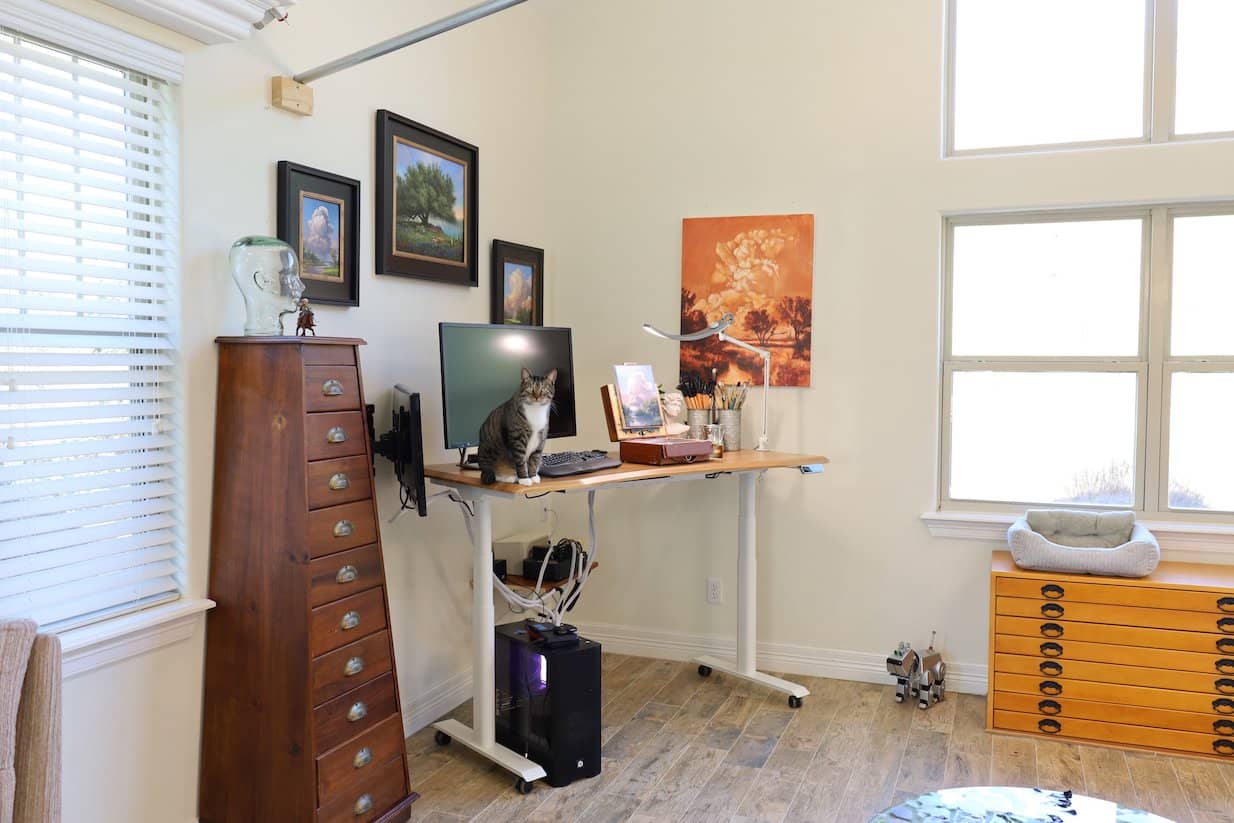 Starting with the most common brands first
Flexispot E2
You cannot deny the truth that the Chinese are really good manufacturers. Almost everything we are using nowadays, even iPhone, Nike, H&M and you name it, they are made in China.
When it comes to a standing desk, Flexispot is the first brand we will recommend because of the quality and the customer services. It's tough to ship world wide but they also have offices in so many countries include US, UK, CA, etc.
They have high-end desks like E7 Pro Plus can compete with Uplift V2 (2-leg), E7Q to compare with the Desk.haus Apex Pro (4-leg). In the mid-range versions, they have E5 Pro to win the showdown with Fezibo for around $500
Then the lowest options, within $300, you can see Flexispot EC1 all around the eCommerce websites and recommended by so many Redditors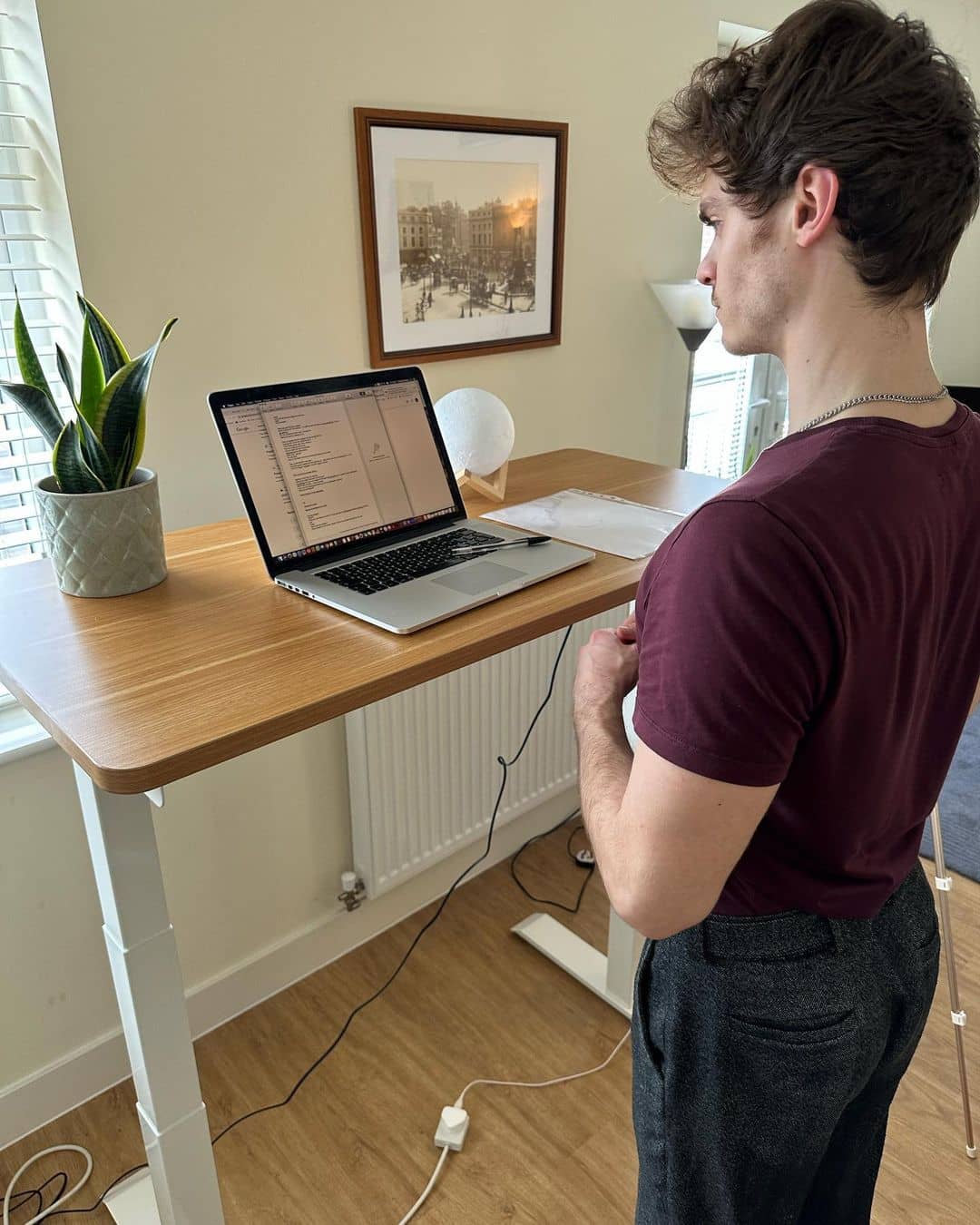 After testing all products, we name the E2 from this brand on the top of this buget desks list
A few quick specs for you to compare with others in the same price range
187 lbs load capacity
55×28″ is the biggest size for the price. (It will be over $300 if you want bigger tops as 60×30″, but we won't recommend it here)
28-47″ height adjustments. That's good for standard people.
5 years of warranty. That's good
Easy to assemble within 30 minutes. Actually we only need 5 minutes but for the first time, starters will need more time to explore
About the cons, we have to say the E2 has only 2 Keypad Options, up & down. That's all for the controller. We love the 4 buttons to setup the height we frequently use!
And the Inverted 2-stage with only single motor may not be stable enough when you put lots of things in the table
Any way, you cannot request more features with a tiny wallet. So as far as the money can buy, this is really the best option in the market at the moment!
Where to buy: https://www.flexispot.com/electric-height-adjustable-desk-with-rectangular-top
Runner-up for the same brand: https://www.amazon.com/Flexispot-Electric-Height-Adjustable-Standing/dp/B0813MN98G. Note: This is a solution for some one who want a bigger top (60×24) but be careful because the EC1 has only 154 lbs of load capacity, may not strong enough for 3 monitors and accessories. So don't put too much on the table
Radlove
A new brand in the market, with stronger weight capacity and bigger promises
To maximize the value, you cannot ignore this sit-stand desk. Up to 265 weight capacity, very impressive. It does not require $500 to buy and you feel like you can get a mid-range premium option
The other factors are similar to the best Flexispot E2, but only one thing we need to remind, the warranty
Because it's too new brand, they don't even have a website. Their stores are available on eCommerce websites only. We cannot find any warranty information are published
It took an hour to assemble with our expert tester. So with a newbie, the time could be more and more
Even the key features are so amazing, we can make the brand come out on top because of all these. So if you want to take the risk, let's do this and reward yourself
VIVO Desk-Kit
VIVO is not a new brand. And it provide a spacious tabletop that no others can within $300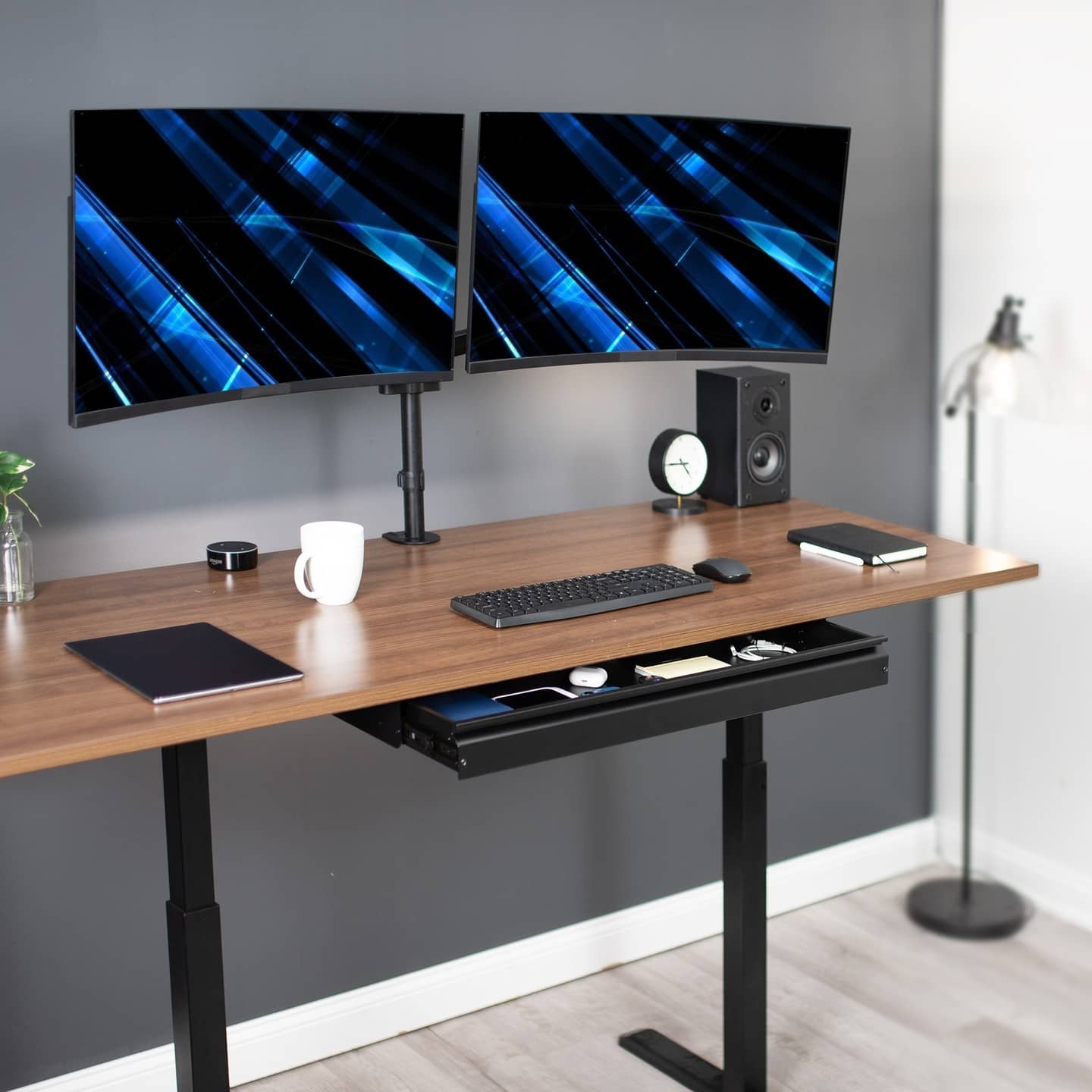 60×24″ is the biggest one in the budget list that we can find with the 3-year warranty. Respect the brand for that
It may not stronger than the Radlove, but we can trust it more with better customer support
Good news for someone who love the controller, this VIVO has 4 memory reset buttons, easy to push and reset
The cons, lots of errors can be found if you do not install the desk right away. Here is the guide to assemble from the official brand, you may need it
Fezibo with Drawers
Fezibo is a good brand when it comes to the frames.
This option we recommend has the drawers, biggest tabletop (63×24″) with tiny budget under $300 and it even has 5 years of warranty. What a good desk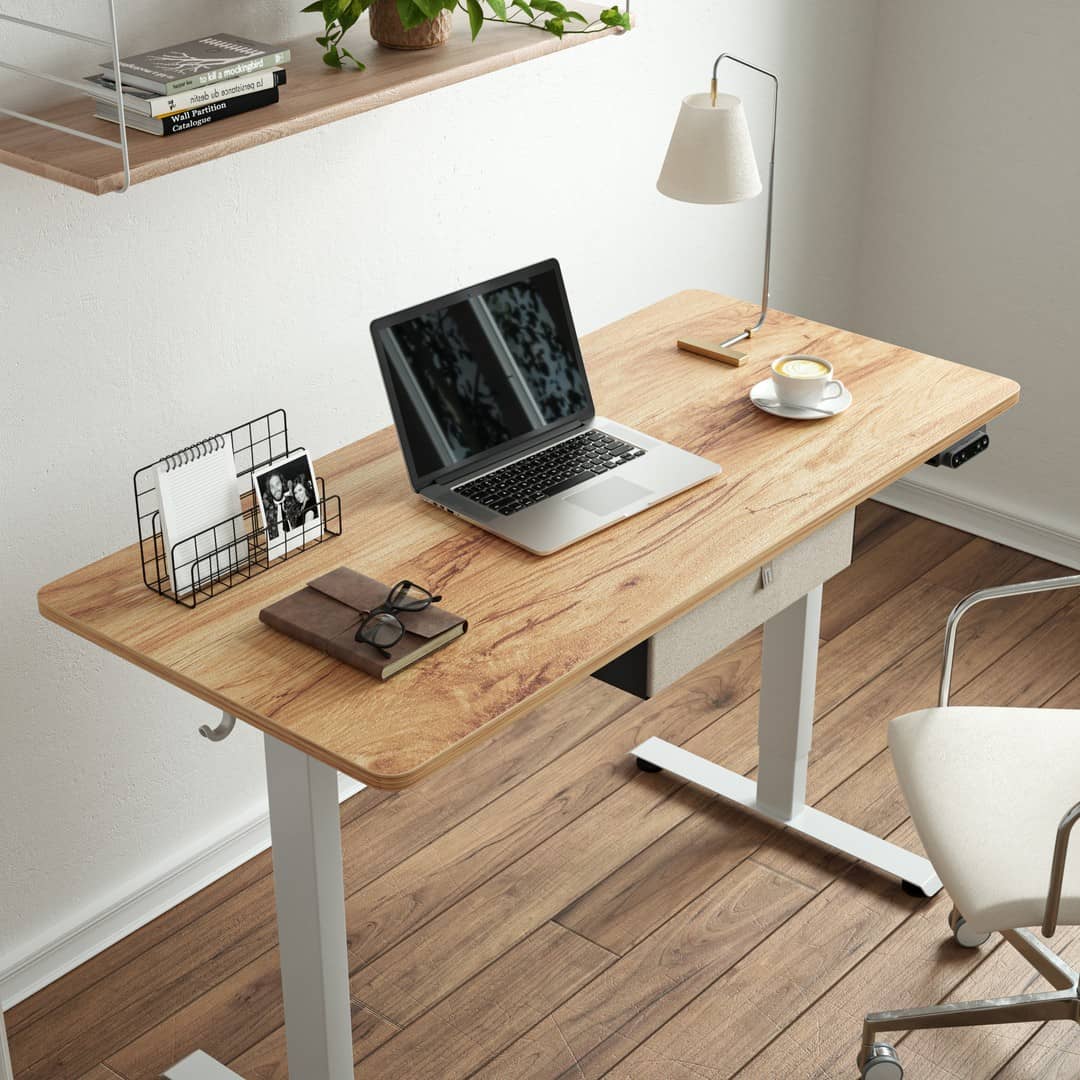 Bad news, it's difficult to install as VIVO and often get E06 error, won't go up or down, etc. And we have to reset it so many times
Where to buy: https://www.amazon.com/FEZIBO-Adjustable-Workstation-Programmable-Controller/dp/B085GFRM6H/
Vari Essential
Vari is a famous brand in the market. Their Pro Standing Desk has a crazy price for a quality product
But they also offer the budget option – this Essential has only 3 years warranty and standard 48×24″ size from the table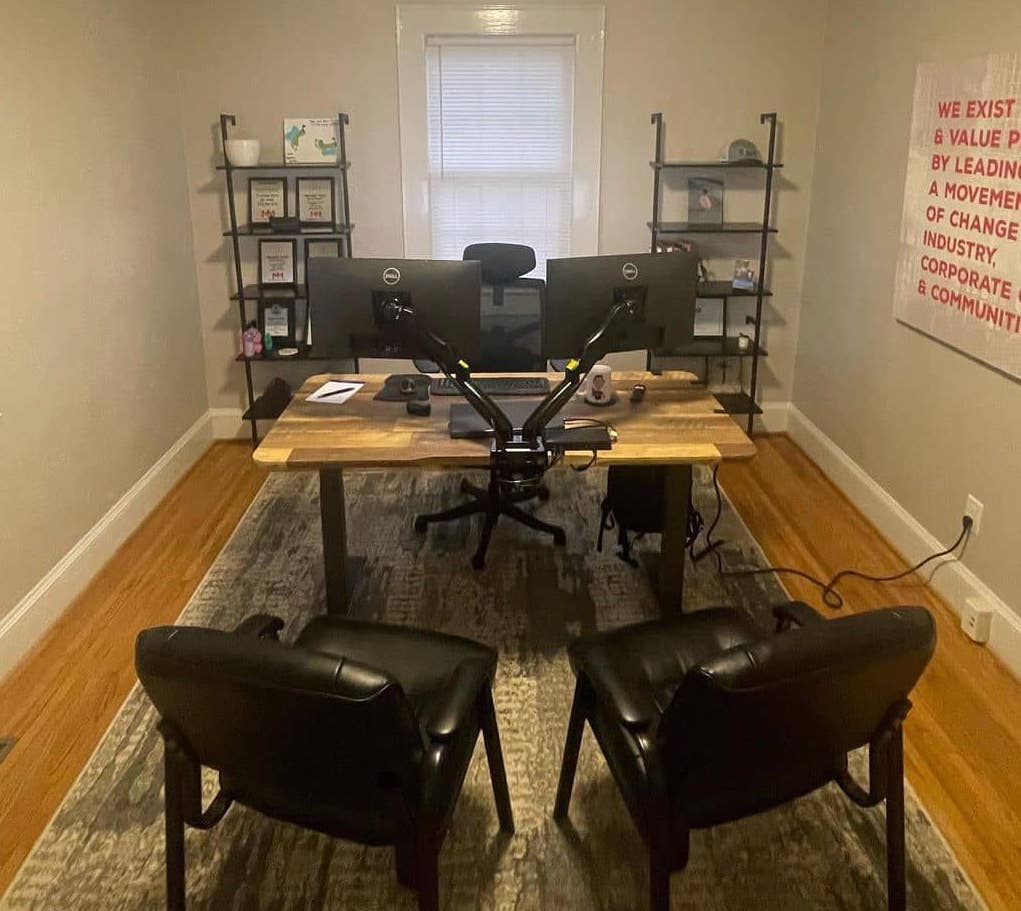 But it's good enough for normal user who does not need a super cool home office setup. So this option is suitable for a compact room only
It has no complain about the common errors, but we have to be careful because it only has 150lbs limit of load capacity
And the price under $300 now is only available on their official website: https://www.vari.com/essential-electric-standing-desk-48×24/FD-ESTESD4824.html
They also available on eCommerce websites but you have to pay more bucks, check it here: https://www.amazon.com/Vari-Essential-Electric-Standing-Desk/dp/B09BRF3QFK/
The problems with standing desks under $300
They are not created for tall people above 6'2″ because the recommend of the max desk height setting will be at 44.5 – 48″ for the most comfortable standing
They also are not comfortable for petite folks under 5'5″ because the recommend for lowest setting will be at 24 – 26.5″
You get it right?
The budget options are available for a reason
And it always right
You'll get what you pay for