When you purchase through links on Astonmet.com, we may earn an affiliate commission.
Here's detail
Your new bundle of joy deserves nothing but the best. And babies spend a lot of their time sleeping. So one of the best things you can get them is a quality mattress. It must ensure optimum sleep and provide spirit for your young ones while they are snoozing away. There are a lot of things to consider. These mattresses should comply with safety standards for a start. So let's take a look at the best brands you can get for your mini-me's. We'll also dabble on some factors to consider when buying mattresses for babies.
Factors to consider when buying the best mattress for newborns
When it comes to your baby's safety and needs, there's nothing you must spare. And a mattress is one of the best investments you can make. They spend a lot of time sleeping, that's why you must make the right choice.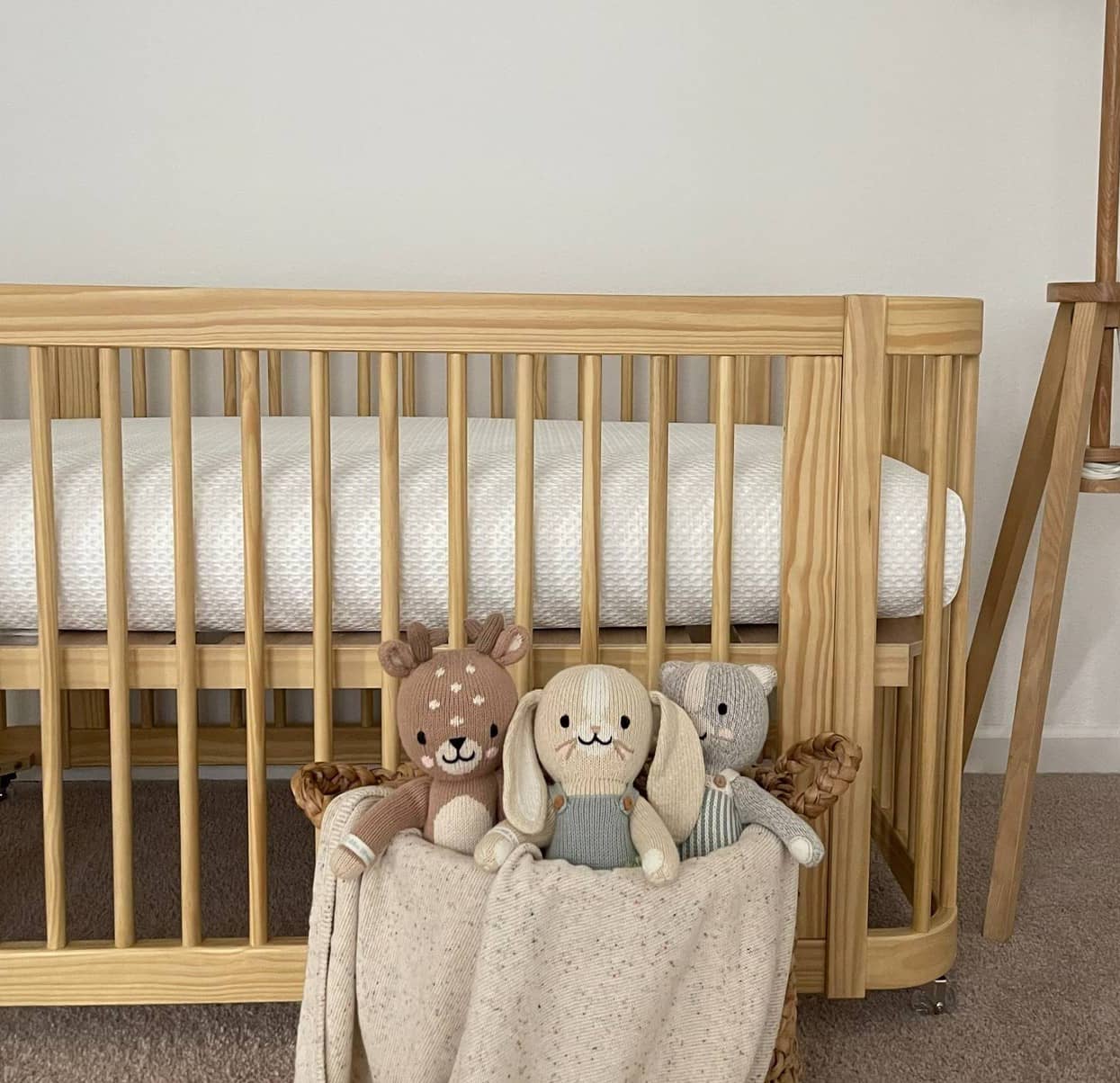 Mattress material
There are four materials often used in mattresses for newborns. You have cotton, latex, memory foam, and innerspring coils. The choice you make will depend on what type of support your baby needs.
Cotton is organic, soft, and delicate on the skin. Choose this if you need a hypoallergenic material. This is also very breathable and airy.
Latex will provide more spinal support. Like cotton, it is also breathable. It can give optimum support to the delicate spine of the baby.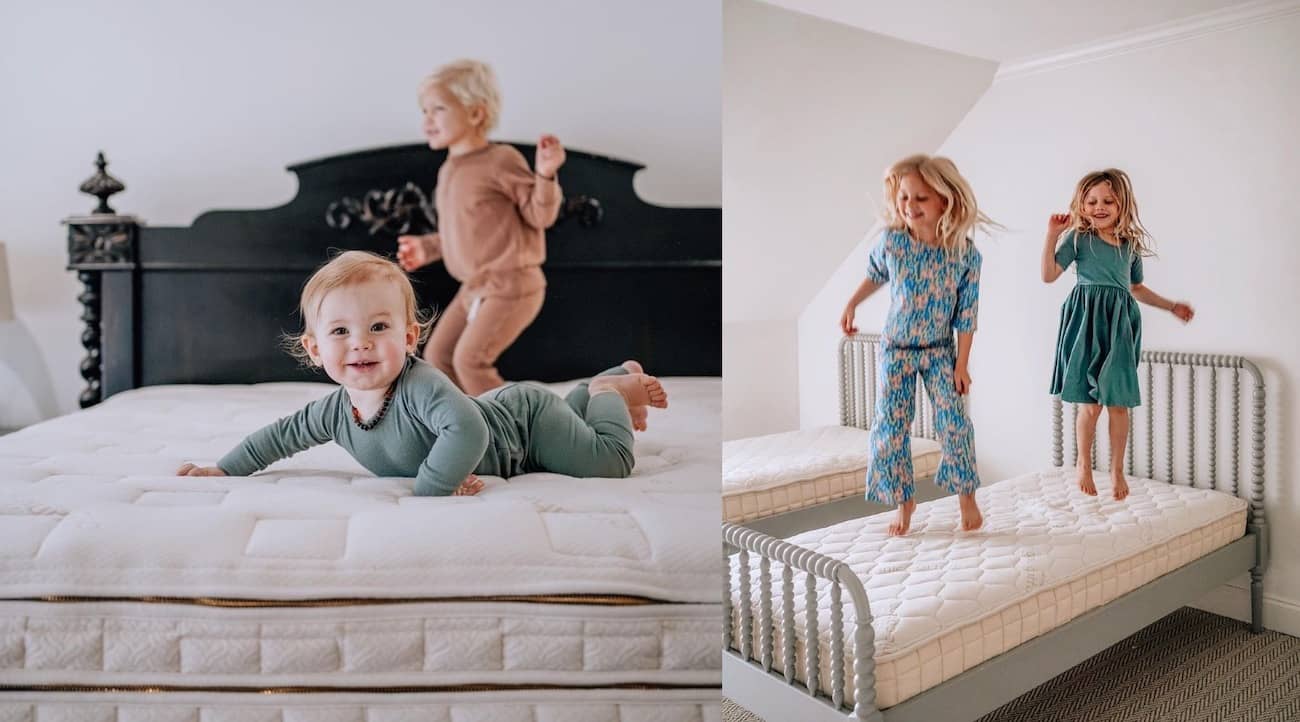 Memory foam is notorious for being a contouring comfort. But memory foam used for baby beds is firmer than the adult counterparts. This is to ensure that there is no risk of suffocation. But check the label and it has to bear CertiPUR-US®. This ensures that foam is free from harmful chemicals and substances. 
Coils, like latex, are very supportive. It is also a more breathable material. Look for this if you need a mattress that can better aid in mobility. 
Safety and comfort
There are specific certifications these mattresses must meet. Among these is the Juvenile Products Manufacturers Association (JPMA). Also, check if the brand complies with the Consumer Product Safety Commission (CPSC) regulations. This ensures that a mattress is free from harmful chemicals and substances.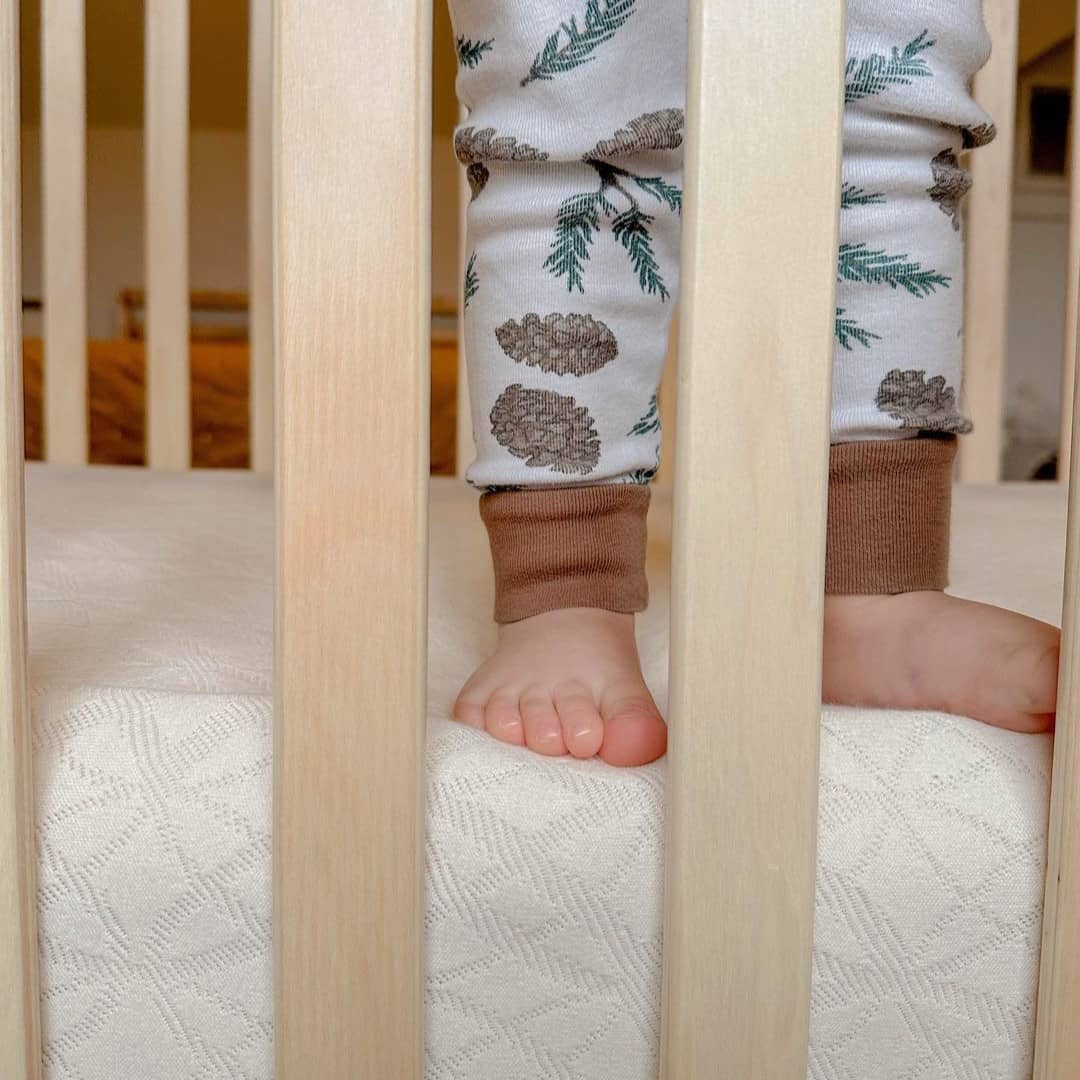 And if you're going to buy an organic mattress, look for these labels so that you'll not be ripped off. GOTS and Greenguard certification ensures that you're getting the real deal. 
Level of Firmness and Support 
A firmer mattress is the best for babies. They have a very delicate developing spine, so they will need a mattress that can provide optimum support. A softer mattress will not be able to give that, it can also increase the risk of suffocation.
Breathability 
Babies cannot regulate their temperature yet. So a too-hot or too-cold mattress can make them sick. As such you have to look for brands that are cool enough for the summer and toasty enough for the cooler nights. 
A breathable material also lessens the risk of suffocation. Babies will also be able to sleep like a log on an airy mattress.
Waterproof 
Even with diapers, accidents can still happen. So you want to have an easier cleanup look for a waterproof mattress. All you need is to wipe the liquid off the mattress and you're good to go.  
Best Mattresses for Newborn – Blissful Sleep For Baby and Mom
Here are our top picks for 2023
Organic Dream Mini Crib Mattress
It's a highly breathable mattress that can give your little ones a soft and sweet slumber. But at the same time, they get ultimate support for their growing bodies. 
Since it's airy and comfy, this lessens the risk of suffocation. And this makes it less worrying for moms and dads. It's also hypoallergenic and organic, so you're also sure that your baby is not breathing in any toxic fumes or chemicals into their system. 
This mattress is also dual-sided. One side is firmer and has sufficient firmness, exactly just what newborns need. Then the other side is a tad softer, which toddlers would find more comfortable. This gives you more opportunities to use the mattress as your baby grows.
Moonlight Slumber Little Dreamer
This mattress can give you two different comfort levels. One side is firmer and the other is softer. Just flip the mattress over then you can use the same bed once your baby turns 2 or 3
It may not be purely organic and has a layer of polyurethane foam, but you can be sure it is safe enough for newborns to use. It does not have any harmful chemicals or hazardous materials. The mattress also bears the CertiPUR-US certified foam.
It also makes cleaning up very easy for moms. It is waterproof and quite light. So moms can easily hover and clean the bed should accidents happen.
Sealy Soybean Serenity Foam Core
All organic and made from renewable sources, this is perfect for environmentally conscious parents. It uses soybeans as the core material, so there aren't any harmful chemicals and substances, just pure organic comfort.
This mattress has no chemical smell or any of that sort. It has a lot of natural fibers and feels very premium, but it does not feel like you're shelling out a lot of money. It is rather affordable.
It feels a bit different and not too firm. It is rather soft but still has the sufficient firmness needed to support your baby's body. This ensures that they will not wake up in the middle of the night. It's also easy to clean since the liquid will not seep through the foam lakers. 
Naturepedic Organic Cotton
This mattress stands out from other natural cotton foams due to its weight. It is quite light for a mattress with innerspring coils. So moms will have an easy time changing the sheets and cleaning them. 
This is one of the firm mattresses for newborns, if your mini-me's needs something more firmer, this is a great choice. The coils make up for a more stable base, but it is comfortable enough to lull them to sleep. Just keep in mind that it is firmer compared to the others on this list.  
It is also made of organic and sustainable materials. It smells very natural and organic, there's a subtle smell of flour.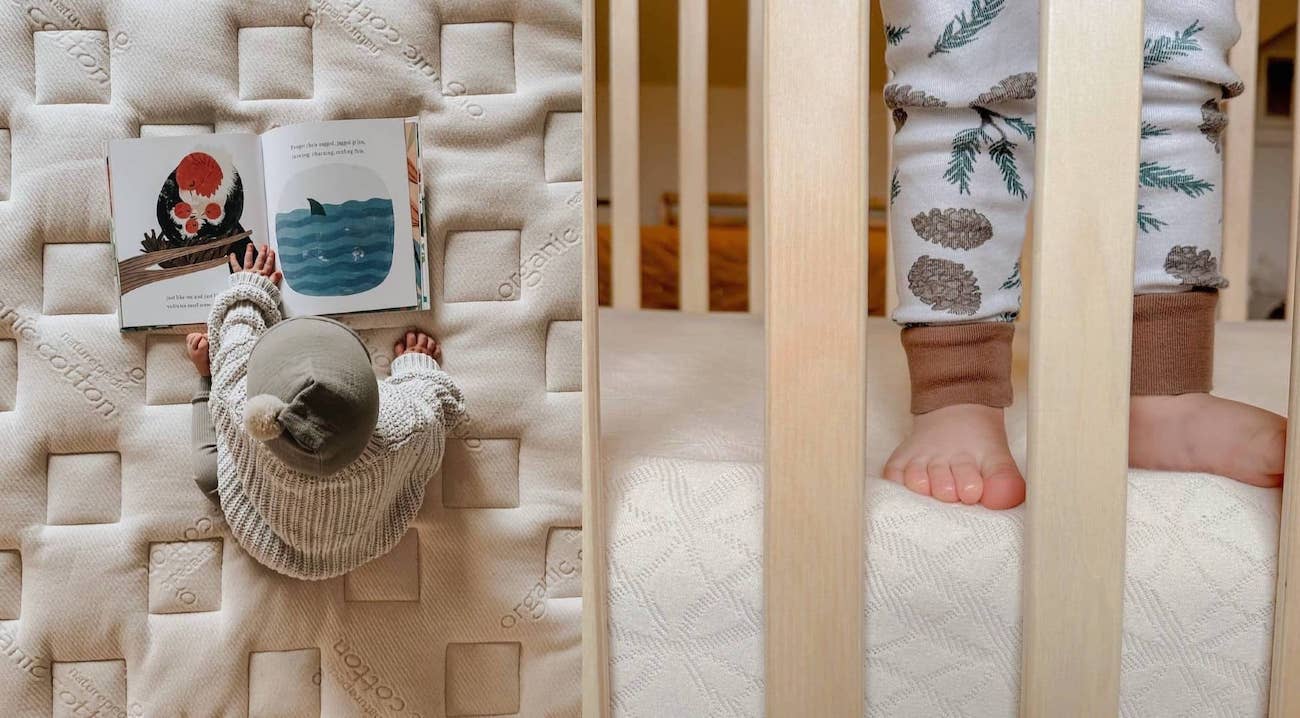 There will also be less cleanup since this mattress is waterproof. Liquids will not seep into the foam and moms can easily wipe it off.
Kolcraft Pure Sleep
This is lightweight, airy, and waterproof. It actually ticks almost all the boxes on your crib mattress wish list. The primary material is cotton, it feels very airy and soft on the skin. It does not have any weird chemical smell that can be irritating for the babies. 
It's also on the firmer side and this type of firmness helps with mobility. Babies can get that optimum support to support the movement as they grow. But since it is not dual-sided, toddlers might find it too firm. 
Kolcraft has layers of coils. This network of springs also renders the mattress quite supportive. But what we love about it is that despite the mattress being a bit bouncy, your baby will still feel secure and supported in their sleep.
Newton Crib mattress
This brand can be quite an investment. You can be spending more than usual for a mattress for babies to get your hands on this, but it is well worth every penny. And oh, it is 100 percent organic, so there goes the reason for that hefty price tag.
This mattress is super breathable, airy, and rather comfortable. It can keep your baby cozy during his sleep. And you have less to think about, a breathable foam and cover rids your worries of the risk of suffocation. So it's not just the baby who can get a blissful sleep, even mommies too.
And it's a two-stage mattress. This means that it is not flippable with two different levels of friends. But the material and comfort can be enjoyed by both newborns and toddlers. But you have to buy a waterproof cover separately since this is not 100 percent waterproof. 
You'll also be getting your money's worth as this mattress can last a long time. It is rather durable and less likely to sag or dent. 
Avocado Eco-Friendly baby mattress
Sustainable and organic mattresses are king. Parents often opt for this chemical-free option, but these aren't always easy on the budget. And if money is not an issue, you have to check if what you fancy is well worth the moolah. And we can say this with the Avocado mattress. You're getting the benefits of a premium one.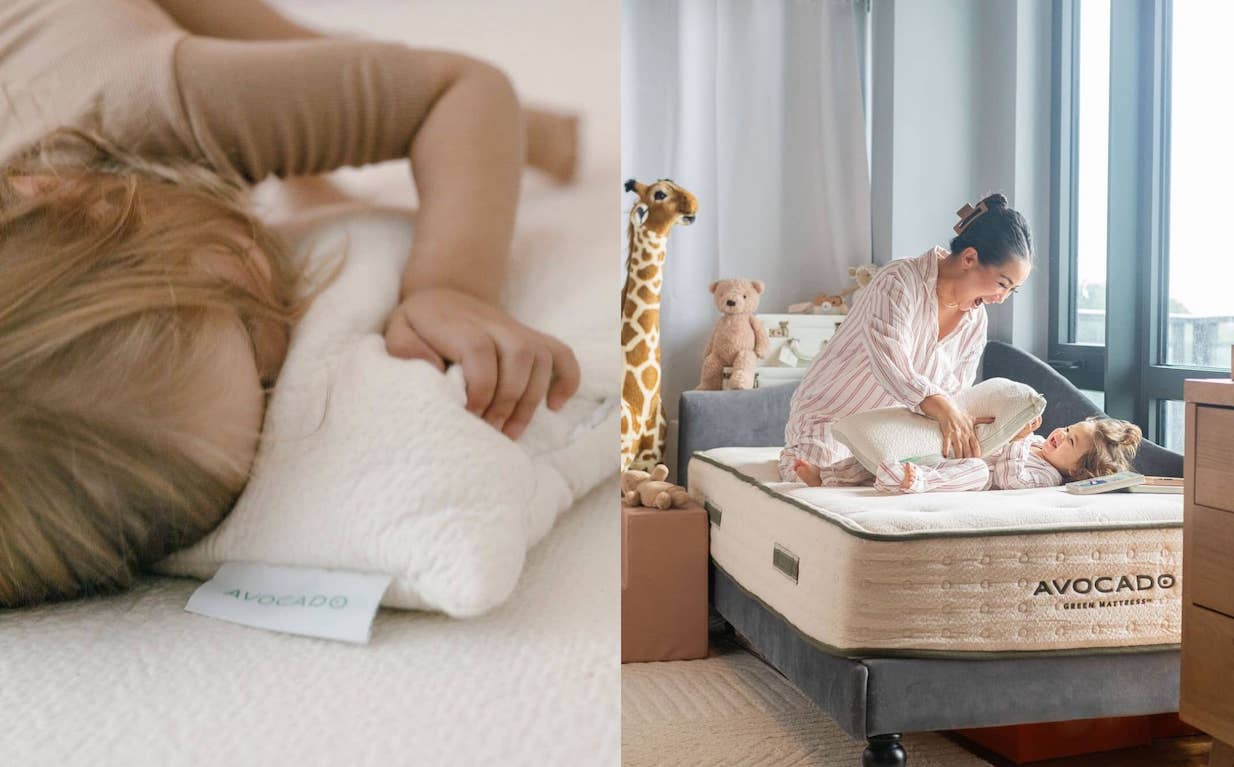 This is also dual-sided. The firmer side is for newborns while toddlers will enjoy the softer mattress more. They will also love a responsive bed that allows them to move freely. You know how kids can be so rowdy even in their sleep. 
But there's a bit of a drawback here, it's not waterproof and you have to purchase a separate mattress protector. The good news is, even the cover is organic. It is also very breathable and airy, you may even want to sleep on it yourself. And you'll be surprised how the brand was able to manufacture a cover without using any plastic material, it is quite tedious. 
Lullaby Earth Breeze 2 stage
Among our nontoxic mattresses on the list, this is a rather affordable option. Going green can sometimes run a tab on your bill, most seem to be pricier than their synthetic counterparts. Lullaby Earth is easy on the pocket and amazingly, it is quite similar to the more steeply-priced organic brands. 
It fulfills all the requirements of an eco-friendly and organic mattress. Even from the smell, you can say that it is made from nothing but the products of nature. There are no additives whatsoever, 
Lullaby Earth has a great balance between firmness and softness. It is firm enough to support the skeleton of a baby, but at the same time, it is soft enough to lull them to a sweet slumber. Mom will also have a restful sleep. No need to spend a lot of time cleaning the mess the baby made. It is waterproof so liquid will not seep through the foam.
But this ain't flippable, so it might not be that indulgent for toddlers and young kids. 
This also ticks all the boxes of what you'll want and need for your little nob. The brand prides itself on this honeycomb structure found underneath the mattress. This also makes the mattress very comfortable and cool enough for the little ones. 
This mattress also stands out with its strong edge support. It will not bend, dent or sag. It will be able to maintain its integrity even after several years. And oh, it is also firm, just what your baby needs
It also comes with a cover that is also waterproof like the mattress. So accidents can be taken care of easily. 
The bat bit is, this may not be the most breathable mattress, contrary to how it was advertised.
Emily Crib
This mattress can be used by newborns and toddlers, and both will experience the same level of comfort. It's not flippable but the firmness level is suitable for babies and growing kids alike. It is firm and supportive enough for delicate skeletons, but at the same time, it's not too firm and can aid in mobility. It has 150 inner coil springs that make this possible. Younger kids might even enjoy jumping on the bed. 
This is made of high-quality materials and you can tell by the way it feels. It uses cotton and wool, both comfortable materials. The cover is cotton and keeps your baby cool during the hot seasons. And the wool material underneath serves as an additional layer of coziness during the cooler months.
It also has strong edge support. Apart from being durable, Mom will find it easy to change the sheets. 
SAATVA Dual sided crib mattress
SAATVA is a household name when it comes to mattresses. The brand manufacturer crib mattress, and if you fancy a more premium nook for your bumbums, this is it. 
It's flipped so you are almost buying two mattresses for the price of one premium product. Like most loved crib mattresses, it features two sides,  a softer one for toddlers and the former one for the babies
This mattress also bears GOT and Greenguard certifications, two of the things you have to look for when buying organic products. This ensures you're not getting a rip-off.  It feels very comfortable and smells organic,  in a nice way. 
—
Quality sleep for the baby and the mom
When it comes to your baby's safety and comfort, spare no expense as they say. But it's not just about the premium price. You have to make sure that the mattress meets standard safety certifications. it must be firm enough to support your baby's delicate spine. A breathable mattress also lessens the risk of suffocation. And don't forget to buy one that fits their cribs well.
Making the right choice can mean a lot for your baby's well-being. They will get better sleep, and so will you.