When you purchase through links on Astonmet.com, we may earn an affiliate commission.
Here's detail
Sitting for hours on end at your desk can be a real pain in the neck – and the back, and the shoulders… you get the idea. That's where standing desks come in. They're the game-changer you never knew you needed, offering a way to break up the monotony of sitting and potentially improve your overall health. But let's be real – the high-end models like Uplift V2, Fully Jarvis, Apex Deskhaus can cost a pretty penny. They may offer greater stability, higher load capacity, and a wider range of height adjustments, but not everyone can justify shelling out $1,000 or more for a desk.
Well, it's always done for a problem. This time we've scoured the market and compiled a list of the best budget standing desks under $500 for you. With one of these sit-stand desks in your office or home, you'll be able to stand tall (literally) and improve your posture, energy levels, and productivity without having to break the bank.
So let's get started and find the perfect option for you!
List of best budget standing desks for $500
| Standing Desk Model | Height Range | Load Capacity | Warranty | Tabletop Size Available |
| --- | --- | --- | --- | --- |
| Flexispot E5 Pro | 24.4″-50″ | 220 lbs | 10 years | 48″ x 24″ |
| Fezibo Pro 3-stage | 24.4″ – 49.6″ | 275 lbs lbs | 5 years | 55″ x 24″, 48″ x 24″, 40″ x 24″ |
| SHW | 28″ – 45″ | 110 lbs | 1 year | 55″ x 28″, 48″ x 24″, 40″ x 24″ |
| Vari Essential | 27.5″ – 47.2″ | 150 lbs | 3 years | 48″ x 24″ |
| VIVO Desk Kit | 29.5″ – 49.6″ | 176 lbs | 3 years | 43″ x 24″, 48″ x 30″, 60″ x 24″, 63″ x 32″, 71″ x 36″ |
Flexispot E5 Pro
The Flexispot E5 Pro is an excellent choice for those seeking the best value standing desk within a budget of $500. It features an inverted 3-stage frame that provides a wider adjustable range, making it suitable for the entire WFH setup.
The dual-motor system enables a smooth and quiet transition between sitting and standing positions. With an adjustable height range of 24.4″-50″, this desk is a great fit for taller individuals between 5-6'7″. It also has an adjustable width range of 43.4″-66.9″, accommodating desktops between 47.2″-80″ in width, providing many options for every room!
Moreover, it can support up to 220lbs, making it ideal for regular users with two monitors, a laptop, and accessories. Even it has 4 options of desktop materials, we recommend opting for the bamboo desktop, which has a 5-year warranty, for added peace of mind. And talk about the warranty, well it comes with a 10-year for the frame, motor, and other mechanisms. While some people have reported minor issues with installation and controller errors, we believe that the Flexispot E5 Pro is an excellent choice for anyone looking for a high-quality standing desk under $500.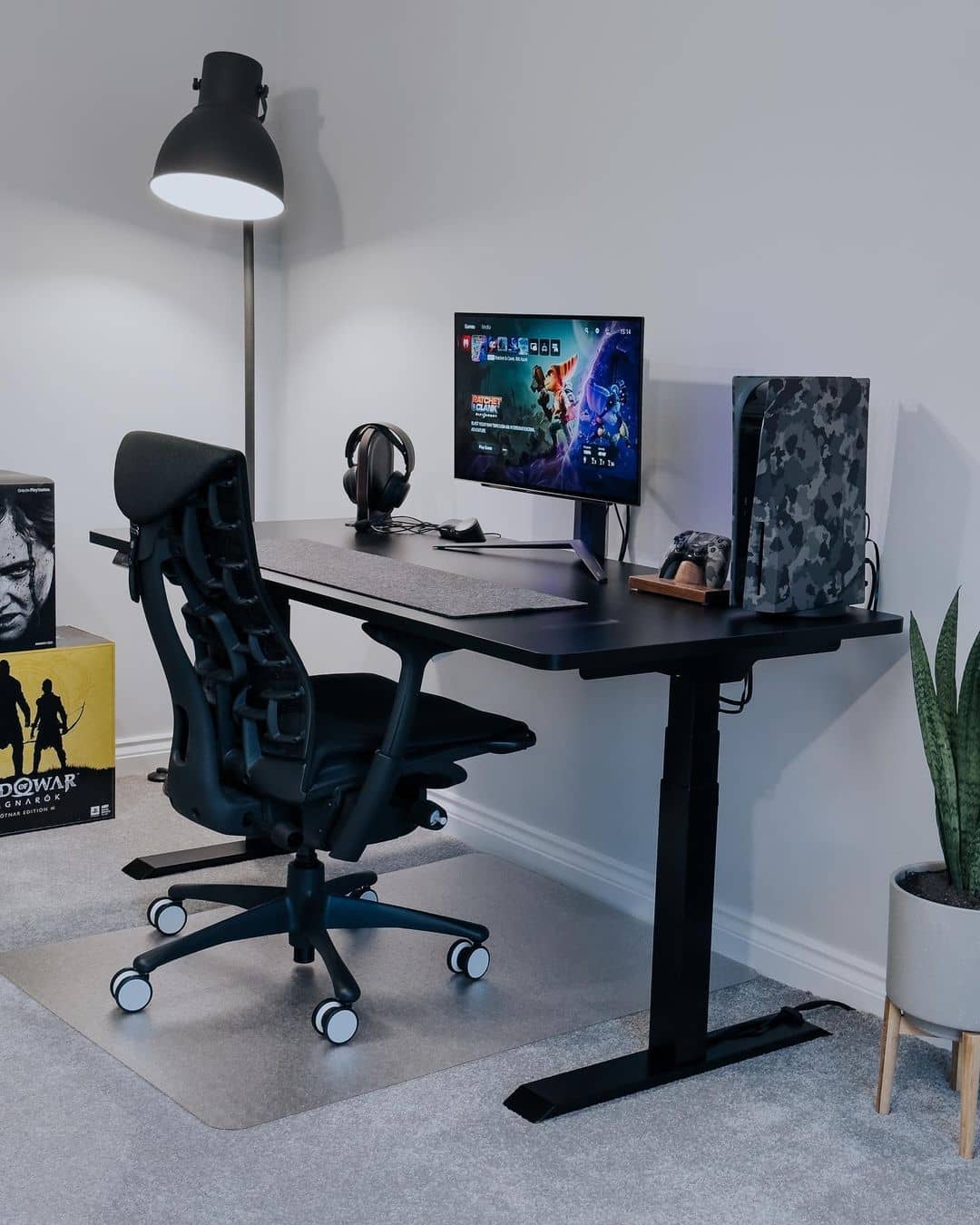 Where to buy
Fezibo Pro Aurora 3-stage
Fezibo is a brand that can compete with Flexispot. In term of budget, it has 2 frame options, you can see it on the table below
| Feature | Pro 2-stage frame | Aurora 3-stage frame |
| --- | --- | --- |
| Height range | 27.9″ – 46.5″ | 24.4″ – 49.6″ |
| Travel distance | 18.6″ | 25.2″ |
| Suitable for users | 4'8″ – 6'3″ | 4'6″ – 6'4″ |
| Weight capacity | 220 lbs | 275 lbs |
| Speed | 1.57″ per second | 1.38″ per second |
| Frame design | Pro 2-stage inverted | Aurora 3-stage round legs |
| Price | Check now | Check now |
Of course, you can see that the Aurora 3-stage frame is more durable and stable than the Pro 2-stage frame, with a higher weight capacity, faster lift speed, and stronger legs. If only one is chosen for this list, we named the Aurora 3-stage frame
Talk about the budget, the Aurora 3-stage frame is definitely more expensive than the Flexispot E5 Pro, which may be a deal-breaker for some guys. And a 5-year warranty for the main parts and components, including the motor quality and electronic components, it's shorter than Flexispot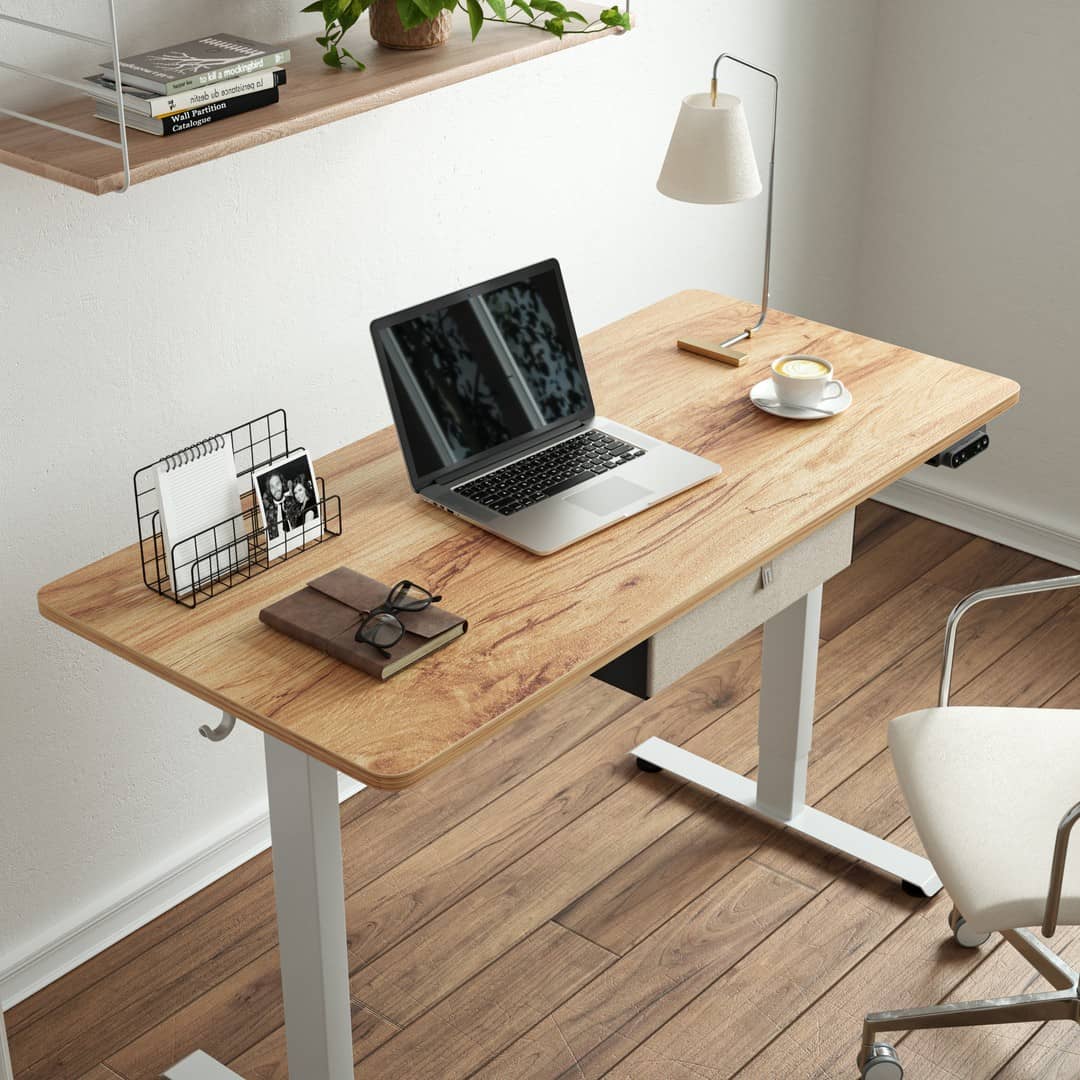 The Aurora 3-stage frame is equipped with round legs that are 77% stronger than the Eco 2-stage inverted frame of the Flexispot E5 Pro, with a weight capacity of 275 lbs compared to the E5's 220 lbs. This means that the Fezibo Pro can accommodate heavier desktop setups, making it a better option for users with multiple monitors or heavier equipment. And with a faster lifting speed and a wider height range, it makes more versatile and suitable for a wider range of users. With its 18% higher range and 41% faster lifting speed, users can easily adjust the height of their desk to their preferred position, reducing the risk of strain or injury.
While the Fezibo Pro offers great value for its price, there are still some cons. One of the most notable drawbacks is the quality of the table and keyboard boards, which may not be the most durable. Some users have reported that the keyboard tray's paint can scrape off easily, as in one instance where it came in contact with an armrest. One plus point, Fezibo's customer service has been praised for being responsive and helpful in such cases, with some users receiving partial refunds for their troubles
SHW sit-stand desk
The SHW standing desk is an affordable option for those on a tight budget. With three different sizes of tabletop available (55×28″, 48×24″ and 40×24″), you can choose the one that best fits your workspace. The digital display handset allows you to easily adjust the height to your desired level, and with four memory preset options, you can quickly switch between different heights. While the telescopic height adjustment is not as extensive as other models on our list, it still allows for a comfortable transition from sitting to standing, ranging from 28″ to 45″. This desk is best suited for users who are not too tall or short, typically ranging between 5'7″ to 6'2″. However, with a weight capacity of only 110 lbs, this desk is not suitable for heavier office equipment. Despite this, the low price of the SHW standing desk is a big plus for those looking for a budget-friendly option.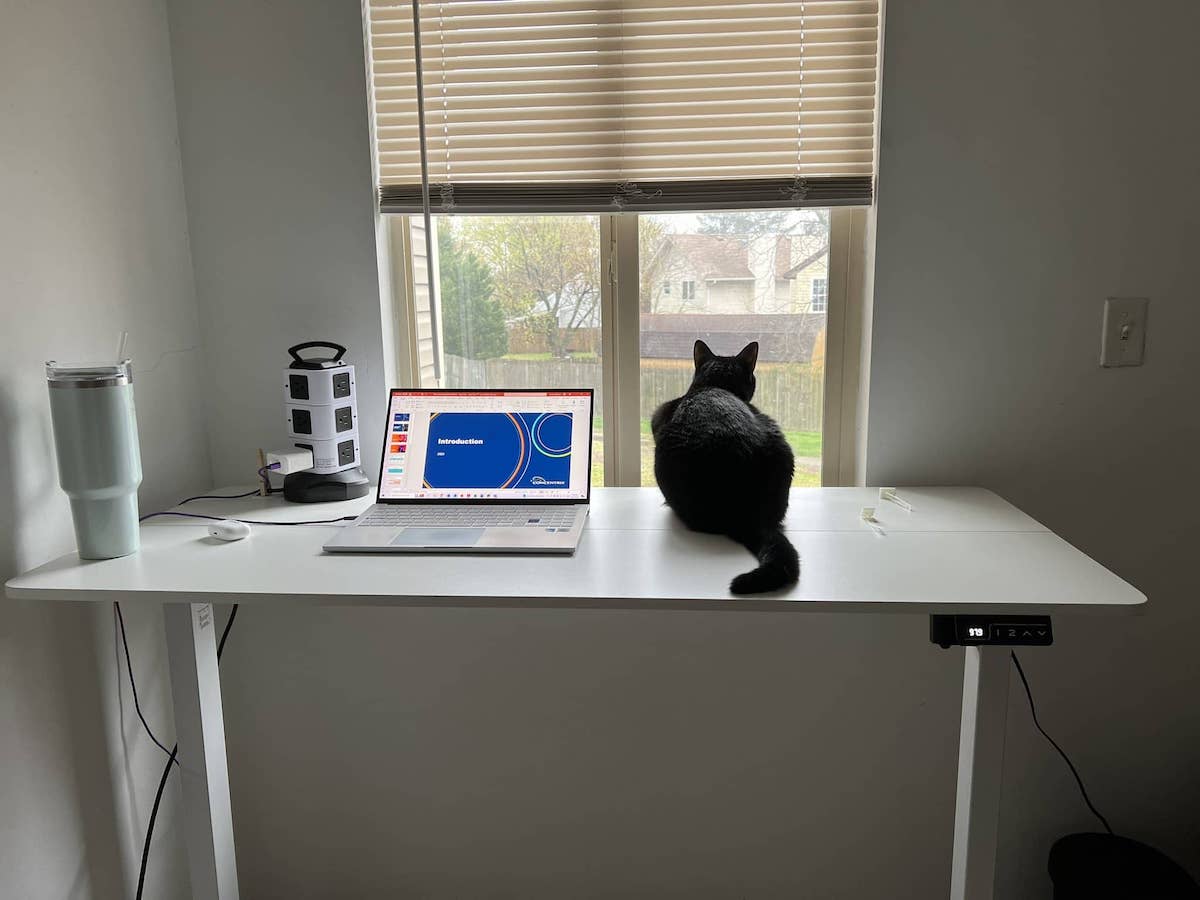 And don't forget the brand is relatively unknown and not as established as some of the other options on the market. The fact that it is made in China may be a concern for some consumers who prioritize buying products made in their home country or who have had negative experiences with products made overseas. And the most scary past, only 1  year of warranty!
Where to buy
Vari Essential
Vari Essential standing desk is an affordable option for a home workstation with a simple design and quality-backed construction. Before mention some specs, it's worth noting that while Vari offers a high-end standing desk options, so no question ask, this Vari Essential is the super basic one with lacks some of the advanced features
However, it is still a good choice for those who don't require the additional features and want to save money.
With programmable height settings, you can easily transition from sitting to standing with one touch. The desk has a split-top desktop with a durable laminate finish, measuring 48″ x 24″, providing ample space for your computer monitor, laptop, notebook, and extra hardware. The single motor and sturdy T-Style legs can smoothly lift the electric desk to any height from 27.5″ to 47.2″. While the desk can support up to 150 lbs, it lacks features like a cable management tray and has a limited height range compared to other standing desks like the Flexispot E5 Pro or the Fezibo Pro. And 3-year warranty is not long enough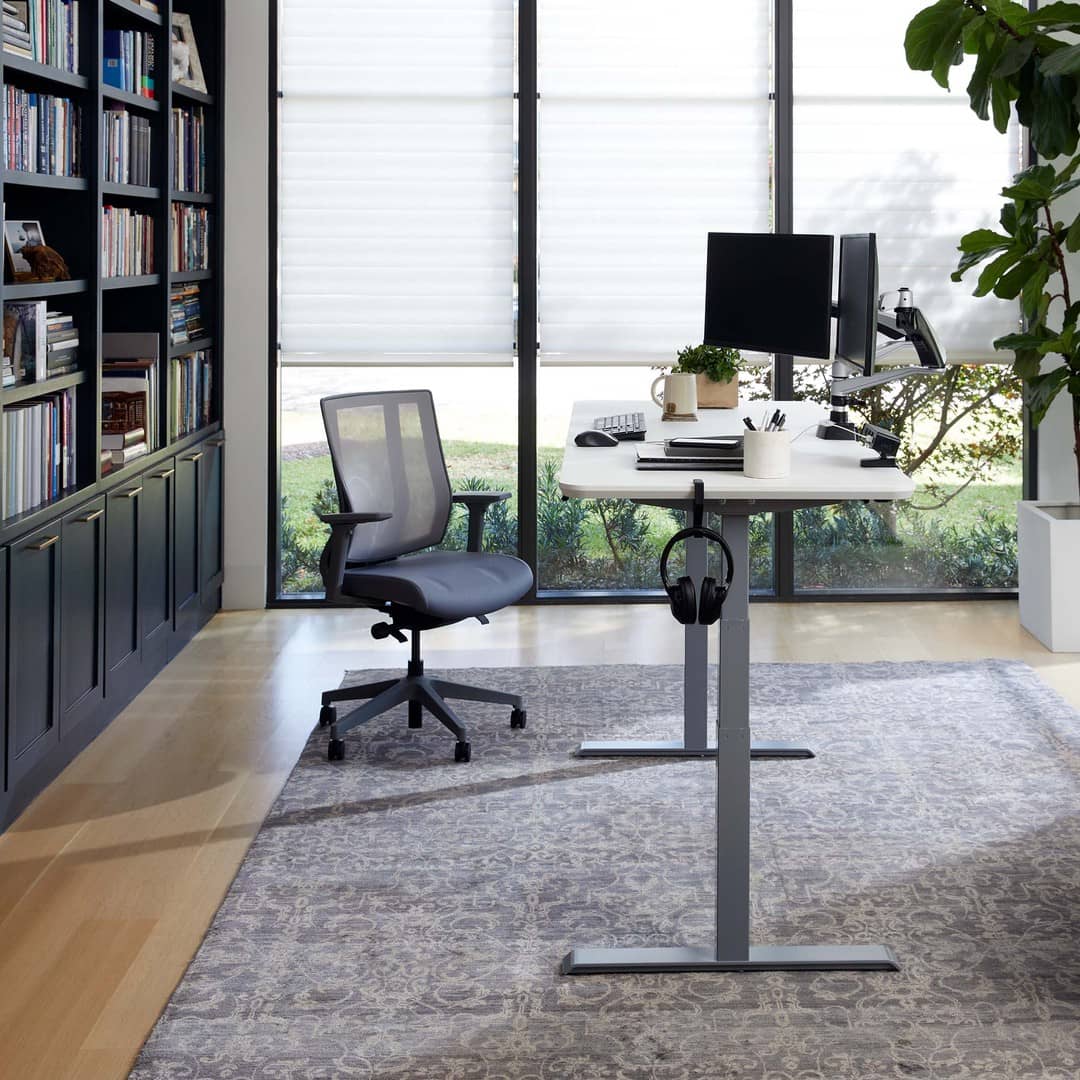 A plus point, compared to the SHW standing desk, it has a higher weight capacity, and well, Vari is a well-known brand in the standing desk market, enough to pull the trigger!
VIVO DESK KIT
The next desk on our list is the VIVO desk kit. It comes in two parts – the desk frame and table top. The table top is available in different sizes including 43×24, 48×30, 60×24″, 63×32″, and 71×36″. It's worth noting that all sizes of this desk are cheaper than $500. That's a plus point on a budget, because not much brands can offer large sizes with cheaper price. The bigger size, the bigger price. But it won't happen with VIVO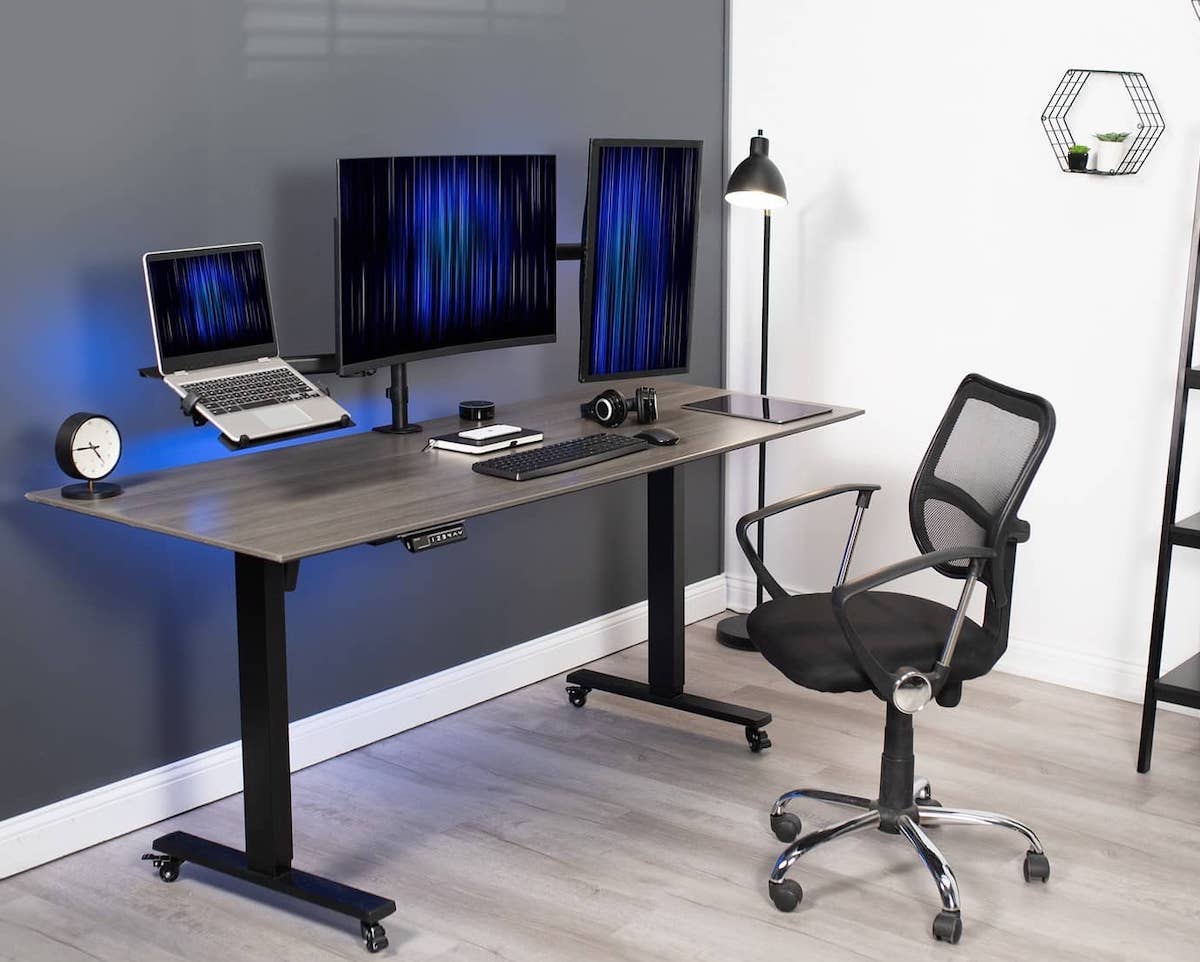 The desk frame can be adjusted from 40″ to 61″ in length and 29.5″ to 49.6″ in height. The desk has a maximum speed of 1.5″ per second and can support up to 176 lbs. It also comes with a 3-year warranty. Not much special in specs
When compared with the Vari Essential, we have a quick table here
| | | |
| --- | --- | --- |
| Feature | Vari Essential | VIVO Desk Kit |
| Weight Capacity | 150 lbs | 176 lbs |
| Adjustable Height Range | 27.5″ to 47.2″ | |
| Speed | 1.5″ / second | 1.5″ / second |
| Input | Single motor | Single motor |
| Warranty | 3-year | 3-year |
| Price | $Check now | $Check now |
The Vari Essential and VIVO Desk Kit are both affordable standing desks with similar warranties and weight capacities. It's a tie when compare 2 brands. But we prefer the VIVO when it has more options from the tabletop
Banti Standing Desk with glass top
This Banti boasts a sleek and modern aesthetic, thanks to its glass top. With a maximum size of 55×28″ (or 60×24″ with a wooden top), it offers ample space, enough for home office setup. The glass surface adds a touch of sophistication, making it a visually pleasing addition to your workspace.
With a height range of 27.16″ to 47.3″, it suits individuals within the standard height range of 5'2″ to 6'4″ but not Ideal for Extreme Heights. Similarly, petite individuals under 5′ might struggle to find an ergonomic height that suits their stature.
The desk offers a weight capacity of 176 lbs, which is relatively average among budget-friendly options. While it may not be as sturdy as some of its higher-end counterparts we mentioned above like the Flexispot e5, Fezibo Pro, or Apexdesk Elite, it competes favorably with similar models like the Flexispot EC1, SHW, and VIVO.
A standout feature is its smart anti-collision system. This anti-collision technology ensures the safety of both your desk and belongings by preventing accidental collisions.
To further enhance your workspace organization, the Banti desk comes equipped with double storage drawers, offer convenient storage space for keeping your documents, stationery, or other small items within arm's reach.
It's important to note that there is no mention of a warranty, which may raise concerns for potential buyers. Additionally, as with many products in the market, the Banti Standing Desk is manufactured in China. That's not a plus point if you are a big fan of American-made! And that is also the reason we put this desk in the final of the list
Our expert recommendations
It is important to be aware of the risks involved with a lower price point. Cheaper desks may come with shorter warranties, and there may be limitations in terms of weight capacity, height range adjustments, and overall durability. While it may be tempting to opt for a cheaper option, it's important to keep in mind that you generally get what you pay for. Here is some recommendations for a newbie by our testers (most in US and Canada)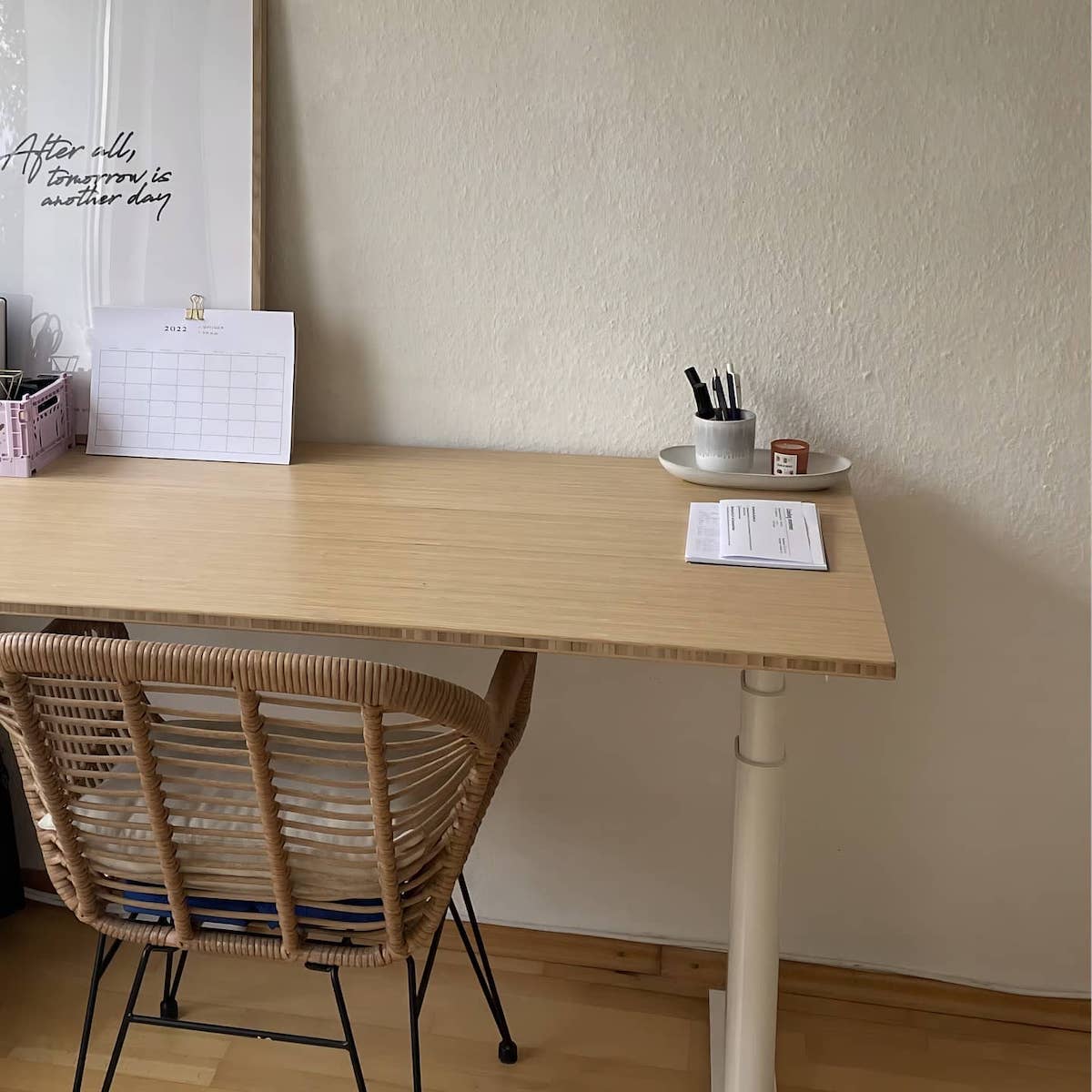 Budget: With a $500 budget, you have only a few options available as we mentioned above. But you can also choose to buy a standing desk frame within this price range, and customize the tabletop separately. Local stores are the best place to get a cheap top

Height Range: Many desks have a minimum height of 28 or 29 inches, which may not be low enough for petite folks. To determine the ideal desk height for your specific needs, consult reliable height adjustment charts that are not biased towards specific standing desk companies. Be wary of charts produced by standing desk companies, as they may favor their own product offerings.
Tabletop Size: Aim for a minimum of 48×30″. Because some standing desks on the market have narrower tabletops, which can limit your workspace and hinder comfort, especially if you plan to use larger monitors or accessories.
Warranty and Return Policy: The number can vary significantly, ranging from 30 days to 15 years. Pay attention to the specific warranty coverage for different parts, such as the frame, motors, and electronics. Research the details of the warranty, including what is covered, how to file a claim, and the manufacturer's responsiveness. Read their guide to understand the return policy, including potential restocking fees, return shipping costs, and the conditions under which returns are allowed.
User Reviews: Look for consistent complaints or issues mentioned by customers, as they are likely legitimate concerns. Focus on aspects such as product quality, stability, ease of assembly, and overall customer satisfaction. Reddit, Quora and Twitter are trusted sources

Warranty Duration: Our experts recommend aiming for a standing desk with a warranty of at least 5 years. This duration ensures a reasonable coverage period, providing peace of mind regarding the desk's longevity and potential issues that may arise.
Investing in a higher-end standing desk may ultimately be more cost-effective in the long run, as they often come with more features, better durability, and longer warranties (up to 15 years). It's important to do your research, compare features, and consider your individual needs and budget before making a purchase.
Radlove – an example for the risky budget option!
The standing desk's weight capacity of 265 lbs is better than the single motor version (150lbs), compared to SHW or Vari Essential, not bad!
The desk's height range of 27-45″ is good enough for most average people, but it may not be suitable for very tall individuals over 6'3″ or very short individuals under 5′. The larger tabletop is a bonus, providing 59×30″ and 63×30″.
Radlove also has the same features as other standing desks such as anti-collision technology and wire grommets. However, the privacy panel is a unique. The clamp-on acoustic desk divider privacy panel helps to reduce noise and visual distractions, providing a more productive work environment.
Talk about the downside, it is risky with the lack of information about the warranty. And the fact that it is made in China and there is no contact number for the seller may be a big problem. You get what you pay for!