When you purchase through links on Astonmet.com, we may earn an affiliate commission.
Here's detail
If you're 400 lbs, you might think that it's not feasible to use an under the desk treadmill at home. It will demand a unit that is more constructed for commercial use. Hence a trip to the local gym seems like the only solution. 
But you can at home!  We have rounded up 3 under the desk treadmills that can accommodate heavier folks. So here they are.
| | | | | |
| --- | --- | --- | --- | --- |
| Treadmills | Weight capacity | Motor power | Size | Speed mph |
| Lifespan TR5000-DT3 | 400 lbs | 3 hp | 20" X 50" | .4-4  |
| Unsit | 400 lbs | 2.75 hp | 30"x 40" | .3-2 |
| iMovR Thermotread GT | 400 lbs | 3 hp | 67.5" x 28.4"  | .5-2.5 |
Let's get started
Lifespan TR5000-DT3 Pro
This treadmill is not just made for bigger folks, it can also be conveniently used by those with longer legs and torsos. 
The deck of this Lifespan unit is larger compared to the standard size. It measures 20" wide and 50" long. It is about 4 inches longer than the average unit of its kind. So if you have legs that go for days, you will find this treadmill more up to par for your longer strides. So you won't feel like tiptoeing all the time. 
And oh, did we mention that the deck is reversible? That's also a plus. And of course, it is hefty and very durable. It is also very comfortable to walk on. Albeit its sturdy construction, it has a 6" impact cushion that ensures your feet will not land on rocks. So it can also be a great option for those looking for a lower-impact walk.
Also, this particular Lifespan treadmill comes with more features that make it convenient and not just your average joe. The Bluetooth capacity allows you to seamlessly connect it to an app so you will be able to monitor how much you have been working on. So we see this as a great fit for those who are keen on getting their average TER or total energy requirement. It can be a practical tool to help you gauge how many calories you need to take in depending on your energy expenditure and fitness goals.
It is low profile so It will give you lots of space below. 
The cons, however, is it does not have the best customer service. And there have been several occasions of receiving purchases with missing parts.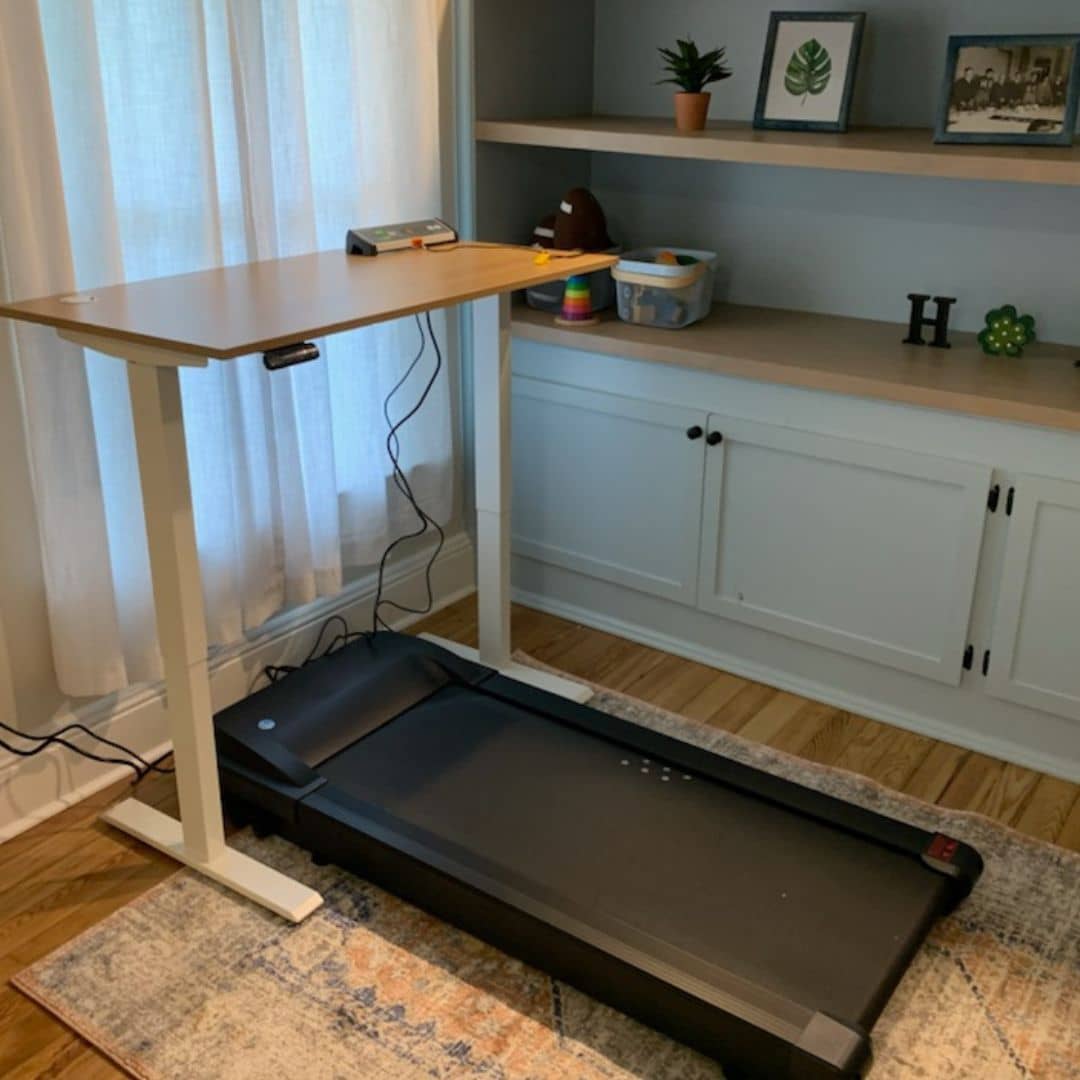 InMovement Unsit
If the Lifespan TR500 DTR is extra long, this unit is extra wide. It has a broader walking surface. 
Unsit is a tad shorter though, so taller users might not find this comfortable to walk on. But those who feel restricted by the narrow treadmills will find this a breath of fresh air. It is 10 inches wider than standard treadmills. So you can always sway and glide around to your fancy. Those who like to do exhibitions while walking will find this Unsit treadmill very fun.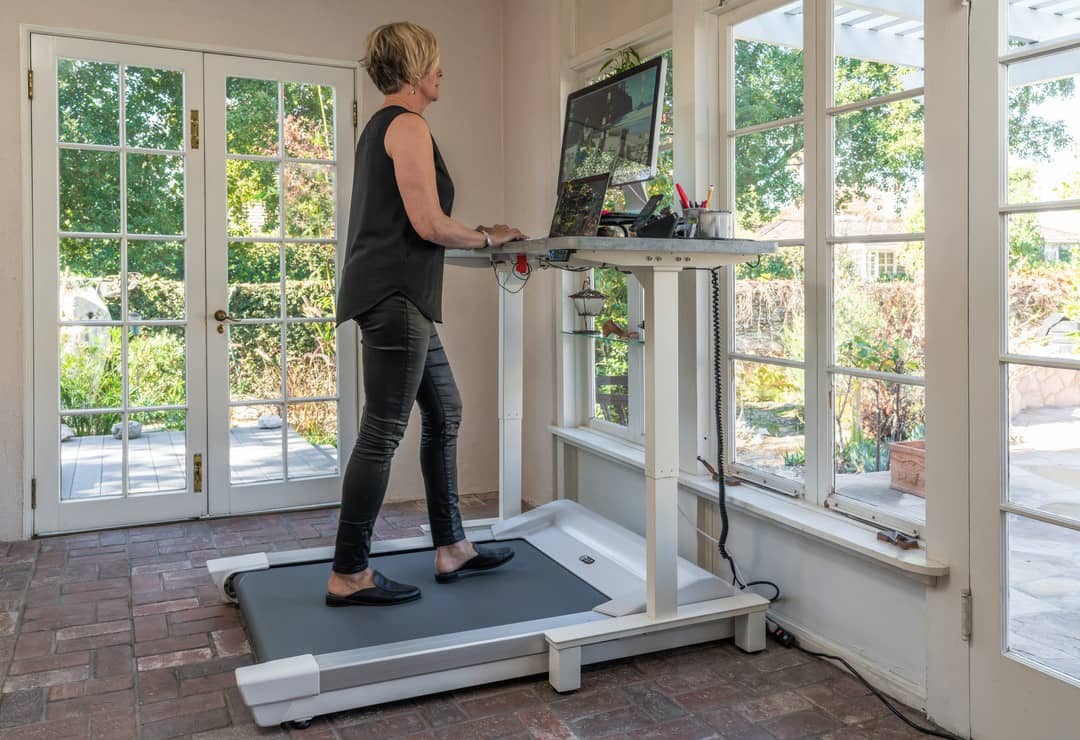 And since it is shorter, this is perfect for offices and rooms that have limited space. You don't have to worry if the end of the treadmill is sticking out from under your desk. 
Unsit is also extra heavy duty. It is actually constructed for commercial use. So you don't have to worry if you're going to run or walk every single day. But keep in mind that the max speed is only up to 2 mph. So this might not be for you if you are looking for a more challenging walk. 
And like The Lifespan, it also has Bluetooth capacity. But it does have additional features such as an auto shut-off. So you don't have to worry in case you forgot to turn it off. No one will bang their head on the floor if they accidentally stepped on it.
iMovR Thermotread GT
Like the brands that we have mentioned above, this under-the-desk treadmill also comes with additional advanced technology that makes it a convenient buy. The thermotread GT has an LCD touch-screen console. 
This can track your work, even the time you've spent sitting. You may also be able to see the calories you have spent and how many steps you've taken. It's also very easy to measure the distance that you have run or walked. This unit can do it for you. All you have to do is read it from the LCD screen. 
And oh the screen is detachable. You have the option to place it elsewhere. 
The cons are that because of the hefty and durable construction, this unit is also very hefty. But in terms of quality, you can never go wrong with an iMovR product. It's also made in the US which also makes it a tempting buy. 
And oh, it's not the most challenging since the top speed is only up to 2.5 mph. So those looking to progress might find it restrictive and boring. 
Why Use an Under Desk Treadmill
For those who can hit the gym anytime or do their morning walk, these treadmills might seem insignificant. But those who are tied to their desks will find that it offers a lot of benefits.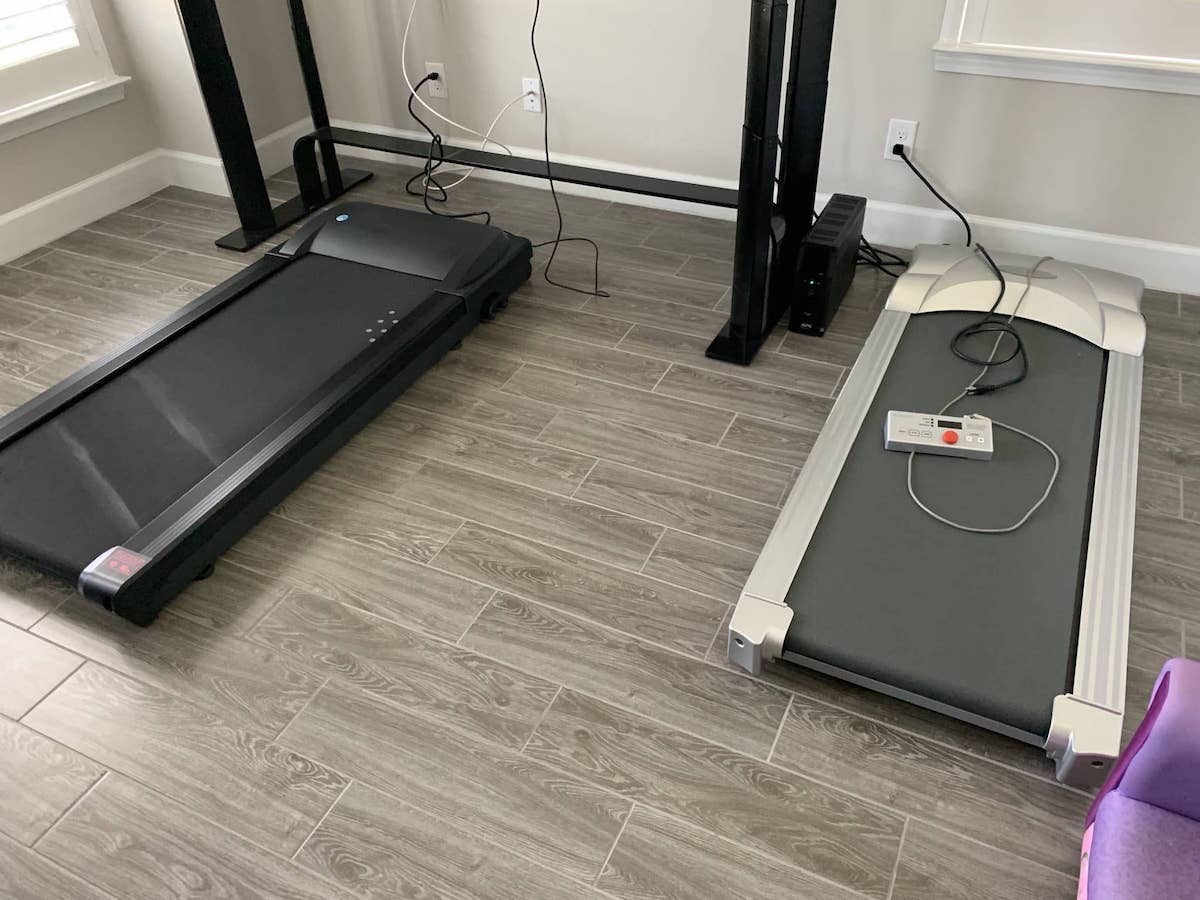 So albeit the busy schedule, you can still pop in your regular walk. Let's explore the advantages.
It's probably one of the few pieces of equipment that you can use to keep tabs on your fitness routine. You might not be able to run as you would in a gym or in the park, but walking can still do wonders for your body. It's one of the simplest forms of exercise that you can do even if you are working on those deadlines. It can still help you burn calories and keep you in shape.

Even if you are tied to your desk, you can still inject movements into the day, aside from the physical benefits, it can also help you improve your blood circulation and amp up your mood. In return, this will help you perform better at work.

It can still keep you active even if you don't have time to go to the gym. You can be doing two things at the same time- working on your deadlines and wrong on your wellness goals.

These units have a lower profile than standard treadmills. With its namesake, you can place it under the desk. So it's a great way to save space. You don't have to veer away from your table should you want to take a break and walk for a few minutes. You can do it right there and then. 
What if you prefer a treadmill instead?
While there are a few options, they are guaranteed for heavy folks
Sole Fitness TT9 Treadmill: This treadmill has a weight capacity of 450lbs and features a powerful 4.0 horsepower motor, a spacious 22″ x 60″ running surface, and a 15% maximum incline. It also includes advanced features like Bluetooth connectivity and a tablet holder.
LifeSpan TR7000i Commercial Treadmill: Has 400lbs and features a powerful 3.5 HP, a large 22″ x 62″ running surface, and maximum incline 15% same as Sole. Bluetooth connectivity and USB charging ports are the add-ons
ProForm Performance 600i Treadmill: Has the same 400lbs but only 2.5 HP, 20″ x 60″ running surface, and only 10% maximum incline. It also has the Bluetooth connectivity and a built-in tablet holder.
NordicTrack Commercial 1750 Treadmill: Only 300lbs, but can be upgraded to a 400lb weight capacity with the included TDF 1000 console. 3.75 horsepower motor, 22″ x 60″ running surface, 15% maximum incline, not bad at all. Same features as the ProForm.
So there are only a handful of units that have enough muscles for those who weigh 400 lbs.
But these are the best. Some might think of skimming and just go for any under-the-desk treadmills. But if you are heavier, it is very crucial that such a unit can accommodate your weight. Otherwise, you are looking at some future knee issues.