When you purchase through links on Astonmet.com, we may earn an affiliate commission.
Here's detail
Now that is the question we will answer. Does buying a lower-priced treadmill mean that you're settling for less? While it cannot be helped that you have a tight budget, should you just wait and save some more instead of buying something cheaper? You don't want to waste your hard-earned money. 
Hence we've made this list to make it easier for you to get cheaper yet decent treadmills. 
| | | | | | |
| --- | --- | --- | --- | --- | --- |
| Budget options | Dimensions | Max speed | Weight capacity | Running belt size | Incline levels |
| SereneLife Smart Electric | 54.7″x 26.7″ x 49.6″ | 7.5 mph | | 265 lbs | 15.7" x 43.3"  | 3 |
| LifePro Swift | 49.6" x 26" x 48.8" | 10 mph | 285 lbs | 16″ X 43.3″ | NA |
| Sunny Health and Fitness SF-T7515 | 64.5" x 28" x 50.5"  | 8 mph | 240 lbs | 16.5" x49.5"  | 12 |
| Go PLus 2 in 1 Folding | 49″ x 27″ x 42″ | 7.5 | 265 lbs | 16" x 39.3" | NA |
| XTERRA TR150 | 63.4"x 28.75"x 51.4"  | 20 | 250 lbs | 16" x 50" | 3 |
| Sunny and Health Fitness Classic | 25.5″ x 62″ x 50″ | 9 | 220 lbs | 17.75" x 49" | 3 |
| Redliro under desk treadmill | 52″  x 25″  x 42″  | 7.5 | 200 lbs | 15" x 41" | NA |
| OMA 1017EB | 62" x 32" x 6.5" | 8.7 | 300 lbs | 17.7"x 48" | No |
| | | | | | |
| | | | | | |
Before buying – Here're What to look
Speed
What speed of treadmill you need also depends on how you'll use them. Are you just going to walk on it or are you doing fast-paced workouts?
Treadmills for walking have a lower speed limit, of four or less. If you're looking to run, you have to choose one that can go at least 8 mph. 
Size
As with treadmills that cost above 500, it's also important to check for the size and dimension of the unit if it will fit into your space. So if you live in tight spaces, and foldable treadmills are your go-to's, you can easily find a decent solution in this list. 
When we're speaking of sizes, you also have to consider the width of the belt. If you're taller, the running belt should be long and wide enough to accommodate longer strides. The same goes for running. Treadmills that can be used for both running and walking have longer belt sizes than treadmills that can be used for walking only. 
Incline options
Most budget treadmills lack an inline function. That's understandable since these cheaper units tend to offer just the basics. But you're in luck, we have several units up on our list that offer an incline function, and we even have one that has over 12 options.
There are also manually adjusted ones. So that is also something you need to check the incline can be adjusted automatically or manually. 
Workout options
A treadmill with built-in workout programs can make your training more fun and variable. And not because you're buying a budget treadmill, doesn't mean that you have just the basics. Our list has treadmills that offer workout programs ranging from 3 to 12 or even more. So albeit a cheaper piece, you can still add spice and variety to your routine.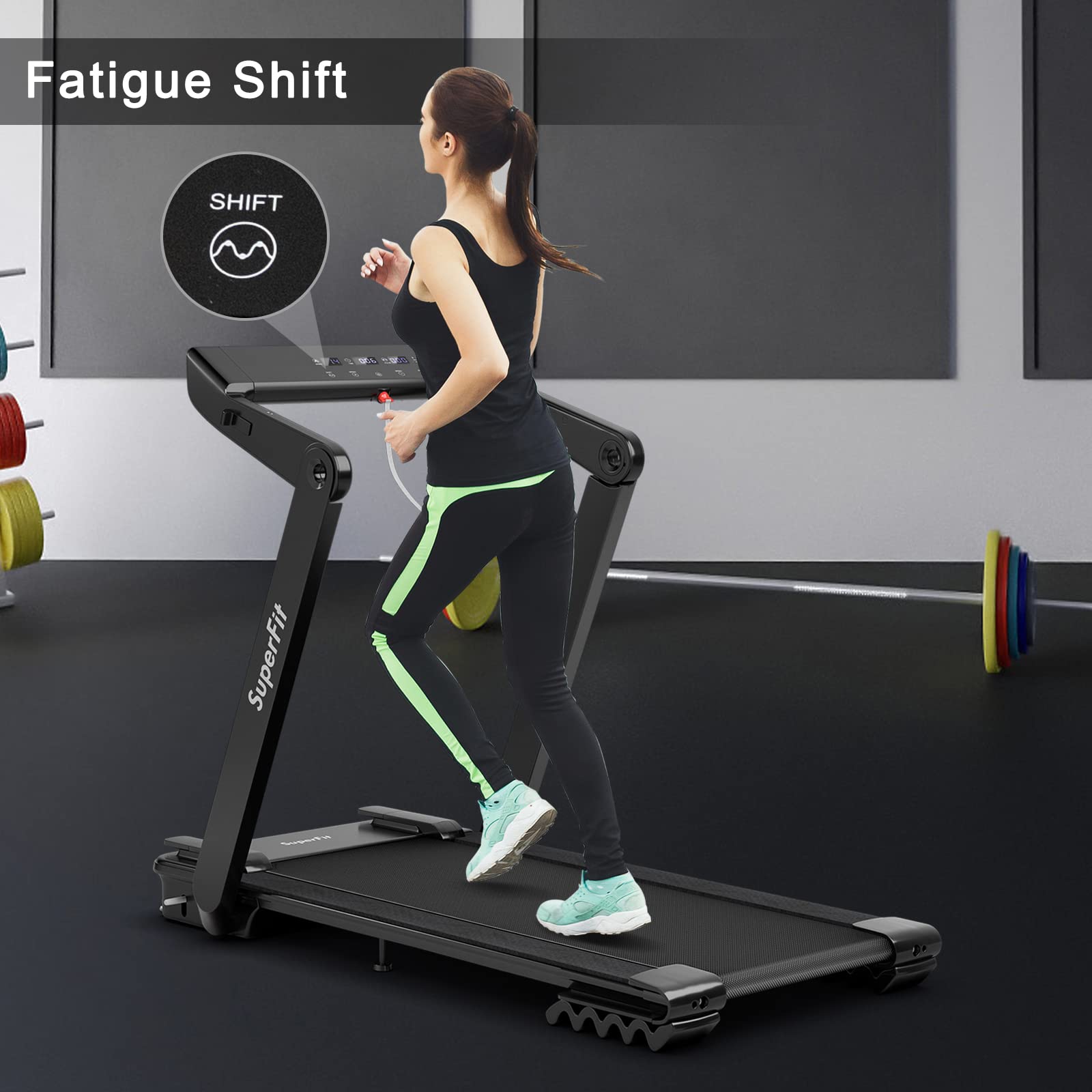 The Best Budget-friendly Treadmills Under $500
SereneLife Smart Electric 
For a budget treadmill, this is surprisingly stable and sturdy. And even those with longer strides may be able to use it conveniently, but just for walking. The shorter belt might not accommodate fast-paced workouts unless you're petite. 
This compact treadmill has 16 workout programs and an incline. The console and the screen may be a bit small, but you will be able to add variety to your workout. It is also foldable, thus making it an easy choice for those who live in tight spaces. 
Also, it can connect with the FitShow app that streams personalized workouts and competitions and records your stats. It's quite a steal for a treadmill of its price.
Though aesthetic-wise it seems basic but it does offer more than just that. It even has 3 incline options that can help you burn twice as many calories and also build hard-to-train muscles like your hamstrings and glutes. So even if you're doing cardio, you're still building muscle in these areas.
LifePro Swift
Here is another sweet and affordable treadmill that has 15 program options and a heart rate monitor. It also has built-in pulse sensors in the handrail, and this is where you can keep tabs on your heart rate. It also has a USB charging port and tablet holder. And oh, it has a Bluetooth function, so that's very nice to see for a treadmill of this price range.
This is also a smart solution if you're living in cramped spaces. However, the downside is this is better for petite persons because of the shorter belt. Those who stand 5'3" and under will find this very useful.
Despite the compact and small build, this treadmill feels rather sturdy and stable.
Sunny Health and Fitness SF-T7515
This is a steal for those looking to have a more low-impact run or walk. What sets this treadmill apart is that it has an integrated shock absorption system. This cushioned design can impressively protect your knees and joints when you're worn out. 
And did we mention it has tons of incline options, just about 12 if you ask? That is even at par with what more expensive treadmills can offer. It also has 12 preset interval programs that can add spice and variety to your training programs. 
You can also conveniently sync your phone via Bluetooth. So it has modern and upgraded features. 
 Go Plus 2 in 1 Folding
If you're cramped up for space, one of the best solutions is under the desk treadmills. It's a compact unit that you can easily snuck under your table, or even run as you finish the paperwork. It makes multitasking very easy and convenient. 
This is also very friendly on your knees. It has a 5-layer non-slip and shock-absorbing belt that provides extra cushioning that creates a soft landing for your ankles, joints, and back.
The handrails are foldable so you have an option to lift them for a quick and fast-paced workout. 
XTERRA TR150
This is a budget treadmill that is best for running. It has a max of 10 mph that can add more amp to your training program. You can also easily track your data with the clear and crisp five-inch LCD. It keeps you updated on the speed, incline, time, distance, calories burned, and heart rate. 
It also offers 12 preset workout programs and incline settings. Though you have to manually set the incline, that's maybe a few of the downsides of this robust treadmill.
This is also a workhorse and you get a lifetime warranty for the frame. So you can be assured of how robust this unit is. 
Sunny and Health Fitness Classic
This classic version is an incredibly soft treadmill that is quite softer to run on. 
It has a soft drop system so you will not unnecessarily slam the treadmill while you're setting it up or stowing it away.
The treadmill belt feels nice and soft, it doesn't feel like you're walking on concrete. So even if you're running, this will be very easy on the knees. It is a great option for those who long to have a more low-impact workout. It also has a very quiet belt. So even if you're running in the wee hours of the morning, it will not disturb anyone. 
You can also choose from 12 preset programs so running indoors does not need to be a bummer. 
Redliro under desk treadmill
We have another reliable under-the-desk treadmill for those who want to multitask. It's like a 2-in-1 treadmill that you can use under your workspace or as a standalone treadmill. 
This is a petite treadmill with a small running belt. But do not let the size of this treadmill deceive you, it has more to offer despite its smaller size. It has 12 built-in programs that can help amp up your fitness routine. You can also control the treadmill from its handrail or remote control.
The downside, this small treadmill is more suitable for walking rather than running.
OMA Budget Treadmill
OMA is a premium treadmill brand with lots of options for runners. But they also provide the budget version with no-incline for jogging and slowly walking
This is a steel-framed treadmill that's quite sturdy and robust. And it's more of a minimalistic treadmill with a screen. A very strong and quiet treadmill that you can run on.
It also has a heart monitor, something that not all treadmills on our list of under 500-dollar treadmills have. The user interface is also touchscreen and it is quite easy and intuitive to navigate through.
Below are Outdated treadmills – You can get them on Facebook Marketplace with used version
Exerpeutic TF1000 Walk to Fitness Electric Treadmill
This is a dependable treadmill that is perfect for your walking routine. You may not be able to run on it, but you can have a carefree daily walk. 
But what sets this apart is the higher weight capacity. This treadmill can accommodate those who weigh up to 400 lbs, so heavier folks will find this a reliable unit for daily walking. 
It also feels very intuitive to walk on. It's very friendly on the joints and even feels similar to how high-end commercial treadmills in gyms feel. The tread belt is also wider, so very amenable for taller and chunkier folks. The safety handles are also longer. But the cons is that the belt may be a bit too low for taller people. 
Weslo Cadence G
This is another solid, compact, and easy treadmill that you can set up for small spaces. 
This is built well and feels quite sturdy and strong, you can even run on it. But the features are a bit basic and only have 6 workout programs compared to the 12 that most of the other treadmills on this list have. But you also get to enjoy two incline options, they just have to be manually adjusted. 
It will not dazzle you with innovations, upgraded features, and fancy works, but it is a very smooth and cheap treadmill that you can run on.
Should you buy a treadmill worth 500 dollars?
If you are on a tight budget and need one ASAP, well then yes. But that doesn't mean that you are just settling. We made this list so that you can choose the best budget treadmill under 500 that can still serve you well. The budget does not necessarily have to be flimsy. They also don't need to be too basic. We have units that offer more than a ton up their sleeves.