When you purchase through links on Astonmet.com, we may earn an affiliate commission.
Here's detail
Sole is fast becoming one of the household names when it comes to at-home treadmills. The brand manufactures one of the more affordable yet efficient cardio machines. It's easy to fall in love with a F63 with its easy-to-use interface and sturdy build. But with the newer F65 model, shall you make a switch? And if you're looking to buy a Sole treadmill, this guide will help you choose between an F63 and an F65. You'll be able to weigh your options better.  
Here's a quick comparison table for you to check out. 
F63 is a hearty little cardio machine
This Sole treadmill has gained a massive following because it is considerably efficient. But at the same time, it will not bleed you out. It costs a little less than a thousand bucks. 
Several things made it stand out from a sea of at-home treadmills within the same price range.
It's not common to see a treadmill that is fast enough for even intermediate runners you're scouting for one under 1000 bucks. You will be quite surprised at how efficient and robust the motor is. For running purists, you have to get a treadmill that at least has 2 to 2.5 CPH. This ensures that you will be able to run smoothly on the deck without causing any issues.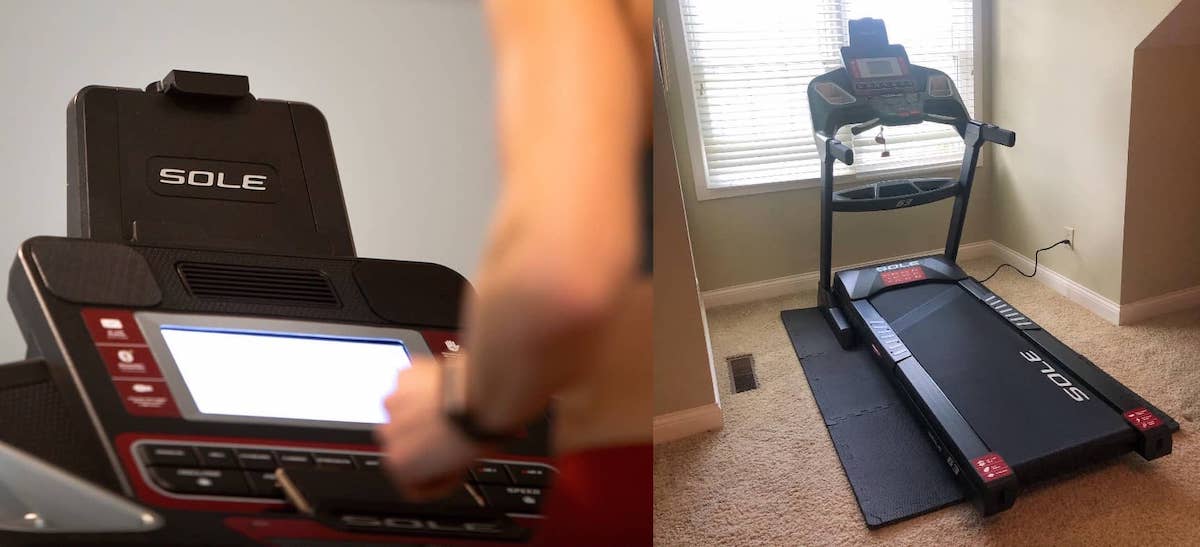 Attempting to run on a motor with less than the advised horsepower can lead to the machine being exhausted. This can outright cause the motor to stop abruptly. And oh, boy that can be very painful and bad for the knees. Also, you can instantly tell if a treadmill is viable for running. It has to be stable. Every tread or step you take should feel smooth and not rocky. If it feels like you are walking on gravel or there are bumps, then that treadmill is better for walking.
For advanced runners, even the f63 can serve them well. 
The machine was also built with longevity in mind. Even with daily use, the deck and motor can hold up pretty well. Just stick to the maximum weight capacity of the treadmill and it will last longer.
What of the F65?
And when an upgrade for an already good machine comes up, it's hard not to get too excited. But keep in mind that with the upgrades, also comes the additional cost. The F65 is more expensive by a couple more bucks.
And since we know how reliable Sole treadmills can be, we just have to gauge now if the cost of the upgrade will suit your needs better. Or would you be okay with a more budget-friendly F63?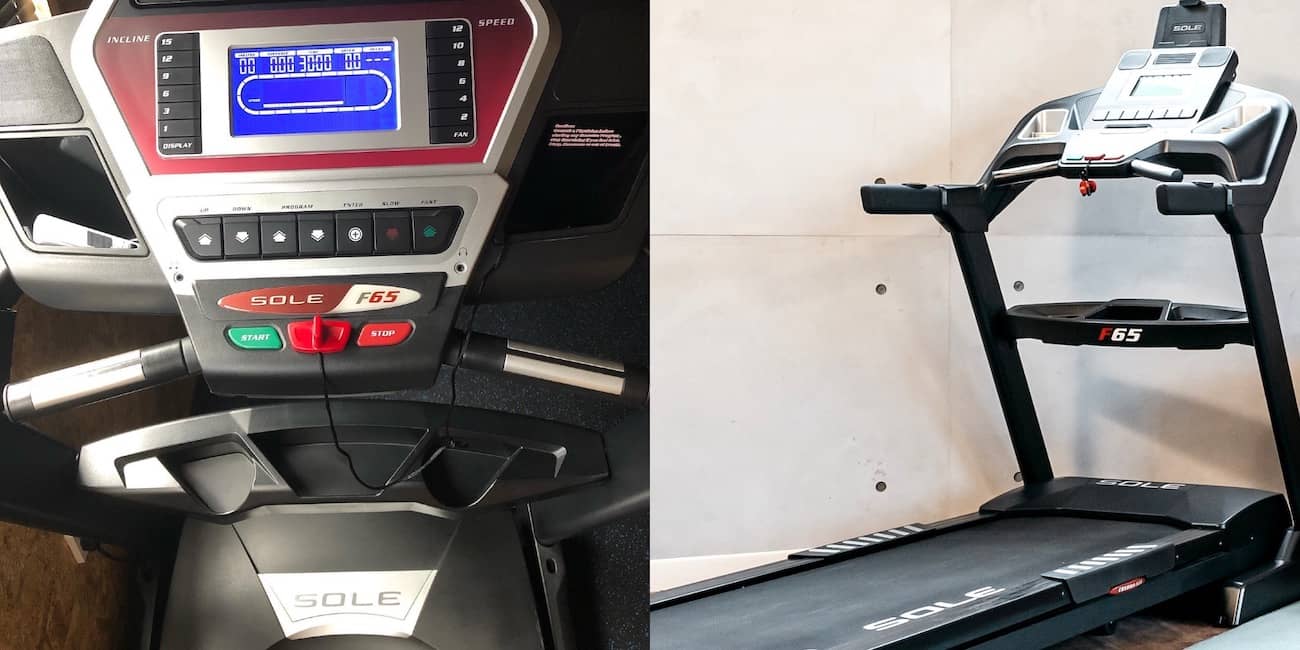 So let's take a look at some of the new features and upgrades you can get with the F65.
F65 is bigger in more ways than one
This upgraded unit will have a bigger running desk, a more powerful motor, and a wider wide belt too. 
The running deck of the F65 is 2 inches wider. It may seem small but this increment is a lot, especially if you're doing long-distance running. Those who are taller and have bigger strides will need a wider running deck. It can be difficult to run or even brisk walk on a shorter belt. That can be limiting and can be injury prone to the runner as well.
The F65 has a higher weight capacity
The stronger motor also means that it can bear more weight. So that leads us to the number two upgrade, the higher weight capacity. F63 has a load limit of 325 lbs while f65 can bear weight up to 350. This means lots of comfort if you are heavier and taller. 
F65 has a more modern-looking console 
F63 has an easy-to-use and simply designed console. It's pretty basic, and since it has no touchscreen functionalities, there will be more knobs. This can make the unit look less streamlined and more chunky. But if you don't mind, it can still work as it is supposed to.
The F63 has a 6.5-inch white backlit LCD screen while the F65 has a 7.5-inch white backlit LCD screen. So the upgraded version has a bigger and wider screen. Also, the design looks more modern and posh. Though it functions pretty much the same, you get a bigger screen that will make it easier to hover through the settings. It has one-touch control for the arms.
And here are some similarities
The F65, even with several upgraded features, still shares some basic functions with the F63.
Both units have almost the same incline functions and you will also not be able to decline both. So you have to keep your running program in mind.
Another thing, both units have safety handrails that help keep you keep yourself at the center of the treadmill. Both also have burning fans, but this is not the best feature, we find it lacking. Also, we think that the safety rails are quite short. Even with the more expensive F5, the handles seem to have the same size but are still too short.
Which is your final choice?
Let's put it like this. If you are heavier and taller, you need a chunkier treadmill, one with a wider running belt. It should also have a stronger motor. Thus, the F65 will be able to keep you attuned to your running schedule. You will feel more comfortable running in a wider belt. The added dimensions also make the F65 feel a bit larger, almost similar to how commercial treadmills feel. Even for those with average height, a wider belt may also serve you well. The extra width and footprint can help you feel more stable, and thus safer. The unit with wider running is also a better option if you are always running on an incline. This will feel more comfortable. 
But if you don't need any of the things we've mentioned above, then the F63 cis is still a considerable unit. Compared to a lot of at-home treadmills with the same price range, it has a wider and more stable running belt.