When you purchase through links on Astonmet.com, we may earn an affiliate commission.
Here's detail
Exercising indoors for your heart is simpler now! Get a treadmill or a walking pad, and you're ready to go. You can even walk or run while on a Zoom call—talk about convenient!
But, what if you have a limited space?
What to look for 
Apart from the smaller and more compact dimensions, there are other things that you have to look
Level of meekness
Whether you're living in a shared space or living in a small apartment with neighbors practically just a few feet away from you, you will need walking pads that are not noisy. This also allows you to use the equipment any time of the day without being a nuisance to your neighbors. 
You can choose from super quiet ones to walking pads that create little noise.
Speed range
Most walking pads have a not-so-powerful motor compared to a standard treadmill. Thus, most can not go faster than 5 MPH, which is what you need to be able to run. While this is true, there are a handful of units that you can use for running. Just keep in mind that if you intend to run, you have to look for walking pads that can go up to at least 6 mph. That's a good enough speed for a decent jog. 
Other features
Some things can be compromised if you're lacking space for a treadmill. Walking pads lack additional features such as an incline function. Though that's the case, we have one or two walking pads that can indulge you with this additional challenge. 
Weight capacity
This is a crucial factor when buying this equipment. This ensures that you will be able to use the unit safely and more steadily. Nobody wants to run or walk on a shaky surface.
Best Walking Pad Recommendations for WFH and small spaces
For Black Friday this Nov 2023, you can save more with these options! What are you waiting for?
GoPlus 2in1
The brand has lots of models for treadmill, but they also have a compact walking pad for home
Goplus walking pad may not have the fancies, the bells, and the whistles. But if you're looking for stable and decent equipment to run on, you will be quite content with it.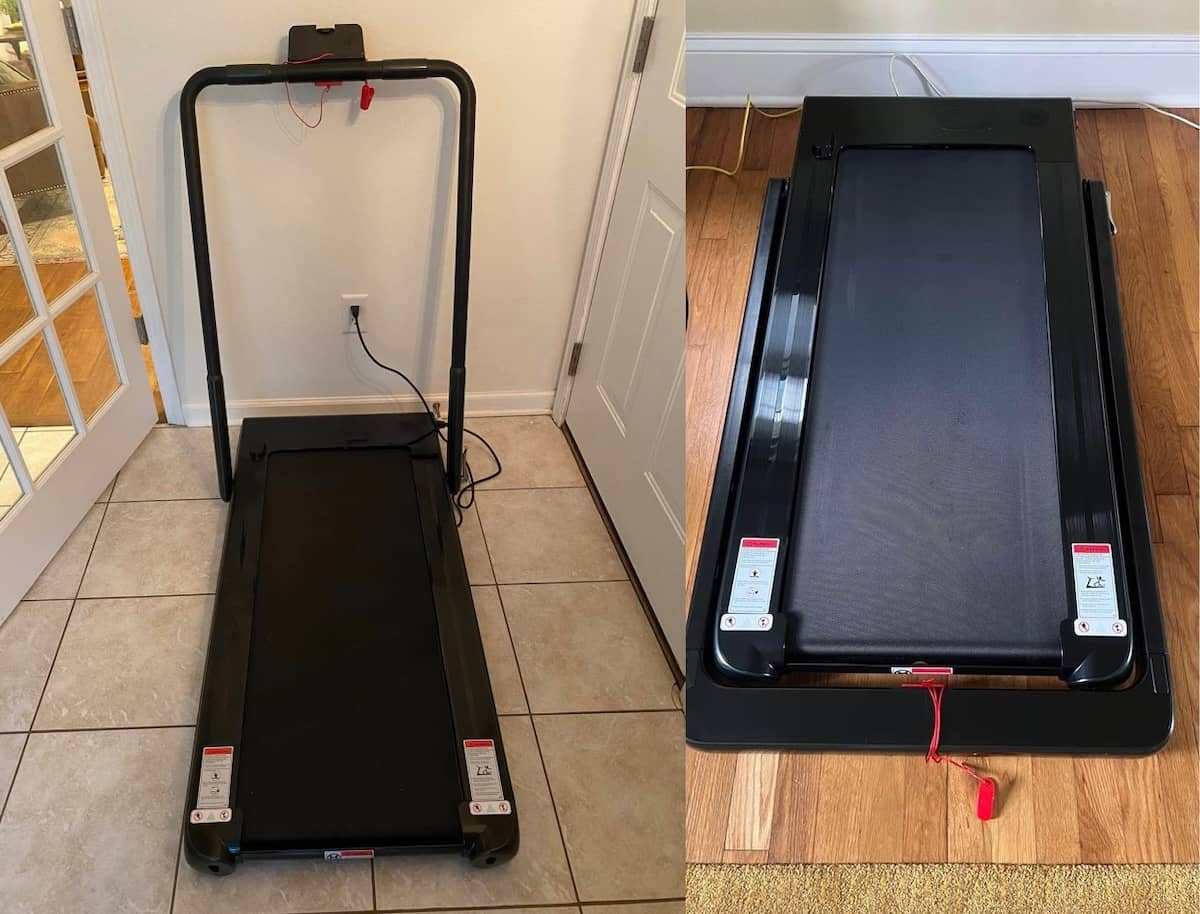 Lacking advanced features, this is great for the simple Joe or Jane who just wants to complete their daily cardiovascular task.
The Go Plus has an LED screen that displays speed, distance, time, and calories burned, that's pretty much it. But still not too shabby considering the price points. The Running belt feels pretty supportive too, it's friendly on the knees and feet. 
The caveat is that this is not the most quiet running pad. You may experience a bit of a noise when using it. And oh, we also wished it had a handrail, that could have added more value to it.  
Walkingpad C2 Mini
If you are petite, you'd find this walking pad quite a suitable purchase. It features a four-layer running belt that has impressive shock absorption and noise reduction. It is also ideal for those who want no-fuss equipment. Is very easy to set up and comes pre-assembled already. 
Its best selling point perhaps is the ease of maneuvering the pad into a usable one. You just need one motion to unfold the equipment and transform it into a cardiovascular machine. That's a huge point for portability and ease of use.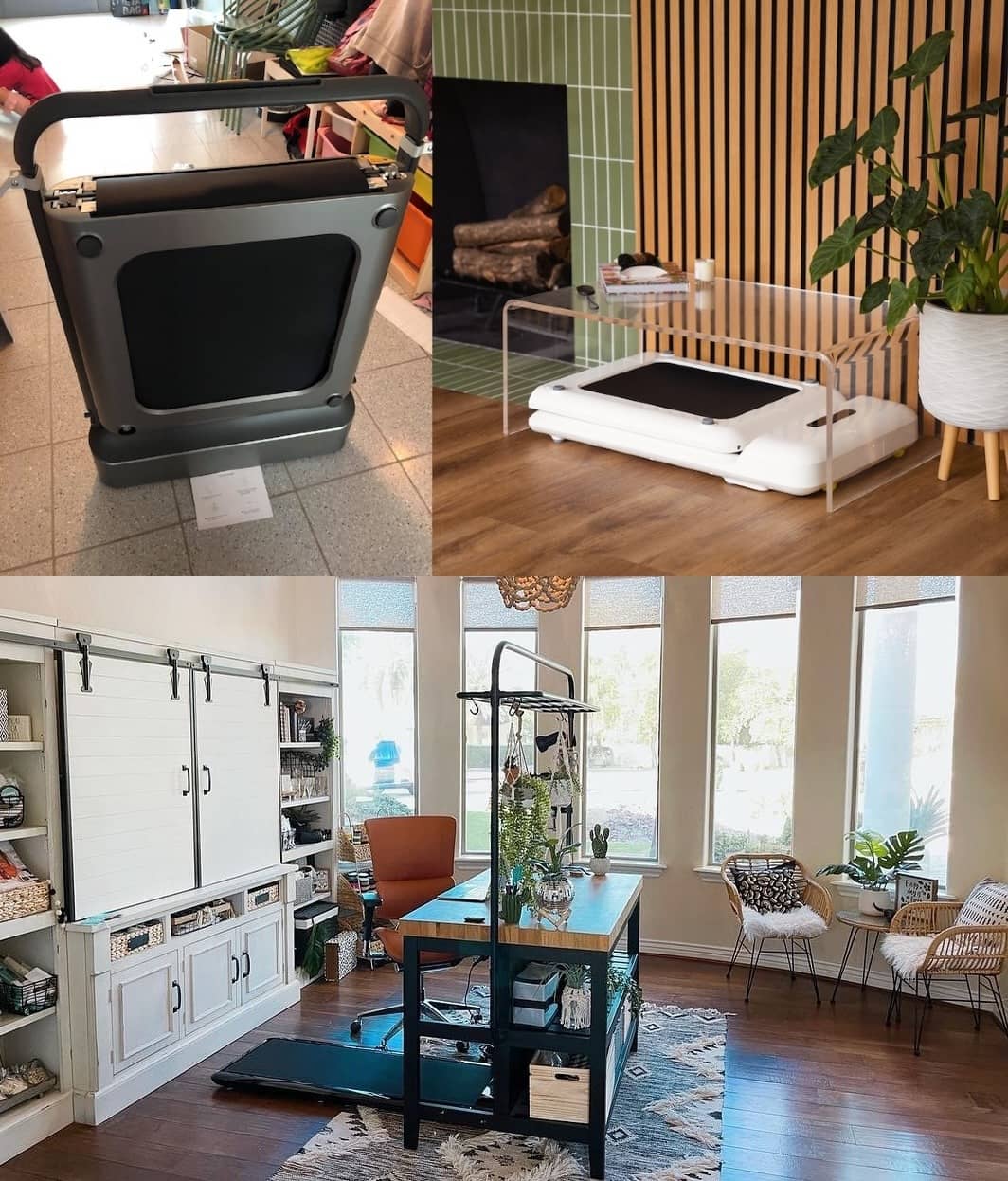 However, being portable also comes with trade-offs. With a smaller dimension, it shares the same qualms as walking pads of the same size. We did wish it had a hand or safety rail that you could hang on to should you need to feel more steady when using it. A handrail could have made the walking pad a bit more stable. Thus we don't recommend this for those with larger feet. This is suitable for petite and smaller users with average weight. 
Bluefin Fitness KICK 2.0
If you're looking for a running pad with a longer belt or walk or run, this is it. Taller people need a unit 6 that can accommodate their longer stride and this is one of them. It's long and wide enough to walk and perform gentle jogging. 
Walkingpad P1
This walking pad has a different configuration. Instead of the stats—including speed, steps, and distance displayed on the pad's console, you'll be able to see it on the remote. So this is a great alternative if you're looking for one that you can easily have access to the stats without having to crane your neck over. 
This is also quiet. So you can still take work calls while walking. It's also low profile making it easy to snuck in whenever you need the extra space to work.
Our qualms, however, this can be a bit rocky and can feel unstable for some. That's why we best recommend it for light users. We also noticed that the pad seemed to shake once you adjusted the speed. So before using it, you have to also let it settle down. 
DAEYEGIM
This Is also a great choice if you need a low-impact cardio workout. It is equipped with a 5-layer anti-slip running belt with shock absorption. 
You may also be able to run on it. The max speed is 5-8 mph, decent enough for a regular run on a fine day,
As for the downsides. There is a very short warranty of 90 days, so when it comes to longevity and assurance of durability, that can be in question. That's why despite the marketed weight capacity of 265 lbs, we recommend this more for light users. That way, you'll be able to preserve the integrity of the unit for longer. 
Walking Pad A1 pro
This is our best pick when it comes to meekness. This Is one of the more quiet walking pads you can find in the market. It also has a unique design, it folds over 180 degrees down to a thickness of only 4.7 inches and fits readily under furniture or in narrow spaces. And if ease of mobility of use is one of your priorities, it comes with wheels for easier transport.
 However, some features are not on par with the other units on this list. The Bluetooth connectivity can be a bit weak and patchy at times. And oh, this unit is also quite heavy. Small and mobile it may seem, but it does pack in more weight.
Walking pads are inferior to treadmills but they are great for small spaces 
Treadmills are packed with more features compared to walking pads. So if you are to choose between the two, then the obvious choice is a treadmill. But if you are in a WFH situation and in a smaller space that is, then this is not a viable solution.
You need something more compact that you can easily sneak under the desk or pull out whenever you need to. This liberty allows you to run or walk even if you're in the middle of an office call.  
So a walking pad is the next best solution. You don't need to skip a day of your fitness routine sans the small space.