When you purchase through links on Astonmet.com, we may earn an affiliate commission.
Here's detail
The pursuit of an immersive gaming experience often leads to a dilemma – choosing between two seemingly equal monitors. Both the LG 27GN800-B and Asus TUF Gaming VG27AQ1A offer the latest IPS technology, but only one can be crowned the champion for casual gaming.
As gamers, we want the best visual experience when immersing ourselves in our favorite games. That's why choosing the right monitor is crucial
In this comparison, we delve into the differences between the two common 1440p gaming monitor in the market, examining which one provides the greater combination of smooth performance, high-resolution graphics, and responsive technology
Let's take a look at some key factors
The intense competition between the 1440p gaming monitors: LG 27GN800-B and the Asus TUF Gaming VG27AQ1A .
| Feature | LG 27GN800-B | Asus TUF Gaming VG27AQ1A |
| --- | --- | --- |
| Screen Size | 27 inch | 27 inch |
| Resolution | 1920 x 1080 | 2560 x 1440 |
| Panel Type | IPS | IPS |
| Refresh Rate | 144Hz | 165Hz |
| Response Time | 1ms GTG | 0.5ms (GtG) |
| Adaptive Sync | FreeSync | G-Sync |
| HDR | HDR10 | HDR10 |
| Ports | DisplayPort, HDMI | DisplayPort, HDMI |
| Colors | 8-bit (16.7 million) | 10-bit (1.07 billion |
The showdown of gaming performance
When it comes to gaming, having the right monitor can make all the difference.
The LG 27GN800-B boasts an impressive 144Hz refresh rate, offering numerous benefits for gamers. To be honest, you can expect a smoother and more fluid gaming experience, reduced motion blur for clearer images, and increased precision for quick reactions. The 144Hz refresh rate also makes it compatible with high-end graphics cards, ensuring that your gaming setup can keep up with even the most demanding games. Upgrade your gaming with the LG 27GN800-B and experience a visually stunning, immersive, and precise gaming experience like never before.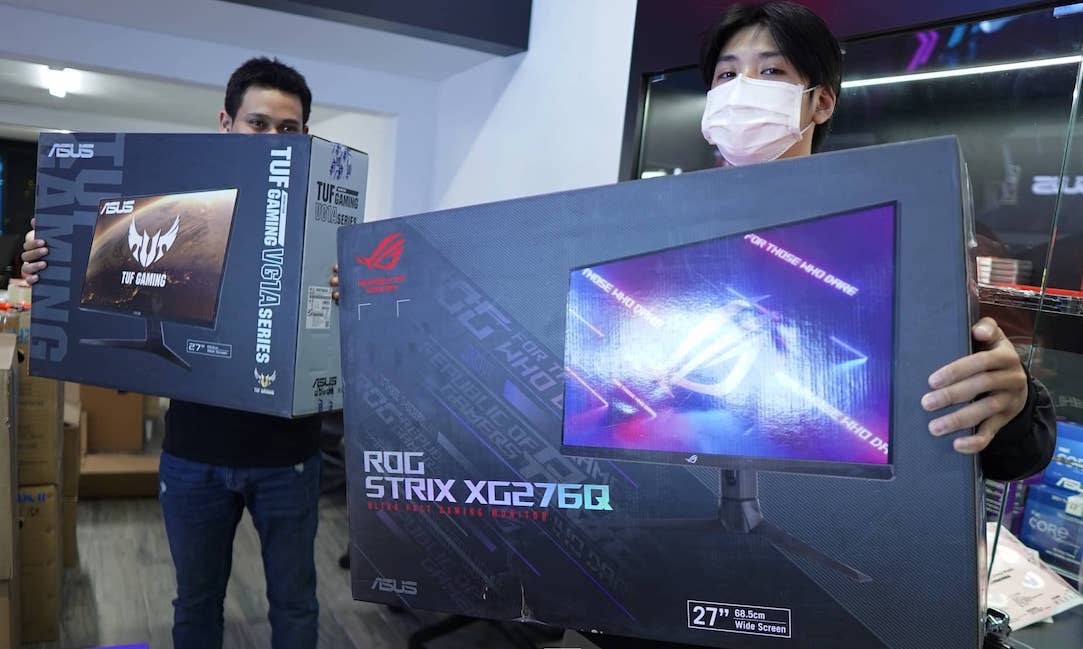 But, how about the 165hz? You can see that the 165Hz refresh rate of the Asus TUF Gaming VG27AQ1A makes it a more suitable option for competitive gamers who want the quickest response times and maximum fluidity, ideal for games like Call of Duty or Apex Legends.
But why people usually prefer the 144hz?
This is because:
Compatibility with more systems: A 144Hz refresh rate is more commonly found on mid-range gaming systems and is more widely supported, making it easier to take advantage of its benefits.
Cost-effectiveness: 144Hz refresh rate monitors are typically more affordable than monitors with higher refresh rates, making them a more accessible option for budget-conscious gamers.
Delivering buttery-smooth visuals and quick response times, making it a perfect match for fast-paced games such as Red Dead Redemption 2 or Forza Horizon 4.
The Asus TUF Gaming VG27AQ1A offers a higher refresh rate than the LG 27GN800-B, making it the better choice for competitive gamers who require the ultimate in gaming performance. However, for those who are looking for a balance of performance and cost-effectiveness, the LG 27GN800-B is a fantastic option.
How about the colors?
Both monitors offer fantastic color accuracy, ensuring that in-game landscapes, characters, and special effects pop with life-like vibrancy. The Asus VG27AQ1A takes it one step further with its HDR support, delivering vivid HDR content with improved brightness and contrast.
The Asus TUF Gaming VG27AQ1A shines with its HDR10 and DisplayHDR 400 certifications, providing a more immersive experience with a wider range of color and contrast. On the flip side, the LG 27GN800-B features sRGB 99% color gamut, which offers consistent color accuracy for creative tasks like photo or video editing.
Compare the price point?
While some might consider the LG to be a bit overpriced, others might feel that the extra features and overall higher quality of the ASUS make it worth the slightly higher cost.
Are you seeking a high-performance gaming monitor but feel the LG 27GN800-B is a bit too pricey? Fear not, for there are several alternatives that offer fantastic value for your hard-earned money!
Consider the Dell S2721DGF – a powerhouse of a monitor with lightning fast 165Hz refresh rate, ultra-responsive 1ms response time, and G-Sync compatibility, making your gaming experience smoother and more immersive than ever. Add in the stunning HDR and accurate display, and you've got yourself a winning combination.
The AOC CQ32G1 is another excellent choice, offering a silky-smooth 144Hz refresh rate and lightning fast 1ms response time, not to mention its FreeSync support, guaranteeing that you'll never have to suffer through screen tearing or stuttering again. And with a wide color gamut and fantastic overall image quality, your gaming will be taken to a whole new level.
For those seeking an affordable option without sacrificing performance, the ViewSonic XG2405 has you covered. With a blistering 144Hz refresh rate, lightning fast 1ms response time, and gorgeous image quality, you'll be able to enjoy your favorite games with newfound fluidity and clarity.
In overview
Both offer the latest IPS technology, but differ in display and specifications.
The Asus VG27AQ1A boasts a high refresh rate of 165Hz, superior resolution of 2560 x 1440, and an advanced color depth of 10-bit with 1.07 billion color options. Meanwhile, the LG 27GN800-B offers lightning fast response time of 1ms GTG and compatibility with FreeSync.
The LG 27GN800-B and Asus TUF Gaming VG27AQ1A are both impressive displays, but in this exciting comparison, we have an answer for the winner. You already see it, don't you?
And talk about the bigger view, The LG offers a 27 inch screen size and multiple connectivity options, while the Asus adds HDR10 support, delivering elevated brightness, contrast, and color accuracy.
The clear winner in the end of the day is the Asus TUF Gaming VG27AQ1A, with its superior display and specs, making it the ultimate choice for both gaming and content creation. It delivers a visually stunning and seamless performance. You'll love our point of view later!
If you're a serious gamer, can't miss out on a visually stunning and seamless experience. And the Asus should be at the top of your list. With its advanced display and specs, it elevates your gaming experience to new heights. Everytime you're tackling Red Dead Redemption 2, Forza Horizon 3, or Forza Horizon 4, this monitor delivers breathtaking visuals that will leave you captivated.