When you purchase through links on Astonmet.com, we may earn an affiliate commission.
Here's detail
Can we pit these two chairs with different structures against one another? Let's see.
Defy Desk high back office chair at a glance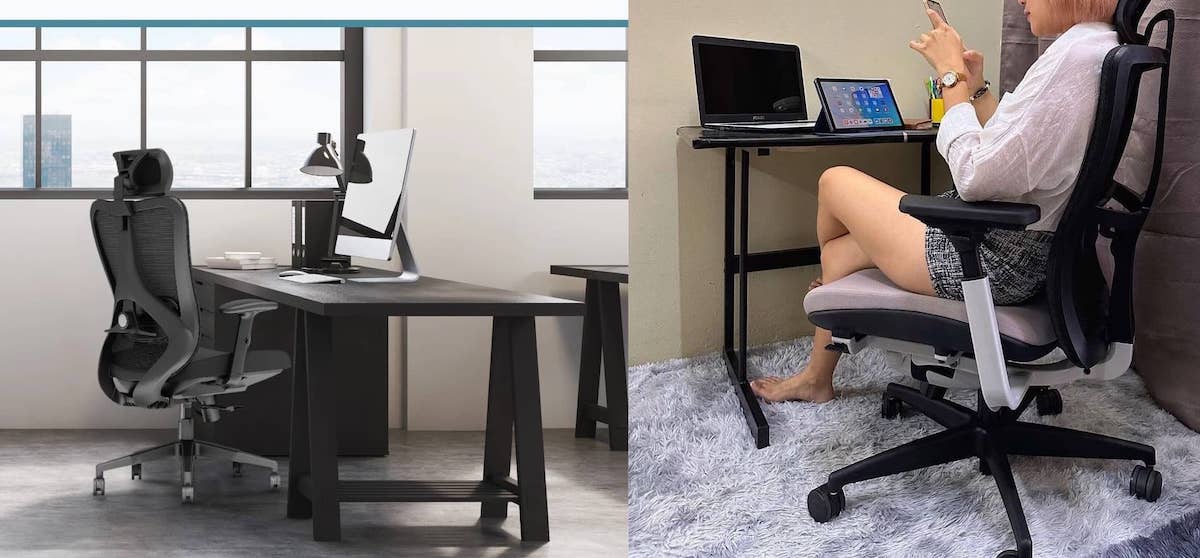 Let's take a look at the brand's ergonomic chair offering. The ergonomic chair from Defy Desk features a high back design with a mesh. So how did it fare?
First, we felt like the chair had a little bit of everything. You can find several ergonomic and adjustable features that you will want in an office chair. It has a decent range of seat height adjustment, the mesh back is breathable and comfortable, and it can swivel to 360 degrees. 
We are also able to enjoy a nice recline and it can be rocked back and forth. Though not as enjoyable as a premium chair like Herman Miller or Steelcase, the rocking motion is sufficiently enjoyable. And it's a breather for your back in a whole day's work.
And oh, it also has lumbar support. That's very convenient for a chair of this price range. 
This ergonomic chair isn't really one of the more popular ones on the market. But we find it decently solid and stable. And we were also happy at how the brand was able to pack everything separately. It made the setup quicker and easier. Though we had a bit of a struggle putting the headrest on. 
And for the caveats? On the first few days, we found the seat cushion and the armrest a bit too stiff, but it softened over time. The material does not really feel cheap but it does not feel durable too. So we are not sure how long it will hold itself up. We're giving it a year or two before it actually deflates. And this chair does not really have a warranty. You have to apply for it after you have purchased the chair. 
This is a pretty solid office chair. And those who stand 6 feet also find it comfortable.  Given that it has a high back and a wide range of adjustments, it's easy to find the most comfortable working spot. And we love the inclusion of working lumbar support. We find this chair very comfortable to work on for the entire day. 
The weight limit of the chair is 250 lbs and even when it's maxed, the chair does not make any sound and it does not feel like it's going to splay or give away. We were pretty happy with the construction and the build of this ergonomic high-back chair. 
Is The Defy Desk kneeling chair for you
Kneeling chairs are really not that popular when it comes to ergonomic seating solutions. Many will still favor an ergonomic office chair with either the padded cushion or the mesh material. Let's try to take a closer look at what kneeling chairs can do for you. And if you should ditch your ergonomic office chair for it.   
Most kneeling chairs in the market will have the same structure but different materials and designs. It is somewhat similar to a chair you use at the gym to stretch your legs, only that one is more flexible. So how can a chair like that be comfortable for prolonged periods at work? Or is it?
Defy Desk is one of the more preferred kneeling chairs. We love it because it has sufficient padding on the seat and the knee part so you will still feel sufficiently comfortable even with the lack of a backrest. Let's put into detail our experience with their kneeling chair. 
So we had two separate teams try out the chair. One of the teams is composed of active individuals that have a good posture already. And the other team are what you called the slouchers and the hunchers. 
Both groups were able to seamlessly transition into the chair. We thought that the huncher team would have difficulty because of the lack of the backrest. But for the first two hours, both did find the kneeling chair fairly comfortable.
The padding on the seat and knee part is soft and kinda plushy. So it might not make you miss the backseat of your office chair for now. We also love that the caster wheels can be adjusted. And It can also be locked. 
So like ergonomic office chairs, you have the option to be able to slide it across the office floors or have it stationary. This is also what makes Defy Desk kneeling chairs stand out. Not all kneeling chairs offer this liberty.
When we first sat on the chair, we felt a lovely stretch, the kind that you feel when you hollow your back after slouching for hours. We find it quite comforting and relieving. And this is what kneeling chairs are for. The increased angle on the back helps you obtain a more proper posture and frees your back from pressure caused by too much slouching. So indeed it did what it was claiming.
After two hours, however, team slouchers started to feel anxiety separation from the backrest of their old ergonomic office chairs. The hunchers felt restless and wanted to get out of the chair and lay their back on something. For those who already have a proper posture, it did not seem to make that much difference at this point. They still find it comfy.
The hunchers and slouchers also felt the need to move and free their legs from the chair after the second hour. Thus, this group only finds the kneeling chair comfortable for less than two hours.  
But here's the thing. After three hours, the other group who already have a good posture, find their backs hallowed too much. And this created some pain in the lower back. It feels like a training chair if you're going to sit on it longer. So if you're not up to it, you will really feel tired even after only two hours.
Several features make the Defy Desk kneeling chair a front runner in the sea of kneeling chairs. It has sufficient height adjustment levels, the cushion is thick and well padded, and it is more ergonomic. But it's not for everybody. People who are looking for a more aggressive chair that will stop them from slouching will appreciate this chair the most. 
But there's still a caveat there. You will not be able to sit on it for the entire day. Your back will be forced into a hollowed angled posture. And this over time can result in lumbar pain and compression. 
Thus it's best used as a complement to an ergonomic office chair. But we do not recommend it to take the place of your ergonomic office chair. 
Overall comparison
So it's time to put these two different chairs from Defy Deskagainst each other. What will be more suitable for you?
The kneeling chair is most suitable for women, average-sized users, and teens. Though the chair is sufficiently sturdy and has several seat height adjustments, those who are thicker may find it too restrictive. Especially if you're pear-shaped or larger waist down, you might have a tough time squeezing your legs under your butts. And this can create too much pressure or compression. 

Also, the kneeling chair is aggressive. It feels like a training chair that will push you forward to avoid hunching. Yes, that can be good, but there are downsides to prolonged use. One, remember the two groups that tried the kneeling chair, the hunchers and those with already good posture? 
The hunchers find the lack of backrest and hollowed posture okay for a few hours. And after two hours, they find it too tiring. Even the stronger group does not want to sit in the kneeling chair longer than 4 hours. So whether you already have a good posture or not, it's not comfortable to sit for 6-8 hours straight.
Concern number two is that like other kneeling chairs, Defy Desk kneeling chairs  to push your back to be hollow. This prevents you from slouching right? So it must be good. But this hollowed posture can also be counterproductive. It can create too much pressure on your lumbar. So you can feel pain if you're going to sit on it longer.

The ergonomic chair of the brand, on the other hand, has almost everything you'd want and need in an office chair. It can cater to taller users too and has lovely lumbar support that works. Our concern is that we are not sure at how long the cushion will be able to hold itself up. Why? Because at first, it was too stiff, over time the cushion softened. Yes, that's comfortable. But how about after a year, two, or three years? It can degrade easily given the scenario that we have mentioned above.

So to answer that question on which is better, here it comes. The kneeling chair is a great training chair. For those who hunch excessively, this is a great compliment to an ergonomic office chair such as the high back chair from Defy Desk. 
Allow us to reiterate the word complement. It should not take the place of an ergonomic chair. You should also use it in between when you feel like your back is getting too hunched up. But do not use it continuously, there should be a break and you have to switch from an office chair to a kneeling chair. 
Even those with good posture will not be able to work on a kneeling chair for the entire day. Your legs will also feel numb and you will crave movement. 
Final Say
So as with all kneeling chairs, it should be used in conjunction with a decent ergonomic office chair. Defy Desk high back chair is a great option. For its price range, you get several adjustable and ergonomic features. It should never be sat on alone for more than three hours. So these two chairs will work hand in hand.