When you purchase through links on Astonmet.com, we may earn an affiliate commission.
Here's detail
Adios to slouching and the pains of a sedentary work life! It's time to take your workspace to new heights with a standing desk. But if the popular Fezibo option isn't in your budget, don't worry. We've got some fantastic alternatives that will have you pumped up with excitement. In this post, we'll showcase the best budget-friendly standing desks that will make you feel like a pro
Ok then, here are some of the best alternatives. 
Flexispot EC9 Vici
The EC9 Vici  may just be a basic desk. It lacks the extras that the FEZIBO can offer. It does not have the frills. And even the control panel only features an up and down button. But when it comes to durability and reliability, this is a crowd-pleaser.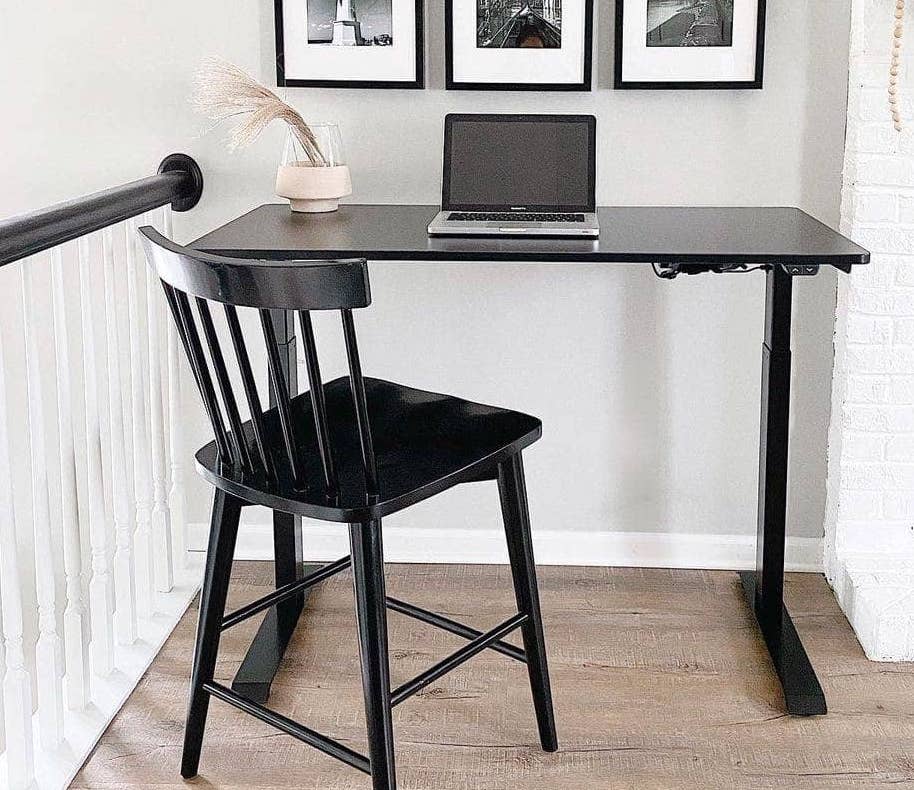 Albeit being a lighter-duty desk with a 110 lbs weight capacity, it is very solid and quite hefty. We find the frames are thick and strong. Also, the desk may be a plain Jane, but it can provide a larger working area compared to the VIVO's desks. 
But if you fancy this brand but find the weight capacity a bit lacking, you can always choose to upgrade to a more heavy-duty Flexispot standing desk at a higher price range. 
Going back to the Vici desk, the strongest point of this desk is the setup and installation. That's why it's also referred to as a quick install desk. You will be able to set it up in a jiffy.  It also has a few parts, only three. So the fewer the parts are,  the easier it is to put up. It's also very easy to connect the parts. So this is a great option if you are going to do the installation on your own, especially if you hate DIYs. 
Even if it's more of a basic standing desk, it's worth the price that it has. We love the spacious desk area. And it's also pretty stable and will not easily shake even if you bumped into it. 
All in all, this is a substitute for those who don't want to fuss over a complicated setup and assembly process.  And if you just have a basic setup, you'll be satisfied with this standing desk.
Eureka i1
The Eureka standing desk may have limited style options, unlike the Fezibo stand-up. desk. Eureka may even offer only a single size. But what you're banking on when you purchase this standing desk isn't the aesthetics. It's more on the build of the desk and more advanced technology.
It came in one single box. Many users might be able to find the desktop more basic and minimalist,  but it's a solid one. And since you only have 3 separate parts for the tabletop, this will be easier to install. 
Also, since it's one solid piece, it's a great alternative if you don't want the indentation that comes when two separate tables are connected.  Albeit, the lack of options, it's a pretty decent-looking tabletop. It will appeal to those looking for a simple yet functional desk. There are no cabinets and no frills but it has more to offer in terms of technology.
The brand uses advanced robotic technology in putting the desk together. So for the welding and all, everything is pretty tight.  And since most of the connection was already done at the factory, there is almost no room for human error. That's why this one of the few standing desks of its price range is very solid and robust.  We are banking more on the no wobbling guarantee of the brand.  
It's also because the brand does not outsource any of its parts and components. So quality control is great and you can be assured that everything is made in-house. So that means nothing is cheapened out to give way for costly shipping and taxes that come with it
The control panel of Eureka looks a lot similar to Fezibo's. It's sleek and simple. It also has an anti-collision feature. And in addition to that,  Eureka also tossed in anti-tilt sensing and a dampened stop-start mechanism.  These prevent the motor from being overwhelmed. 
It also has overload protection. So you don't have to worry if your motor is going to be exhausted. Thus, it can last for the long haul.  There are very few standing desks that offer a combination of these safety features.
As for the customer service, EUREKA is a more reliable brand than FEZIBO. Though the warranty is somewhat similar,  users get more value from their purchase with Eureka's customer service. 
Thus, the Eureka desk is a perfect alternative if you want a standing desk that offers more advanced tech and safety features.  And if you prefer a solid single tabletop, we are recommending this one. 
UNICOO
The UNICOO standing desk may only be a single motor unit. But it is by far one of the best of its kind. Even with a single motor, it has a weight capacity of 225 lbs. If we are going to compare it to the single motor desk of FEZIBO, it is more heavy-duty. Fezibo's single motor desk has a carrying capacity of 176 lbs. So this is a great alternative if you have more hefty equipment that you need to place on your desk.
It offers a few ranges of tabletop options too, but still pretty decent. And it is more of a minimalist style like the Eureka standing desk. 
UNICOO also has several safety features. It has an anti-collision system and overload protection. And like the EUREKA standing desk, it has a tilt protection system. The desk will stop once it senses that one of the legs is higher than the other.  So this protects the unit and prevents your monitor from falling to the floor.
So you get to enjoy these features even with a basic unit. You do not need to do an upgrade. So if you enjoy the extras that the FEZIBO offers such as the drawer and the headphone holder,  you'll also find the UNICOO  a great value for your money. 
—
***
Other options
VIVO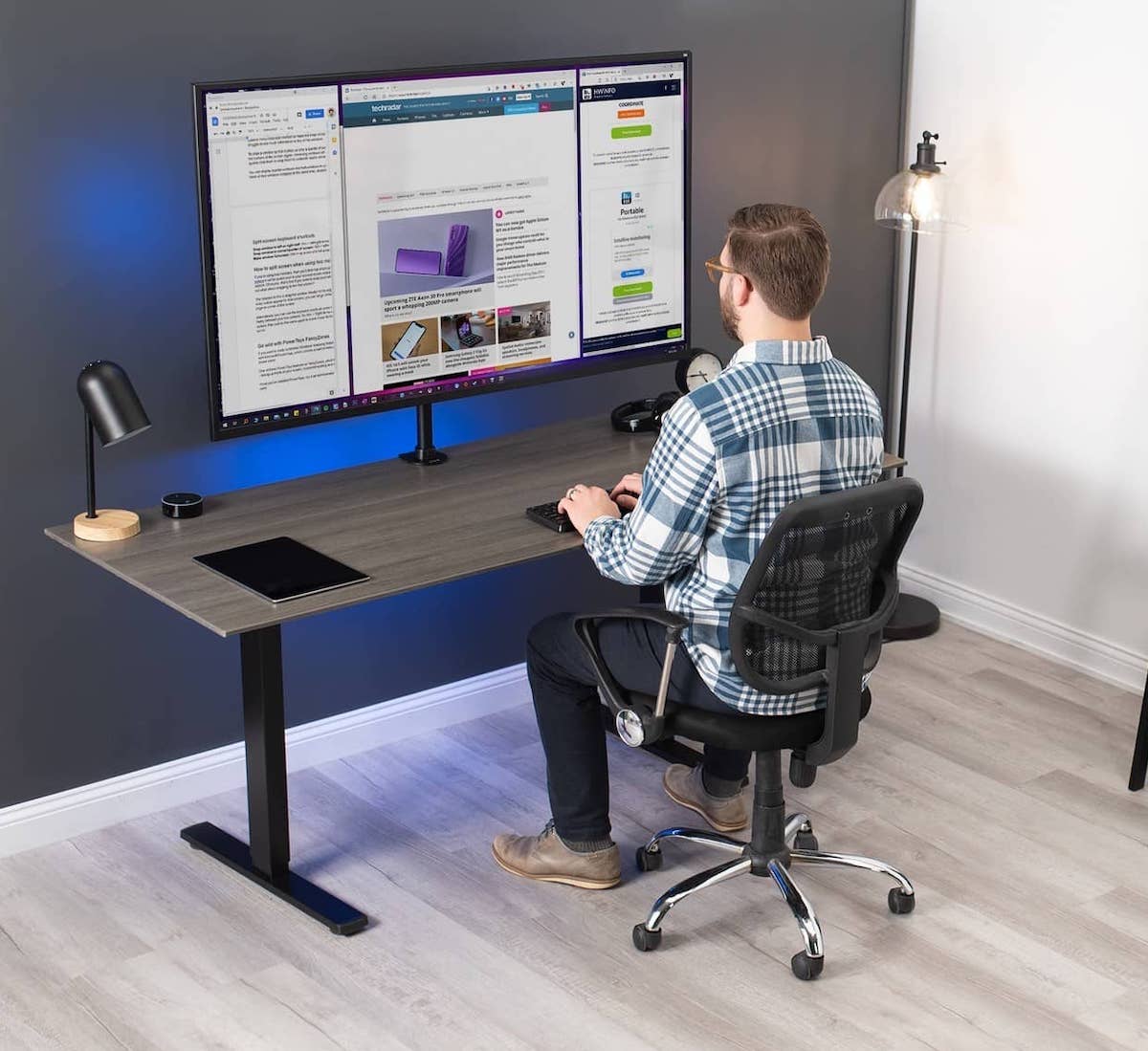 Now if you want a stand-up desk with many tabletop options, the VIVO standing desk will indulge you. It comes in several tabletop and leg frame options. And oh, this desk is more of the aesthetically pleasing ones with its 11 color combinations. So you can choose to your heart's fancy. In terms of design options, there are more possibilities with VIVO.
Though we wished it came with a bigger and wider desktop area. It's a bit small and can satisfy those with a minimalist setup. So if you have a dual monitor setup, you will find it too cramped. Though we do not have any complaints about the build and sturdiness of the frames and the tabletop. But the working area is quite lacking.
The price range is close to FEZIBO's. But considering that it has a smaller desktop, it will be more expensive if we are going to compare it eye to eye.  But on a good note, this standing desk can cater to those who stand taller at around 6 feet 8 inches. Thus, it can go higher than FEZIBO. 
SHW 55″
The SHW standing desk may not have the extra features that the FEZIBO offers. And despite the absence of a cable management tray, It's easy to organize the wires and the cables. 
And like FEZIBO desks, the SWH standing desk comes in two pieces So there could be that slight indentation that connects tabletop 1 to tabletop 2. This might not be a big deal, but it can be for those who want a sleeker-looking desk. But in terms of stability, this did not affect the overall robustness of the unit. 
The cables are also long and it comes with cable ties so you can organize them easily.  For the setup, though it's not that challenging to assemble, it can be for one person.  You might need help in holding down the frames. 
And oh, the SHW desk looks more expensive than its relay is. So if you do not mind the two connecting tabletops, this will look sleek in your home office. 
Yang Ming 48×24″
We particularly tried the 48 x 24 desk option of this brand. This really isn't one of the more popular options. In fact, you might have never heard of this brand before. But this can be your alternative to a FEZIBO standing desk. 
We love the spacious working area that this offers. Though it's not as sturdy and solid as the earlier brands that we have mentioned, there's still something to it. We love the sleek look and the rounded edge of this desk. It doesn't have the bells and whistles that the FEZIBO has, but you will be able to organize your cables properly with a cable connector. Though it's not all spic and span compared to if you have a cable management tray, but it will not look as messy.
Another feature we love are the thick and solid frames. Even if it's a brand never heard of, we reckon this can last for some years.
TechOrbits
We were very surprised by the overall build, quality, and materials of the TechOrbits standing desk. For a desk of this price range, this is quite a steal. It does not look cheap, it looks sleek and classy.
The thick frame seems to last for a long time. And there is also little wobbling and shaking.  And as for the weight capacity, it offers 180 lbs, so not too shabby and it's a tad higher than FEZIBO's.
On the other side of the table,  the weakest point of this standing desk is the control panel. It looks really cheap and flimsy. It even has some small scratches. So all in all, the control panel doesn't look too appealing. But we don't have any problems with how it transitions, it's pretty smooth and steady. But that's just something to keep in mind if you are keen on buying this standing desk. 
———
FEZIBO is indeed one of the more affordable desks with added features. And we have loved all the extra. But if the two connecting tabletops are pissing you off, you can find suitable alternatives.