When you purchase through links on Astonmet.com, we may earn an affiliate commission.
Here's detail
Get ready for a showdown of two of the best budget office chairs on the market: the Steelcase Series 1 and the Ergochair Pro (also known as the Ergochair 2 by Autonomous). Whether you're a busy professional or a heavy-duty worker, you deserve a comfortable and supportive seat that can handle your weight and keep you productive all day long. So, buckle up, grab a cup of coffee and get ready to discover which one of these chairs will be the king of your office throne, reigning supreme over all the rest.
Will it be the Steelcase Series 1 with its LiveBack technology and 4-way adjustable arms, or will it be the Ergochair Pro with its flexible lumbar support and 5 lockable positions? Let's find out!
Spoiler alert: both are great options!
Feature
Steelcase Series 1
Dimensions
36 1/2" to 41 1/4" (H) x 23 1/2" to 27" (W) x 21" to 23 3/4" (D)
46" – 50" (H) x 29" (L) x 29" (W)
Seat dimensions
19 1/2" (W) x 18 1/2" (D)
20" (L) x 20" (W)
Seat height
16 1/2" to 21 1/2"
18" – 20"
Adjustability Height (inches)
15-21
16-20
Back dimensions
17 1/4" (W) x 21 1/2" (H)

21" (W) x 22" (H) (without headrest)

21" (W) x 28" – 31" (H) (with headrest)

Tilt range (degrees)
100° – 122°
22
Armrest height
6 1/2" to 11"

11" – 14" (from seat)

26.7" – 32.2" (from floor)

Materials
3D MicroKnit Mesh Back fabric, 4-way adjustable arms, molded foam interior and durable nylon plastic frame

Polyester fabric with molded foam interior and durable nylon plastic frame; PU handrest pads

Colors
Licorice / Black, Graphite / Seagull, Graphite / Black, Night Owl / Seagull

Cool Gray, Evergreen, All Black, Red Apple, Black & White, Baby Blue

Weight capacity
400 lbs
300 lbs
Item weight
69 lbs.
48.5 lbs
Shipping dimensions
41.5" (H) x 29.5" (W) x 29.5" (D)
29" (L) x 27" (W) x 19" (H) x 67 lbs
Warranty
12 years
2 years
Free returns
Yes
30 days
Adjustability
Armrest, seat tilt and height, back tilt angle and tension, lumbar height

Headrest, armrest, seat tilt and height, back tilt angle and tension

Starting price
 Check now
Check now
Comfort
Comfort is a crucial factor
The Steelcase Series 1 features breathable, soft-to-the-touch 3D MicroKnit Mesh Back fabric, which allows air to pass through the seat fabric to keep you comfortable. The flexible seat edge offers a bit of bend to relieve pressure points under your thighs. This chair also has integrated LiveBack technology, adaptive bolstering, and 4D adjustable arms for dynamic performance. It is like a big, comfy hug for your back and bottom!
The Ergochair 2 is a total powerhouse with its breathable woven mesh back that keeps you cool no matter how heated the competition gets. And its flexible lumbar support is like a cheerleader for your back, adapting to your every move. But that's not all! This chair also comes with a fully adjustable headrest and armrest, so you can sit in the driver's seat of your own comfort. And talk about range! The tilt on this baby goes up to 22 degrees, putting all other chairs to shame. But don't count out the Steelcase Series 1 just yet! This chair has a seat pan angle of 2 degrees and is always ready to support you in the race for comfort!
Both chairs are designed for comfort, but the ErgoChair 2 has more features that make it more comfortable to sit in for long periods of time. It has a lumbar support system that can be adjusted to fit your back, and its seat is made of memory foam that contours to your body. The Steelcase Series 1 has a less adjustable backrest and a seat made of firm foam, but it does have an ergonomic design that many people find comfortable. In the end, it's a matter of personal preference, but the ErgoChair 2 is the winner for comfort.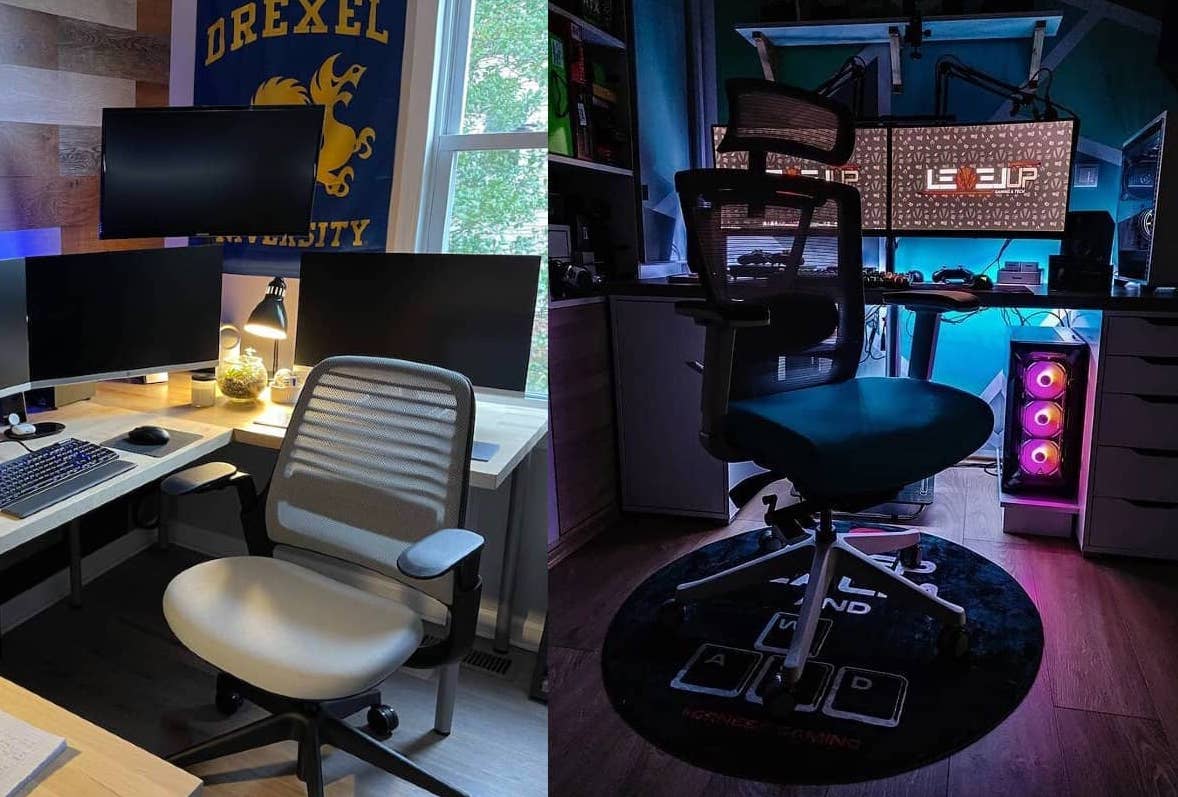 Adjustability
The winner for adjustability is the Steelcase Series 1.
The 4D adjustable armrest of Steelcase is truly one of a kind. The adjustability in height, depth, width, and pivot of the armrest allows for a truly personalized and comfortable experience. This feature ensures that the chair can adapt to your specific needs, providing unparalleled comfort and support. The armrest can be adjusted to the perfect position for your arms, shoulders, and back, allowing for an ergonomic and supportive experience that will help reduce the risk of injury and discomfort.
Ergochair 2 only offers a simple 2D adjustable armrest that only allows you to adjust the height. And of course, it also has an adjustable headrest too
But, Steelcase Series 1 is just on another level
Compare to the body of users
If you're a petite person who stands under 5'2″, the Steelcase Series 1 is a tailor-made fit for you! Its compact height range is crafted to cater to your lower stature, ensuring maximum comfort while you work. But if you're a towering figure, reaching above 6′ tall, then the Ergochair 2 is your best bet. Its generous height range of 20 inches will provide ample support for your longer legs. And for those who fall somewhere in between, either chair will suffice!
In terms of seat width, both chairs boast a fixed size, but if you prefer a more spacious feel, the Steelcase Series 1 is the champion. With its generous seat width, you'll never have to endure cramped conditions in your chair again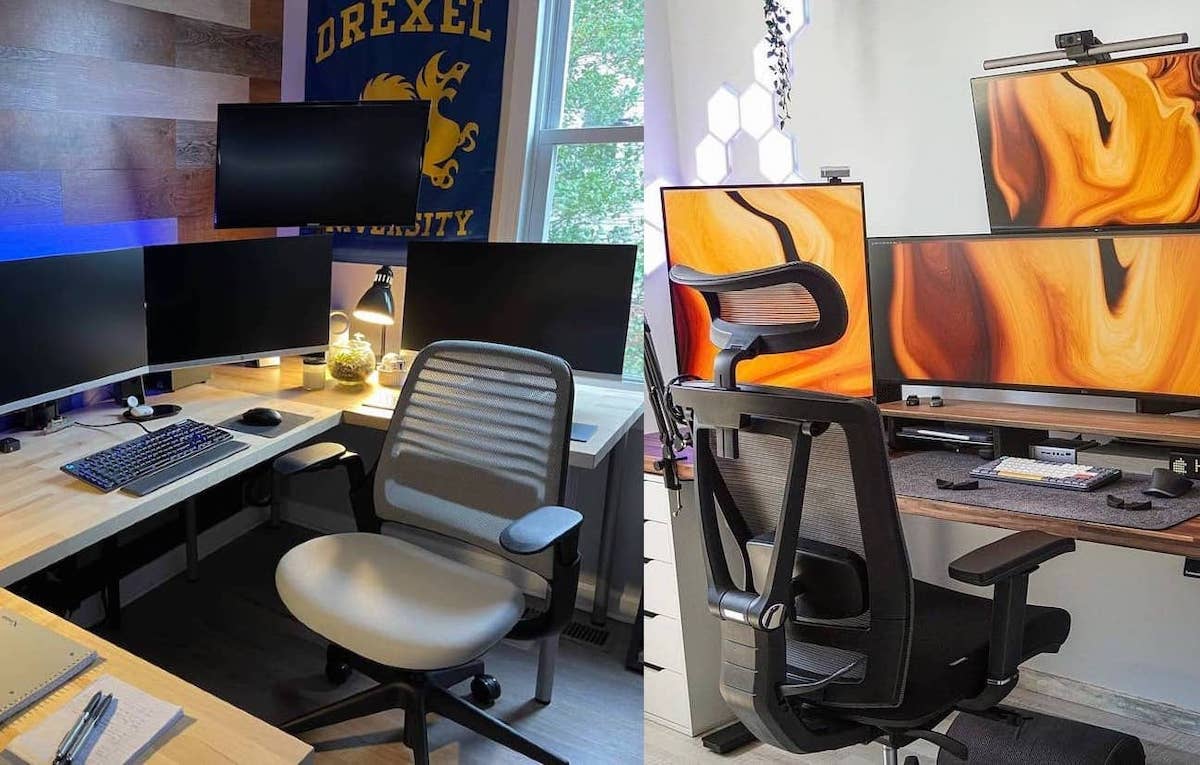 For fat people, the weight cacity of Ergochair Pro (300lbs) is a little bit low. The weight capacity of Series 1 is 400lbs which can hold more people. Look like the winner of this factor is the chair from Steelcase, again!
Compare the customer services and the warranty
Steelcase offers a 12-year warranty on their chairs, while ErgoChair only offers a 2-year warranty. This shows that Steelcase has more confidence in their product and is willing to stand behind it for a longer period of time.
In terms of customer service, both companies are highly rated, but Ergochair does offer 24/7 customer support, whereas Steelcase does not. This means that if you have any issues with your chair outside of normal business hours, you will be able to get help from Ergochair. But turn out, sometimes the users claim that Autonomous never answer their emails or phone calls. So we think that Steelcase is the winner for this factor.
Conclusion
Both the Steelcase Series 1 and the ErgoChair 2 are great ergonomic office chairs, but there is only one winner in this showdown. We pick the Series 1 as the better chair because it is more comfortable, more adjustable, and comes with a longer warranty. And of course, Steelcase is a great brand that is known for making high-quality office furniture. So if you're looking for an ergonomic office chair under $500, we recommend the Steelcase Series 1.
Related post: