When you purchase through links on Astonmet.com, we may earn an affiliate commission.
Here's detail
Everyone is having a hard time distinguishing these two monitor arms. The only way most can tell the difference is by looking at the price tag. The Ergotron LX is within the mid-price range and is still one of the more affordable yet decent arms you can get. And Amazon sits at a much considerably lower price. 
Feature
Ergotron LX
AmazonBasics
Dimensions (inches)
18 x 10.65 x 7
25.6 x 6 x 16.2
Compatibility

Fits up to 34″ screens
7 to 25 lbs
VESA 75x75mm & 100x100mm

Fits up to 32″ screens
up to 25 lbs
VESA 100x100mm & 75x75mm

Mounting Options
Desk Clamp & Grommet Mount
Desk Clamp
Height Adjustment
17.3″ above the worksurface
N/A
Tilt Adjustment
75 degrees of tilt
70 degrees back to 5 degrees forward
Rotation Adjustment
360 degrees
360 degrees
Cable Management
Yes
No
Material
Heavy-duty Steel
Aluminum
Price
Check now
Check now
But aside from the price tag, is there any other way you can tell which is which?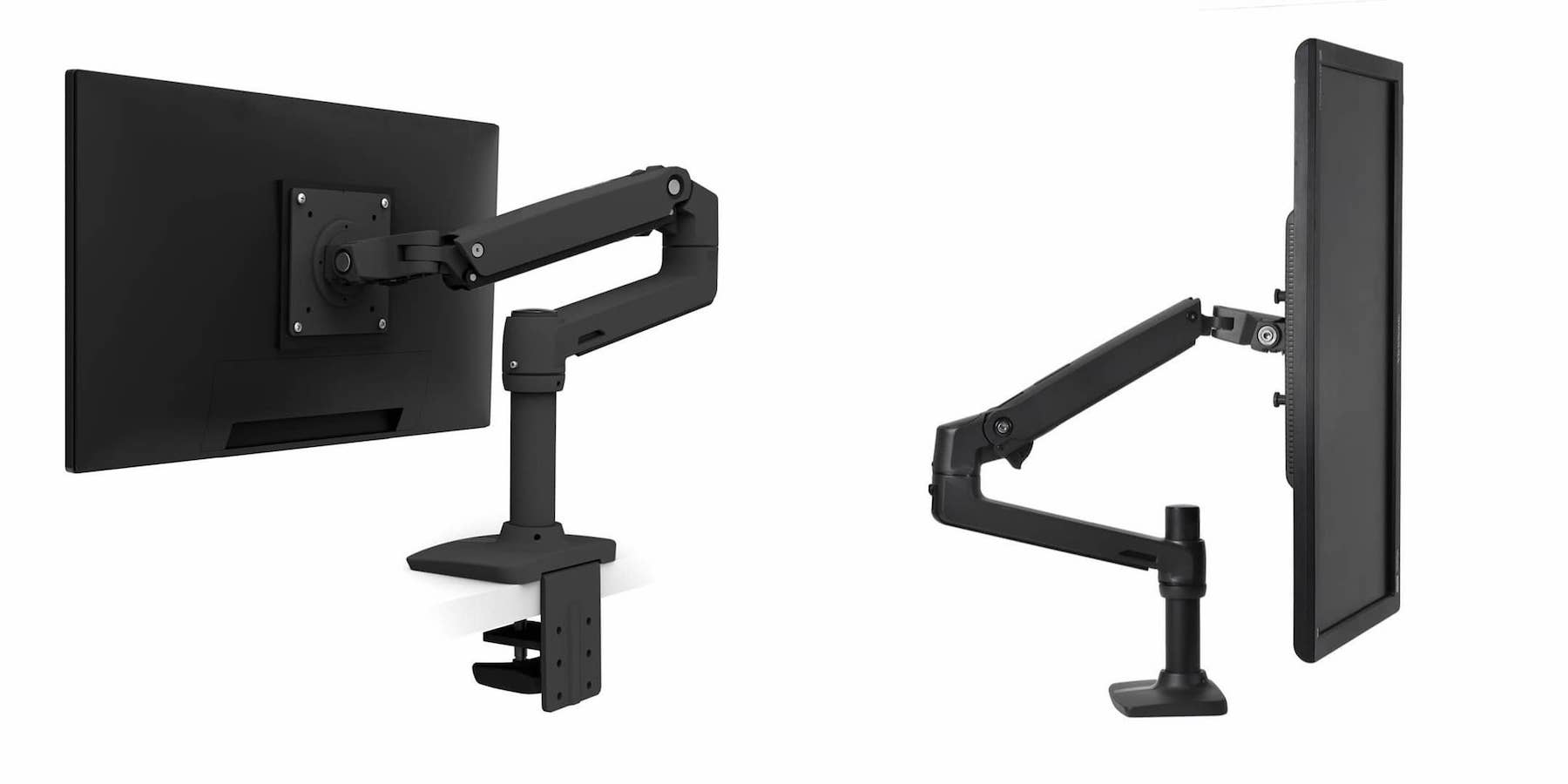 You need a discerning eye to tell them apart
If you have not tried both arms, then for sure, you will not be able to answer.
To be honest, even if you have used these two, it will still be challenging to tell them apart. There are very few, if not minute differences. 
They are constructed basically in the same way. They operate and function in the same manner, even though the range of the tilt is almost identical. They are assembled in the same way too. And of course, they look like two peas in a pod.
People also think that they are manufactured by the same brand. 
They have the same craftsmanship and almost identical materials. Though there is a very small difference here. The materials used in the Ergotron LX are just, by an inch, feel and look more updated. But if you are not that observant, you will not be able to say this. You might even need to sit these two arms together and examine them carefully to notice this.
Well, here it is, they may be manufactured by the same company. Or Amazon has a go signal to replicate LX.
And here is an interesting idea. There have been rounds online saying that these arms may well have been manufactured in the same factory or by the same brand. There is almost no practical explanation for why they are identical in almost any way but this.
Amazon is said to be replicating the LX arms and branding them as their own. Also lowering the price. That's why it was also dubbed as a cheaper alternative to the LX.
If you want the functionalities of the LX but find it out of your budget's reach, that will not be a problem. It costs half as much as the LX. 
So if this rumor is true or not, then it will be a battle between the price and the warranty.
The AmazonBasics has a stinger and shore one-year warranty versus the five-year warranty of the Ergotron. But despite this, the cheaper AmazonBasics can still be a good buy.  If they are constructed in almost the same way, then you can still be assured that the cheaper product will still be able to serve you for quite some time.  So the more generous warranty will not be a big factor for most people, especially if the price is an issue.  
But there may be instances where one might need a longer warranty. Let's see.
Here are more very small differences 
The Ergotron LX does seem just a tad bit wider than the AmazonBasics. The base is wider and will be able to give better support by an inch.  But you will only notice this if you are using a larger monitor, otherwise, it will not be noticeable. The AmazonBasics arm tends to be a bit shaky if paired with a bigger screen.
You also have to consider how often you need to reposition and adjust the monitor. Pair a bigger screen with the need to change the orientation of the monitor more often, then there can be a significant shaking. 
Which to buy then?
Of course, if asked to choose between two identical products, function and construction-wise, the cheaper one will be a good deal.  There is a significant difference in their prices, not to mention. 
And the warranty might not be an issue if you're not going to use a larger and heavier monitor. And even if you need to change the position of the screen and have a small or standard-size monitor, then you need not worry about the AmazonBasics shaking. 
The longer warranty is nice to have. But if they almost have the same quality then it can be insignificant. 
Another thing you have to consider is that between the brand Ergotron and AmazonBasics monitor arm, the former is more versatile.  And this should not be a surprise since it has a more specific branding and product.  
If you need to add a few more inches to your monitor, then you have the option to do so with Ergotron. You just need to buy the tall pole version and you can enjoy the same functionalities. That you don't have with AmazonBasics.
It seems that the cheaper way is more applicable to many
AmazonBasics monitor arm may have a small inconvenience for larger monitors. But overall, and for most people, the cheaper one, still will have more value. The LX can be out of reach for novices or those who just need an extra monitor arm for their setup. 
The price difference is also quite significant, so this is something that is not easy to brush off.  You'll still be getting good value with the AmazonBasics monitor arm despite the shorter warranty.